Art fair season is about to go into overdrive. If you expect you'll need a break from the usual barrage of paintings, sculptures, and photography, the fifth annual Moving Image New York video art fair promises viewers a change of pace, comfy chairs and all.
"We want everyone who comes to the fair to feel that they really have a license to slow down," said Ed Winkleman, co-founder of Moving Image and director of Winkleman Gallery. "It requires a slightly different pace to experience video than work that you might see at a traditional fair."
From March 5 to 8, Moving Image New York will take over the Waterfront Tunnel on 11th Avenue between 27th and 28th Streets in Chelsea. It will include more than 30 exhibitors from the U.S. and around the world—several from Brazil and a few from Finland—and five works will have their world premieres at the fair.
One of those premieres will be from Brooklyn-based video artist Zack Nader, whose piece optional features shown was showcased on screens throughout Times Square last year as part of the Times Square Arts project Midnight Moment. Other artists exhibited will include Leslie Thornton, Dallas-based Lauren Woods, and Hector Zamora of Brazil.
Demand for video art has come a long way since the early days of skeptical collectors (as this 1998 New York Times article, headlined "An Uncertain Market for Video Art," reminds us). Sales at Moving Image have increased each year, said Mr. Winkleman, and newer collectors in particular have been more open to adding video art to their collections. In the past works at Moving Image have sold for $2,500 to $85,000, and the average piece goes for about $10,000.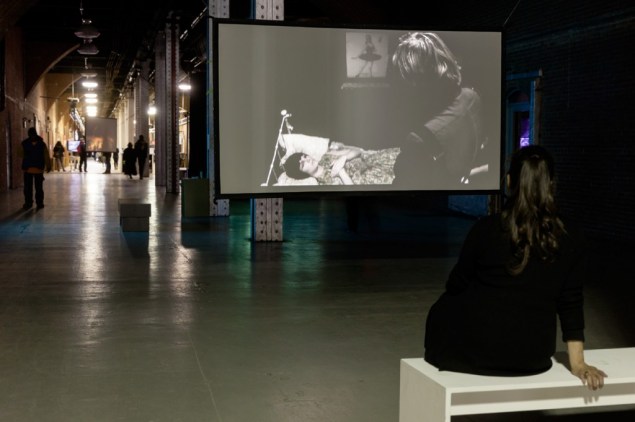 Works like video art that aren't stationary present unique challenges for collectors. For instance, how do you take it home? Buyers at Moving Image receive two copies of the work, one for viewing and one for their archives, on USB, external hard drive, DVD, or Blu-Ray. They also get a certificate of authenticity, necessary for reselling the work on the fine art market, said Mr. Winkleman.
Museums are increasingly interested in adding video art to their collections, too. As the Observer reported last month, in recent years the Getty, the Guggenheim, and the National Gallery of Art all acquired high-profile works of video art.
So, what sets new video works apart from the old? The works are more interactive, incorporating elements of online content, and they're more self-referential—only a recent possibility, now that the medium has been around for about 40 years, said Mr. Winkleman.
Most importantly, production values in this year's collection of video art are higher than in the past.
"To the artist, the language needed to distinguish itself from the language of Hollywood or commercials," he said. "The line has been completely blurred. You now see video artists making Hollywood films, like Steve McQueen."