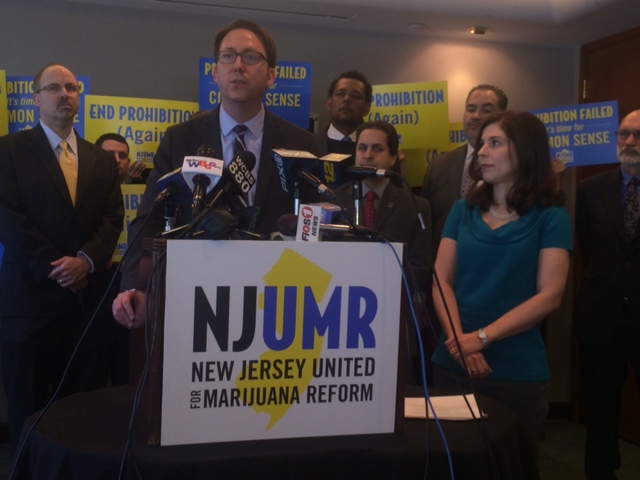 NEWARK – A new, broad-based advocacy group that seeks to legalize, tax and regulate the sale of marijuana for adults in New Jersey announced its launch on Wednesday, deeming the state's current policy toward marijuana to be a failure.
Udi Ofer, the executive director of the American Civil Liberties Union (ACLU) of New Jersey, said that the new advocacy group, called New Jersey United for Marijuana Reform (NJUMR), brings together New Jersey's public safety, medical, civil rights and criminal justice reform communities for a common purpose.
"We are launching this coalition because the status quo has failed. The time has come to begin fixing our criminal justice system by ending unjust marijuana arrests," said Ofer at a press conference at the Newark Club. "New Jersey makes more than 21,000 marijuana arrests. That means that New Jersey makes tens of thousands arrests a year for an activity that the last 22 years of U.S. Presidents have admitted to engaging in.
"New Jersey taxpayers spend more than $127 million dollars a year enforcing this system. That's more than $1 billion spent by New Jersey taxpayers on marijuana arrests in this past decade alone," Ofer added. "It is time to take marijuana out of our parks, out of our street corners and into licensed stores for adults. It is time to stop turning otherwise law-abiding Americans into criminals. Making marijuana legal for adults 21 or older will create a controlled system with restrictions on sales and access. It will free up law enforcement for real priorities like violent crimes, and it will generate more than $100 million dollars in new annual revenue that could go back to New Jersey's neediest communities."
The ACLU and other groups generally seen as having a liberal viewpoint, such as New Jersey Policy Perspective and the National Organization for the Reform of Marijuana Laws (NORML) are part of the new coalition to change New Jersey's marijuana laws. But other, more conservative voices stepped forward to say that the status quo should go up in smoke.
"In my 14 years of experience as a municipal prosecutor, the prohibition of marijuana is not working and is doing our state and country more harm than good," said Jon-Henry Barr, the president of the New Jersey State Municipal Prosecutors Association and the municipal prosecutor in Clark, noting that last year his statewide organization voted to support the legalization and regulation of marijuana. "My own support for legalization and regulation crystallized after prosecuting a case in 2013 when I found myself, the defense attorney, the arresting officers and the court system spending thousands of taxpayer dollars to prosecute the possession of a single marijuana cigarette. It is plainly obvious that we need to end this failed system of prohibition so that police, prosecutors, defense attorneys and judges can be focusing their time on serious crimes.
"I am a lifelong, fiscally conservative Republican who has served as a municipal prosecutor in two Republican-controlled towns. Republicans, like myself, are against the wasteful spending of taxpayer dollars on government programs that do not work and are not necessary," added Barr. "Right now, the only real winners in this system are the drug dealers. The government is spending money on a pointless offense, when it should be generating revenue from it instead."
Richard Smith, president of the NAACP New Jersey State Conference, pointed out that his organization believes that current marijuana laws "disproportionately affect the black community."
"A black person is nearly three times more likely to be arrested for marijuana possession in New Jersey than a white person, despite the fact that the usage rates are practically the same," Smith said. "The war on drugs has devastated black America, and New Jersey's own war on marijuana has been a failure."
Representatives of the medical community also laced into the Garden State's marijuana laws.
"I've seen too many cases of lives ruined by marijuana, not so much by the drug itself, but by a justice system that chooses a sledgehammer to kill a weed," said Dr. David Nathan, a psychiatrist and a clinical associate professor at Rutgers Robert Wood Johnson Medical School. "Marijuana is less addictive than alcohol and tobacco, makes users less likely to commit acts of violence and there are no documented cases of marijuana overdose. In short, marijuana never should have been illegal for consenting adults in the first place."
While the use of both recreational and medicinal marijuana has been entirely legalized in the states of Colorado, Washington, Alaska and Oregon, with the District of Columbia set soon to follow, there is no guarantee the same thing will happen anytime soon in New Jersey. Governor Chris Christie has consistently opposed any bill that would make the sale and possession of marijuana legal in New Jersey, a viewpoint he made clear while in Colorado last July.
But Bill Caruso, managing director at Archer Public Affairs and the former executive director of the New Jersey Assembly, believes time is on the side of a pro-legalization push.
"The tide is turning on this. The legalization of marijuana is going to be here in our lifetime. It will come to New Jersey, and it will come to our nation. It's a natural progression," Caruso said. "When you look at all the things going on in Trenton, this does become common sense.Our budget process for the next year is going to begin. We have conversations going on about the Transportation Trust Fund, pension and health care benefits. This is another place to have a debate upon how we can be refunding some of our priorities in the state, redirecting some of the assets that we utilize on a regular basis, and start reallocating that money to benefit the people of the state. I've seen it before, and not just on this issue – people change their minds."