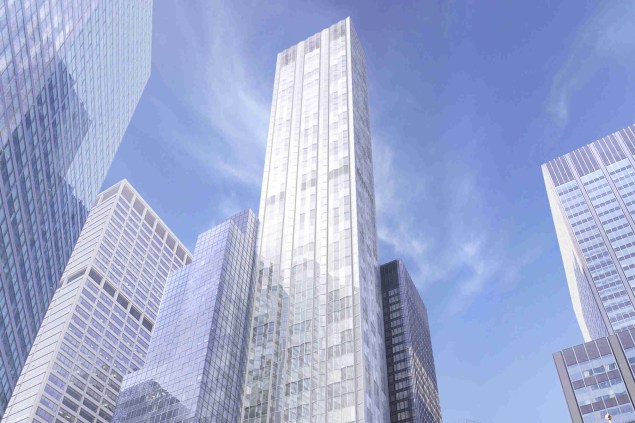 The luxury residential tower at 610 Lexington Avenue has been announced more than once before, but this time, it is attempting something of a grander entrance. The Turtle Bay tower heretofore known as 610 Lexington will be known, developers RFR and Chinese firm Vanke announced last night, as One Hundred East Fifty Third Street. 
It is also being retooled with new design and marketing teams. Leonard Steinberg, of Urban Compass, has been selected as the exclusive marketing and sales firm for the project. And the interiors of the 61-story building, where excavation began about a year ago, will be designed by London-based super-firm Foster + Partners—which is also designing the exterior—in collaboration with interior designer William T. Georgis, a favorite of RFR principal Aby Rosen.
A spokesperson for the developer attributed the new name to an "internal decision," later specifying that the building, which has been known in the press and on the Foster + Partners website as 610 Lexington, had never been formally named by the developer. The main entrance, she added, will be on E. 53rd rather than Lexington, hence the name.
"It's natural that he'd pick a new name, from a branding point of view, that sounds much more chic, boutique and high-end, than 610 Lexington," Donna Olshan, of Olshan Realty, told the Observer. Mr. Rosen, she added, "has an extremely sophisticated palate, and is an art collector of great works and buildings."
There is also, of course, the fact that Lexington, being the traditional dividing line between the haughty park-adjacent avenues and the Yorkville hoi polloi, does not quite call up the vision of ultra high-end luxury that the tower hopes to embody. Whereas the East 50s bring to mind those most elite of places, Beekman and Sutton.
But unlike almost all tony residential buildings in those enclaves, the 94-unit One hundred East 53rd Street will be a condo. Moreover, Mr. Rosen seems not so much attempting to fit into that place-bound pantheon of brick and limestone, but rather, to helm a new pantheon—the Norman Foster tower will join Mies van der Rohe's Seagram Building and Gordon Bunshaft and Natalie de Blois's Lever House, both owned by RFR, on what the developer is pushing as "Architects Row."
Sales are expected to commence in late Spring 2015, according to the development's new website. Meanwhile, details on the amenities, which will no doubt be exhaustive, remain vague, but according to the project's Schedule A, future occupants can look forward to lounging poolside on the ninth floor or eating at the restaurant on its ground and second floors.