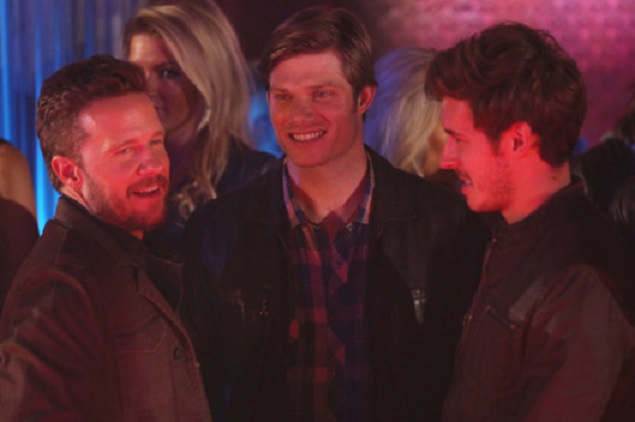 I'm sorry did I miss something last week? Did we see Teddy sign that contract?? I thought it was a cliffhanger??? Perhaps, the signing was revealed in scenes from the next, which I never see, as I am a Hulu viewer.
Regardless, Maddie Conrad is Jeff Fordham's newest torture victim Edgehill's newest artist. Maddie is going to lead Jeff/Edgehill into the pop/country crossover goldmines. In many ways, "who's the next Taylor Swift?' is Nashville's favorite storyline. Remember, before Juliette's sole role was as nagging wife (ugh), when she was Edgehill's highest grossing artist? And she was, not just going to, but leading Edgehill into said goldmines? Like, seriously, ya'll, do you remember the Nashville pilot? It was all about Juliette dethroning Queen Rayna. How far we have come. Now, Juliette is portrayed as an over-the-hill mommy dearest in un-sexy pajamas watching daytime television. Layla Grant, who cannot even legally drink yet, is an aged divorcee, good for nothing more than post-firing sympathy sex. Man, does it suck to be a woman in Nashville. Unless, that is, you are Rayna James. Rayna has managed to turn the politics of being a woman in this town on it's head, much the way Connie Britton has done the same re: aging women in Hollywood. Thank god for Connie Britton. (Seriously, I just almost wrote: 'thank goddess for Connie Britton.' Not because I've ever said that, but because I thought it would be an appropriate button to my (very real) feminist rant. But, guys, don't worry, I stopped myself.)
Clearly, Jeff Fordham will never bring a Taylor Swift to Edgehill as he clearly has NO IDEA what kind of jewelry fifteen year-olds might want. I realize that the $40,000 diamond sparkler was meant more as an FU to Rayna, than a present to Maddie, but srsly, it was the most mature hunk of dollars I've ever seen. I'm twice Maddie's age and don't think I could pull that thing off for another ten years, at least.
Raise your hand if you've had it up to here with Teddy being a pussy? Okay, that's…everyone. Great. Glad we're unanimous. It didn't seem that hard for Rayna to get Maddie's contract dissolved. Was her method really something Teddy was incapable of figuring out, prior to signing his daughter's well being over to a known sociopath? He's only the freakin' MAYOR.
It's as if Nashville is compensating for their treatment of the other women by making Rayna so powerful, and then, on the flip, they are placating us to the maleness of it all, by having Teddy be such a wimp. I want some more balance in Nashville, please.
And speaking of the maleness of it all, this episode gives us a two-day long boy's night (even if it's not nighttime, that's not stopping these bros.) Apparently, Nashville has a raging club scene where Cheerleaders, club promoters and broken-hearted Country stars start drinking (and presumably coking) during banker's hours. Wheel's up style. Luke wants us to know that even though he's real good at pretending otherwise, he's sensitive, just like Will. Well, not exactly like Will, but Luke doesn't know that yet.
Can we all agree that we are ready for Will to come out of the closet? The fall out (or lack there-of) in the Country biz from a homosexual performer is an untapped storyline. It's also a storyline, that I think we can agree, we are interested in knowing more about. Chris Carmack is a good, capable actor. Let's give him some more to do than hiding how he's feeling and sighing. Also, now that Jeff Fordham is out of the picture, we have a new, seemingly sympathetic label head. (I don't care how poorly Jeff Fordham behaved to secure Maddie's contract, I just don't see this boss man having released her from it. Business types are only interested in the $$$$) However, regardless, of the believability of new boss man's behavior re: Maddie, I am glad her contract was dissolved and I am also glad that maybe, maybe we have an open door to shake things up at Edgehill.
And, woohoo! A love interest for Scarlett! This girl's needed to get some for awhile now. And even if it is a boring doctor (and not Liam McGuinness, sigh) who's signing up to give it to her, I'm happy that she has it coming.