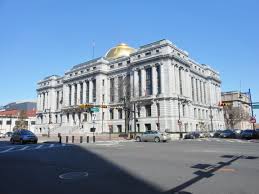 NEWARK – Members of the Newark City Council sparred at a Wednesday meeting over proposed changes in the direction of the more-than-decade long effort to build Triangle Park, a park meant to provide a pedestrian link between Newark's Ironbound neighborhood, Penn Station and the Prudential Center arena and spur downtown development.
A first reading of the proposed changes was not immediately conclusive. The reading was conditionally approved – out of seven council members present, five supported an amendment that could change the original plan to develop the park, signed between major Newark property owners Edison Properties, Jose Lopez and the Newark Housing Authority.
The reported replacement for the original stakeholders in the plan is Boraie Development, a real estate development firm based in New Brunswick.
The council indicated, however,  that they would wait for a presentation by the city in coming weeks about the potential changes to the $12 million before definitely going forward.
East Ward Councilman Augusto Amador, voting against the plan, called again for transparency, echoing comments he made to PolitickerNJ on Tuesday.
"The only plan I have seen is from Edison Properties. The only thing I have seen from Boraie is a letter that lists their previous successes, but nothing specific [about the Triangle Park project]," Amador said. "As the East Ward councilman, I think that I deserve a little more respect, and so do the people that I represent. This project will affect them."
"I've been anxiously awaiting the plan, and I want to know what it is," said North Ward Councilman Anibal Ramos, Jr., who abstained. "We should be afforded the opportunity to review the plan, and most importantly, get a commitment to a project timeline."
"It's a shame that in ten years nothing has happened. This is project that could benefit the whole city of Newark," said Central Ward Councilwoman Gayle Chaneyfield-Jenkins, who voted yes. "We should have a presentation, and we do not have to designate [Boraie]. We need a trigger date or the project will stay stagnant."