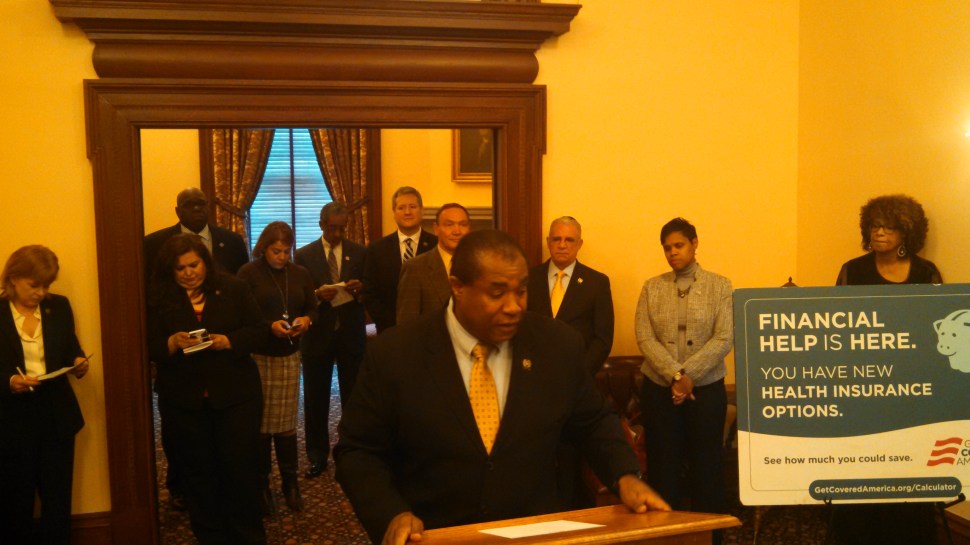 TRENTON — Assembly and Senate Democrats announced a final push today to get New Jersey residents signed-up for health care coverage before a looming Feb. 15 deadline of the Affordable Care Act's second enrollment period.
"What the people of this state need to know is that healthcare insurance is just a phone call away or a click away," said state Senator Nia Gill (D-34) during a press conference in the statehouse, where lawmakers joined HHS Region II Director Jackie Cornell-Bechelli and representatives of the non-profit Enroll America to increase statewide outreach and enrollment opportunities for residents.
Federal officials say the second year of enrollment under the ACA, considered by many to be President Barack Obama's signature legislative achievement, is on track to meet the administration's goal of having 9.1 million to 9.9 million people with paid-up coverage through the insurance exchanges by the end of 2015. In New Jersey, Enroll America representatives say over 216,000 residents have acquired healthcare through marketplace sign-ups, a 25 percent increase since last year.
"Some may argue if healthcare is a right — but what cannot be argued is whether healthcare is the law of the land," said Assemblyman Troy Singleton (D-3).
Assemblyman Gary Schaer (D-) called the ramifications of the ACA for New Jersey and its residents "extraordinary", noting the potential cost savings it would bring.
"And as we know cost savings in New Jersey cannot come at a better time," he said.
A group of thirteen Demcrocratic lawmakers were present at the presser, including state Senator Sandra Cunningham (D-31), Assemblywoman Shavonda Sumter (D-35), Assemblyman Daniel Benson (D-14), Assemblyman Tim Eustace (D-38), Assemblywoman Nancy Pinkin (D-18), Assemblywoman Annette Quijano (D-20), and Assemblyman Herb Conaway (D-7), a practicing physician in Trenton. They said they hope to get as many more people as possible signed-up before next week's deadline.
"The idea is that the time is short, but we get a lot done if we all grind together," said state Sen. Ron Rice (D-28).