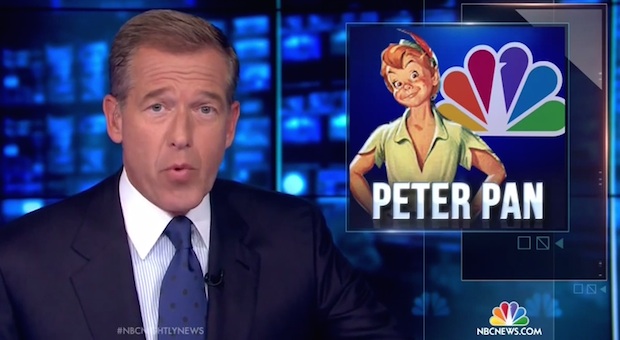 UPDATE: In a strong—and eloquent—statement last night (February 10), NBC News President Deborah Turness suspended Brian Williams for six months without pay. Her memo ended with these lines: "His actions are inexcusable and this suspension is severe and appropriate. Brian's life's work is delivering the news. I know Brian loves his country, NBC News and his colleagues. He deserves a second chance and we are rooting for him. Brian has shared his deep remorse with me and he is committed to winning back everyone's trust."
This article was obviously written before the startling, air-clearing announcement, which has launched a new round of who-will-replace-him? buzz. In light of his swifter-and-more-severe-than-many-expected punishment, I hope it doesn't sound like a pile-on. But it's important to know that things happen for a reason.
When the brouhaha with Brian Williams started up last week, culminating with his supposedly voluntary 
time out
—I couldn't help but feel angry at the irony. Having written a book, 
The News Sorority
, on three tremendously hardworking, no-shortcut-taking female anchors—Diane Sawyer, Katie Couric and Christiane Amanpour—each of whom are no longer the big-three network news anchors they once were (Ms. Sawyer on ABC's
World News Tonight,
 Ms. Couric on
The CBS Evening News,
and Ms. Amanpour on ABC's
This Week
) with (cliché alert) white men in their places—I know how honest these women were. Whatever you could say about them (and, like all powerful people who'd reached the peak in a hellatiously competitive field, there were grumbles about them), each took more risks than they let on in getting crisis-zone stories. Ms. Amanpour's two decades overseas speaks for itself; she dodged death numerous times and never wanted credit for it. Two small examples: When a bullet pierced her hotel room in Bosnia, missing her by inches, she shrugged and noted, "That was close." And shortly after she'd spent an hour and a half being menaced by a member of the Taliban who explicitly threatened to behead her for being both Iranian and a Westernized woman, she quickly recovered from her relief and switched her focus to being as thrilled as her colleagues were that their team had gotten footage of their last few hours of mutual captivity. As for Ms. Sawyer, she risked (and lost) a bravura ratings win over
Today
on her then-morning show,
Good Morning America
, to be one of the few major news stars to immediately race to the December 2004 East Asia tsunami and spend a long time there. Another time, she pushed herself into a dangerously small helicopter for the final route (from Afghanistan) to the Haiti earthquake site. And then there's Ms. Couric, who hid her pregnancy (when, in the early '90s, a pregnant reporter was a war-zone no-no) in order to be the second Pentagon correspondent in Kuwait during the first Gulf War.
(None of this even takes into account the awesome bravery of CBS' Clarissa Ward, who has over the last three years managed to sneak herself into Syria to report on that civil war a dozen times—and has conducted interviews with Isis-sympathetic jihadis there.)
---

Those who thought his geniality was a plus? Um, think again. "Brian is deeply disliked inside NBC—extremely unpopular. The people at NBC are loving this," says someone in the know.

---
And now we have the top-rated male network news anchor accused of exaggerating—or more baldly, misstating—his war-zone heroism.
So: Obligatory pause for gender-disparity eye-roll.
Pause complete.
Next questions: What is the fate of Brian Williams? And how much of the conventional wisdom about him is true? Here's where it stands right now:
#1: Endlessly touted as "likeable" and well-regarded—Brian Williams is not, in fact, well-liked at NBC.
Those who thought his geniality was a plus? Um, think again. "Brian is deeply disliked inside NBC—extremely unpopular. The people at NBC are loving this," says someone in the know. Why? "Because he enjoys being a celebrity too much." He also doesn't pull his weight. "He never comes in in the morning"—as a managing editor, you should. "He calls in from his apartment and shows up around lunch time, has a fancy lunch with some important person, and then at the 2:30 production meeting—close to air time—he tears everything up."
#2: His love of the limelight long overshadowed his desire to do hard reporting.
"Brian loves MC-ing things," a former NBC person says. "He would get out of traveling for stories to MC fairly stupid events." Once Mr. Williams was slated to fly to Texas to interview the first President Bush's brain trust—Brent Scowcroft, Colin Powell et al. He passed on that to be able to MC the network's upfront presentations to advertisers.
And for a man who claimed a measure of heroism, there's this: "During the Haiti earthquake"—when there were no creature comforts available to news reporters, even stars—"he so wanted to go home, they practically had to pull him off the plane" to keep covering the story.
#3: NBC is "crashing" its investigation—and it's quite likely the competition has launched its own, too.
An intense meeting was held over the weekend at the New York apartment of Steve Burke, CEO of NBC-Universal. The organization is "crashing" its investigation of Mr. Williams' misstatements. Meanwhile, the somewhat surprising news that ABC President Ben Sherwood ordered his own investigation of Mr. Williams—strongly denied by ABC—is thought by some who know Mr. Sherwood to be true. *Whether or not ABC investigated, the strong ratings of relatively new World News anchor David Muir are expected to increase if Mr. Williams is gone as competition.
#4: This ends one of two ways (or so we were told only two days ago).
There are two theories being buzzed about inside NBC. Outcome No. 1: Mr. Williams will have to step down. He will either be replaced by Lester Holt, who has credibility and respect among his colleagues, but not a lot of star power. (However, with the 6:30 news such a viewer-static format, a lack of star power may not matter.) Or Mr. Williams will be temporarily replaced by Tom Brokaw, just as Mr. Brokaw temporarily replaced Tim Russert on Meet The Press after he died. Then, after this interregnum, Matt Lauer will ascend to the anchor role, with Josh Elliot replacing Mr. Lauer at Today. "Matt has the credibility," the source says. "And his leaving Today would let [the troubled show] get a fresh start."
For what it's worth, a major veteran TV news producer who heads up one network's news and was senior at another for many years, says, "He [Mr. Williams] can't survive and—just as important—senior management can't survive if it comes out they knew he was exaggerating."
Outcome No. 2: Deborah Turness, president of NBC News, will "go to DefCon One" and insist that Mr. Williams stay. Why? "She's already given the reins over to her two stars, Brian and Matt—they get everything they want. And [NBC] is so terrified of Nightly News going to No. 2, they'll find a way to resuscitate him. It's a hard hill to climb because news is news, but if you look at Brian as more a celebrity than a journalist—and many people do—celebrities are more often forgiven. So it might work."
#4: What do some military heroes say? (You might be surprised.)
Shoshana Johnson was the first female POW to take enemy fire in a U.S. war in Iraq during the same war-opening year—2003—during which Mr. Williams claims to have faced risk. She also became the first female African-American POW in American history when her Army convoy was ambushed and she was held captive for three weeks. Colleagues (including Lori Piestewa, the first female Native American to be killed in U.S. warfare) died in the attack; others, like Jessica Lynch, were severely injured. And Ms. Johnson herself sustained considerable injuries. But is Ms. Johnson mad at the specter of Brian Williams—the rich, white, male celebrity anchor—masquerading as a bit of a war hero?
No. Ms. Johnson said in an email that she's going "with my gut instead of the political correct thing. Basically, we're all human and we all fuck up. Example: During the ambush I fired my weapon but I can't remember if I actually aimed to kill or just to scare the guy away from coming near me…. It's been 12 yrs and we're human so we screw shit up sometimes. Give the dude a break!!" She adds: "I have no problems with him coming back to the Nightly News. He needs to say he 'fucked up' not some long speech about mixing up events or anything like that. He needs to say he screwed up just like every other human being on the planet has screwed up."
And here, also by email, is the wife of an elite Navy fighter pilot: Her husband "actually said the guys"—the other fighter pilots—"don't really care. That being said, they don't really care for 'the news' in general. Obviously [her husband] thinks it horrible to fabricate a story, but he said, 'What do you expect from a news anchor? They over-dramatize everything.' During his deployment I would see things on Fox, CNN or NBC and panic. [Her husband] along with the entire squadron would tell the wives, 'It's not as dramatic as they are making it out to be. Remember—it's for ratings.' I mean, yes, most of them watch the news, but they take a lot of this with a grain of salt. They are all more concerned now with getting back to the fleet especially after the latest ISIS video about the Jordanian pilot."
So maybe NBC's Ms. Turness should poll more war heroes—they'd find a green light for Mr. Williams' return, surprisingly, more available among the people he supposedly insulted than the other media folks who are screaming for his head.
But if that happens, maybe Mr. Williams should not only apologize sincerely and privately to the military, but let some of those heroes have his seat on Fallon, Kimmel, Letterman and SNL.
---
*Clarification: This sentence originally read, "Brian passed over Ben for executive producer when he was at Nightly News," one sources gives as a reason, as well as the fact that Nightly News' embarrassment would be a boon to ABC's World News."
Sheila Weller is the author of several books, including The News Sorority about the lives and careers of Diane Sawyer, Katie Couric, Christiane Amanpour, and "the (Ongoing, Imperfect, Complicated) Triumph of Women in TV News."