As Sunday night rolls around and the red carpet unfurls for the 87th Academy Awards ceremony, one thing's for sure, the women will outshine the men in the fashion spotlight. This is as it should be, of course. However, though black tie may be the rule, a guy with imagination and a strong creative sense should be able to bend the by-laws a little and express himself on Oscar night. Instead, the male Oscar parade is akin to March of the Penguins. Except last time I looked, only baby penguins come in muted shades of gray, with nondescript, flappy black feet and worried little faces.
Hands up, I have an inside track on this. After making Missy Elliot's costume for her Super Bowl performance this year, I reflected on all the events and formal wear outfits I have made for celebrities over the years. Whether it was for the Oscars, VMAs or Grammys, my team and I were always fortunate to be able to deal directly with the end user rather than professional stylists. This meant that our client always looked impeccable and original.
---

My team and I were always fortunate to be able to deal directly with the end user rather than  professional stylists. This meant that our client always looked impeccable and original.

---
So many celebrities, or rather their management teams, hire the current stylist du jour. They want their property, sorry, artist, to be dressed in an identical way to their peers—or better than their peers—of course. Each stylist will be dressing any number of celebrities, using a group of assistants. Which means that the famous guy, who can have anything he wants in the world, goes to the Oscars in a borrowed suit. That suit could well have been rejected by five other actors more famous than him, too. It may also be in the only color the designer was prepared to lend out and the jacket shape may not be the right cut for our guy. However, the stylist conveys this information as if it is the law. The actor, never having taken the time to understand fashion or properly consider how he dresses, will just accept all this. Instead of selecting a dinner jacket from the ground up, fabric first, to match his skin tone and maximize his looks, he will end up wearing something forced upon him, where the whole story centers around the outfit instead of the man.
A few are lucky enough to have suits tailor-made and this is the key. When Sean Combs asked me
to make three velvet dinner jackets for his birthday party at Cipriani a few years ago, he was well aware that it was the fit that differentiated his look from the clothes others would be
---

Even with a decent fit, the blandness of the average male super star's suit ruins the Oscar red carpet.

---
wearing. We made him gray, green and black versions of a one-button, peak lapel dinner jacket. He wore the gray jacket over a white T-shirt and jeans in the end.
Even with a decent fit, the blandness of the average male super star's suit ruins the red carpet at the Oscars. The times feel right for guys to start showing their true colors a little more, yet most resemble walking billboards. If Johnny Depp were to walk down the red carpet in a Ralph Lauren tuxedo, to the sophisticated eye it would appear more of an ad for Ralph than a stylish move on Mr. Depp's part.
Developing a strong, personal style is the difference between a well-dressed man and a man that has been well dressed. Mr. Depp has so much authentic style on the red carpet. He might not be traditionally dressed but he carries off a cool look with confidence. Mr. Depp can be contrasted with say, Brad Pitt, who sort of lacks his own style. He is dressed by Tom Ford but appears to just be dressed like Tom Ford, only with less personal style.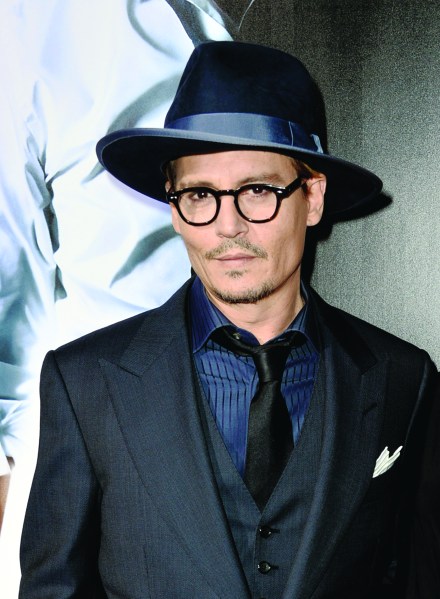 To get an individual look, all any guy has to do is start with a base of the right fit. There are then multiple options for texture and color. Think of the jacket as canvas and the black lapel, traditionally made of satin, grosgrain or velvet, as the frame. Anything from florals to colors, or houndstooth to stripes will go. With the proper fit and frame it will be hard to make a mistake. We had a client come in recently for a Black Watch plaid wool dinner jacket and leave with a double-breasted, plaid dupion silk instead.
We live in a society where dressing up has become so rare that a chance to do it should be embraced. Guys could take it much further, why stop at the tuxedo or dinner jacket? For a New York winter, some of my clients opt for a coat in black cashmere or even midnight blue mink in a Chesterfield cut to accompany their suit. Perfect finishing touches are a Homburg in charcoal gray, a white linen pochette, self-tying bow tie, black silk socks and for me nothing beats a pair of black, grosgrain satin slip-ons.
Besides the fit of their suits and the lack of accessories, the other Oscars fashion bugbear for me is how awkward these guys look on the red carpet. No man should have his dinner jacket wearing him, yet so many of these guys seem stiff and uncomfortable. American guys are overly concerned about wrinkles and creases, yet within reason, such flaws add to the overall panache. The idea is to feel one's inner 007 in a dinner suit. A man ought to give the impression he just threw on that suit after making love to a beautiful woman and breaking the casino at Monte Carlo.
Oh well, one thing is for certain, no matter how disappointing the male fashion parade may be, Oscars dressing is far harder for the famous women on show. Imagine standing next to Cameron Diaz and not knowing that she knows she rejected the dress you are wearing, first. Luckily, the average famous guy, no matter how slick, probably won't remember anything about how he got the suit he is wearing. "Tell them it's Armani" his publicist will hiss as he gets out of the limo. Blissful fashion oblivion perhaps, but unfortunately, it always shows.