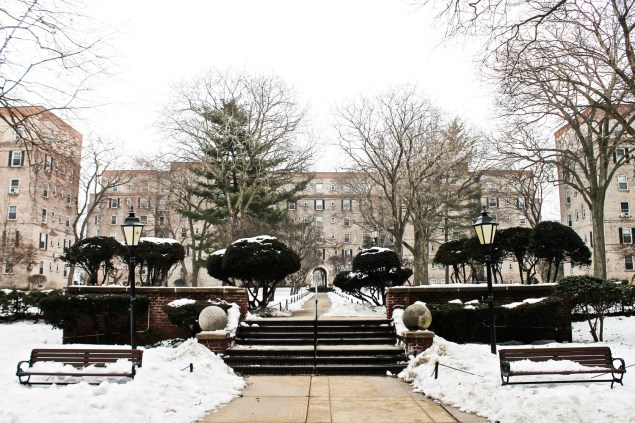 They first hit the shores of Long Island City over a decade ago, newcomers to the area who eventually put Queens on the map as a refuge from the real estate frenzy in Manhattan and Brooklyn. When their numbers grew, they started spilling over into neighboring Astoria and when the buzz there picked up, pushed further down the subway line into the borough's interior toward long established neighborhoods that had their own identities, such as Woodside, Sunnyside and Jackson Heights and even deeper into the borough, reaching Rego Park, where luxury development has been on the rise, and even Jamaica.
Though the rental market has been the main driver of this movement, industry observers say it's only a matter of time before condos have their day. But even now, with the steady influx of more well-heeled residents, inventory has decreased and the competition to buy an apartment has grown stiffer in some of the hotter areas (including the neighborhoods featured on this page), leading to bidding wars, waitlists and cash sales, a rarity in an earlier era.
One reason is the easy commute. "It's not uncommon for people to be priced out of Brooklyn and then go to Queens," said Jonathan Miller, a real estate appraiser and consultant. "In many ways, the Northwest region of Queens has more connection or linkage to Manhattan because of the subway than it does with Queens. It's really an extension of Manhattan almost, because the connection is so close, one subway stop to Midtown."
WOODSIDE
Woodside has quiet, residential, tree-lined streets as well as a Little Manila on Roosevelt Avenue, which is representative of its sizable Filipino community. In recent years, homebuyers who want more for their money are looking to Woodside.
"Woodside is just beginning to be discovered by people who would like to be in Long Island City or Astoria, can't afford it and all of a sudden go a few blocks over and voilà—they can indeed afford it," said Lisa D'Amico, a broker for Boulevard Gardens, a 1920s co-op complex in Woodside that consists of 10 six-story buildings, with 960 units, surrounded by landscaped greenery and family-friendly amenities like a library and a playground.
One of her clients, Steven Becker, did just that. The photographer moved into a spacious one-bedroom in Boulevard Gardens at the beginning of the month from neighboring Astoria, just a few blocks from his new residence. His new apartment appealed to him because of its proximity to the R train and an array of ethnic restaurants and shops, not to mention the price—$221,000, with a low maintenance fee. "It's like a little secret over here," he said. "I know it's Woodside, but it feels like Astoria."
What's key about neighborhoods like Woodside is their easy linkage to the subway system, which might matter more than you think. "People look at real estate in Queens by the train line," said Ari Silverstein, whose brokerage specializes in outer-borough luxury properties. "For some, all they see is a subway map." The way he sees it, the deeper you go into the borough, the more you can get for your money but you have to pay for that with a longer commute to Manhattan, which some of his clients shy away from.
Another homebuyer who worked with Ms. D'Amico, Jeffrey Ball, a 55-year-old doctor, moved to Woodside last year from Williamsburg, where he had been renting. A co-worker who had been living in Woodside kept singing its praises, so he took a look and eventually found a one-bedroom apartment in Boulevard Gardens within his budget. He has settled in nicely, he said, and likes the diversity among his neighbors.
"Manhattan is for the rich, and Brooklyn is getting to be that way," he said. "In Queens, that's not the case. It's still mixed."
But he also acknowledged that he is part of a wave of what he called "refugees" who will ultimately change the character of the neighborhood as it becomes more gentrified. As more like him arrive, the prices will go up and competition will get stiffer, which Ms. D'Amico said is already happening.
"The inventory is not keeping pace with the demand," she said, adding that she could sell each property four or five times. Listings on StreetEasy and The New York Times are few, ranging from one-bedroom apartments costing several hundred thousand dollars to houses for over $1 million, like a six-bedroom, postwar single-family home on 50th Street that's fully renovated. Entry-level starter apartments include a one-bedroom co-op in Boulevard Gardens on 31st Avenue going for $205,000 and several others like it.
SUNNYSIDE
One step closer to Manhattan is Sunnyside, a largely middle-class neighborhood that also boasts the vast ethnic diversity Queens is known for, with numerous six-story prewar buildings and Sunnyside Gardens, a historic district built in the 1930s that hasbrick homes, small buildings, a three-acre private park and lots of other amenities. Fifteen minutes from Midtown Manhattan on the 7 train, it's the kind of place where people plant roots. It was once declared the third most livable neighborhood in the city by New York magazine. Like Woodside, it has become a popular destination for homebuyers seeking greater affordability than Manhattan and Brooklyn while staying relatively close to the city.
"Instead of a one- or two-bedroom in Brooklyn or Long Island City, clients have told me that it's more affordable to purchase a small three-bedroom house in Sunnyside Gardens," said Michele Sullivan, a broker who raised her children there and has deep ties to the neighborhood. She said that some of the properties are in such demand that her two most recent sales of one-family homes closed higher than the asking price. "Things move quickly," she said of both sales and rentals. "Within a week or so."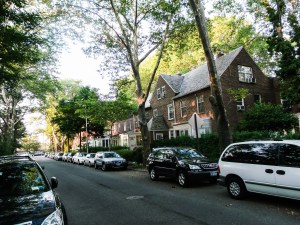 A big part of the draw, said Ms. Sullivan, is the comfortable, family-friendly environment. "You're in this little community," she said. "It's all trees, little shops and families." In some cases, she has found grandparents and various family members landing there to be closer to each other, with some buyers coming from Long Island, Westchester and out of state. Some businesses have sprung up in the last few years to serve the newcomers, with trendy restaurants and boutiques among them.
One recent listing for a prewar two-bedroom co-op on 40th Street with a view of Manhattan is a good example of what's on offer. It gets lots of light, is near the 7 train and costs $459,000.
JACKSON HEIGHTS
Further into the borough along the 7 line is Jackson Heights, which like its neighbors offers a diverse mix of residents and some well-known ethnic restaurants representing them. This is what initially drew Alex Banner and his wife, who were originally looking in Williamsburg and Greenpoint but soon discovered them out of reach.
Their search led them to the historic district of Jackson Heights, which is replete with spacious six-story prewar co-ops. Mr. Banner, 32, who runs a custom wood shop in Greenpoint, said he appreciated all the prewar buildings and old trees, which became something of a metric for getting a sense of an area's history: "Neighborhoods that had old trees in them was the main selling point for us," he said. After a year, they finally found what they were looking for—a two-bedroom co-op in a landmarked prewar building within their budget, what he called "a beatup apartment with good bones that we could fix up."
They made the move in December, happy to bid farewell to their rental in Bedford-Stuyvesant, and are gradually rehabbing their new dwelling themselves (with a child on the way). One of the advantages of the area is the proximity to transportation, with the 7 train just two blocks away and the F, M, E and R also within a short distance. (In Brooklyn, the Banners only had the G nearby.) Also, Mr. Banner feels more comfortable with the healthy mix of residents that includes newcomers and old-timers of varying ages and ethnicities.
"We like that way more than being around a bunch of people who look just like us," he said, referring to what they found in Brooklyn, which to him felt like "some sort of postcollege housing."
His broker, Michael Carfagna, who runs a boutique brokerage that specializes in Jackson Heights, said inventory is very tight these days, especially because, unlike in Long Island City and Astoria, there is hardly any room for new development. Like the other brokers mentioned, he too has noticed an exodus of Brooklynites coming to Queens in search of a better deal. "Over the past decade, I'd say that 60 percent of the people I've sold to have come from Brooklyn," he said.
His current listings include a three-bedroom co-op, "with a Park Avenue feel," listed for $949,000. It has a formal dining room, three exposures, a wood-burning fireplace and access to a private park.
"Jackson Heights is a real New York neighborhood," Mr. Carfagna said, "and it's especially attractive to people who want to raise their families here. As a rule, there's lots of hunkering down. People never leave."