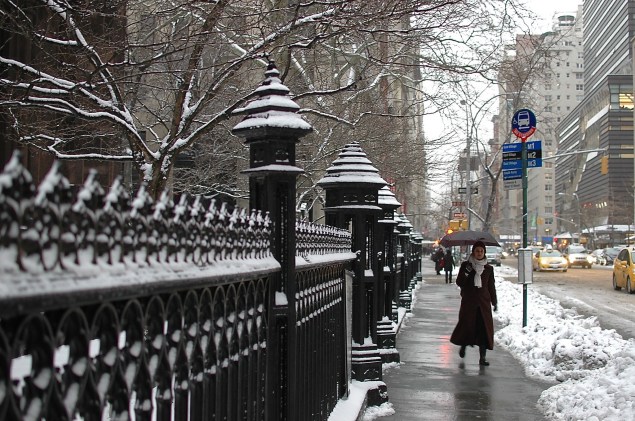 Can your broker tell whether you're headed toward a break-up? Sometimes, yes, says DNAInfo, when it's obvious couples aren't communicating or getting along. Also, brokers say that any couple moving into a studio is bad news (though we, personally, know a couple that lived happily in a studio for years) and "when your client's 'loved one' is never present during apartment showings, including the lease signing," that's a bad sign.
Want to see a happy couple's apartment? David Frei, the host of the Westminster Kennel Show, and wife Cherilyn live in a condo near the river on East 72nd, which The New York Times affirms is an apartment any dog could love. The couple live with Angel, a Cavalier King Charles, and Grace, and a Brittany.
Continuing with The New York Times' Towers of Secrecy Series, today we learn about the family of Mexican politico José Murat Casab, a former governor of Oaxaca, whose family "owns at least six properties in the United States, including two condominiums near a ski resort in Utah, another at the beach in South Texas and at least one in Manhattan." There is no evidence of any wrongdoing, but Mr. Casab has good reason to conceal his vast real estate holdings, given his everyman image and statements such as: " I'm leaving as I arrived, with the same trousers, with the same shoes, with the same shirts and the same car."
Ever wonder what the spooky photographer lair of Jay Maisal 190 Bowery, looked like inside. Now you can see it on Curbed, as Aby Rosen, who recently bought the property, has released a video. Mr. Rosen claims that the building is "in terrible shape" and maybe there's structural stuff we can't see, but it looks pretty nice to us—period details, recently-done drywall, even some track lighting.
Edward Minskoff tells The Times that he really wants to find a great architect for 11 Jane Street, "because there's probably a very, very good chance that I will move there." He'd like a duplex, he thinks. Even without an architect, the building promises to be extremely lavish.
Breaking news! An East Williamsburg warehouse has been sold, but not for condos, Crain's reports. Instead, the 100,000 square-foot warehouse at 121 Morgan Avenue will be turned into office and retail space by new owners Princeton Holdings and Bruman Realty, who paid $20 million for the property. Joe Tabak of Princeton envisions perhaps a food-maker on the ground-floor as they "love spaces where you can have the public come and witness the manufacturing process, where people can see it happening and be a part of it."
Queens Assemblyman Michael DenDekker tells DNAInfo that Vision Zero does nothing to keep people safe; instead, he says, the city should use a traffic light system that keeps vehicles and pedestrians traveling separately so as to eliminate deaths caused by cars failure to yield.
JFK and LaGuardia have been ranked third-to-last in public transit accessibility in a Global Gateway Alliance study of 30 of the world's busiest airports, Crain's reports.