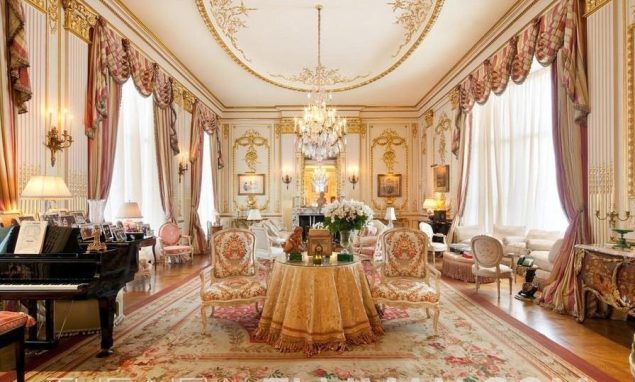 Joan Rivers' Upper East Side penthouse, which the comedian liked to describe as "how Marie Antoinette would have lived if she had money," has listed for $28 million, DNAInfo reports. The apartment, a triplex, was carved out of the top of a gilded age mansion on E. 62nd and features "a ballroom with an adjoining music room with 23-foot high ceilings, gilded antique boisserie paneling, columns and two fireplaces."
Now we take you from the real estate of one of the most beloved comedians to one of the most reviled: Bill Cosby has apparently been looking for a loft downtown, according to The Daily News, and told a broker he'd like to take the place she'd shown him on Leonard Street in Tribeca, then went entirely out of contact. "He was acting weird. He was erratic and all over the place," says the "source."
American cities are more and more the domain of renters, and it's not only very expensive cities like New York and San Francisco, The Wall Street Journal reports. "Renters made up the majority of the population in cities at the core of nine of the nation's 11 largest metro areas in 2013, a sharp change from 2006, when renters were the majority in just five of those cities." But supply has not kept up with demand, pushing up prices in even more modest cities like Houston. Increased mobility, skittishness in the wake of the housing crash, slow income growth and lack of savings (high rents are a contributing factor), have led to the shift.
Newark, however, is trying to induce residents, more specifically couples, to buy in the city, offering a special Valentine's deal that will sell lots to couples, married or not, for $1,000 a lot, also according to The Journal. Strings are attached (they always are, aren't they?): buyers must agree to build homes on the lot and to live in the city for at least five years. As for all the singletons out there who might like to participate, yet another reason why Valentine's Day is dreadful.
Also available to those without very deep pockets: a 8,000 square-foot Tudor estate for only $125,000. The only catch, according to The New York Times, is that you have to disassemble it and cart it somewhere else. Which might actually prove pretty financially punishing.
Anyone who has fond memories of dinners at Nobu may want to visit the Tribeca original before the restaurant moves from its 20-year-home in Tribeca to the AT&T building in the Financial District, a coup, as the Post points out, for landlord L&L. Nobu's owners say they were offered a deal they couldn't refuse and besides, isn't Tribeca "commingling" with FiDi?
But good news here: Smith's Bar is re-opening, it's not getting ruined, and the buyer is Hayden Panetterie's dad Skip, a retired firefighter, DNAInfo reports. When he first bought the place, "the idea was to change it" but when he saw how much people liked it as it was, he decided, "Why don't we just keep it the same, so everything in New York doesn't get ruined." The bar is scheduled to re-open in March.