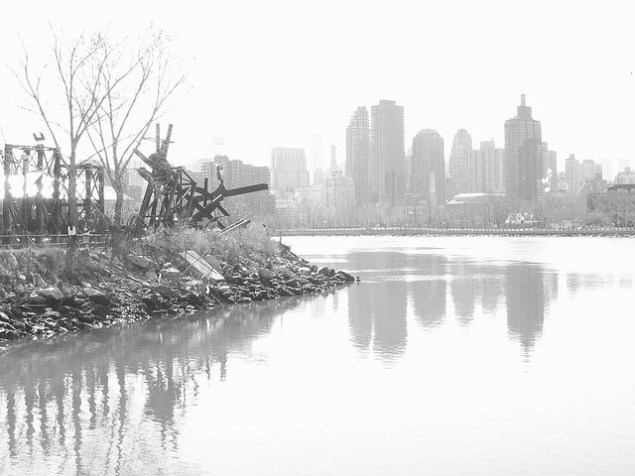 While the mayor claimed yesterday morning that his affordable housing program—anchored by mandatory inclusionary zoning—was critical to addressing inequality, many of the people actually living in neighborhoods targeted for the program are wary that changes will exacerbate the impacts of gentrification rather than mitigate them, according to The New York Times. Also, we'd like to nominate this for the understatement of the year: "many New Yorkers feel that projects from the era of Mayor Michael R. Bloomberg like Pacific Park, a multi-building complex around the Barclays Center formerly called Atlantic Yards, did not deliver on their promises of affordable housing quickly or comprehensively enough."
In light of such concerns, hundreds of union workers, anti-poverty activists and residents plan to march today in East New York, according to The Wall Street Journal, demanding more details on how the mayoral administration intends to keep one of the last affordable neighborhoods in the city affordable—a task that, as the paper points out, is increasingly complicated given the myriad negotiations that must be worked out with union workers, anti-poverty advocates and local residents while still luring developers to build new housing there.
Alas, modular housing is not the answer to affordable housing that Forest City Ratner had hoped it would be. And might not be for a long time—Crain's reports that architecture and building experts are not at all optimistic that it will be able to help solve this city's affordable housing crisis without "an infusion of new ideas akin to Amazon's online retail platform."
A lack of large-scale factories, high shipping costs and difficulty financing experimentation mean that the practice is very limited and expensive, and as Crain's wrote, while FCR's tower B2 may ultimately offer lessons for the future of the form, "it is little wonder banks might balk at such loans when larger-scale projects like Forest City Ratner's 363-unit B2 BKLYN project, in the shadow of the Barclays Center, have been mired in lawsuits, run tens of millions of dollars over budget and are at least a year behind schedule."
Businesses are also getting displaced, not infrequently, for want of affordable housing, particularly on the Upper West Side. DNAInfo has a map of 7 longtime ones that have closed this year.
When it comes to the mayor's plan to build a Stuy-town on top of Sunnyside Yards—Cuomo's not the only naysayer—councilman Jimmy van Bramer is also not a fan, according to Capital New York:  "We're just not going to build 30, 40, 50 residential towers in Sunnyside—that's just not going to happen. That level of density would be wildly out of character with the very low-rise nature of Sunnyside," he told the site.
So where to put all the people, businesses and animals who want to live here? Staten Island? That's where a pair of bald eagles are building their nest, according to Gothamist—the first in the city in nearly a century. The birds have been spotted in New York in the more recent past, but none have attempted to make a breeding nest.
Maimonides and North Shore-LIJ are also in talks to merge, according to Crain's. Maimondies, which, as Crain's puts it, has been an "oases of stability" in a borough beset by health care woes, has nonetheless faced challenges as an independent operator in an era when such stand-alone institutions are increasingly a rarity. North Shore-LIJ, meanwhile, has been eager to gain a toehold into the Brooklyn market.
Also in Brooklyn: King's Theater in Flatbush officially re-opened last night with a performance by Diana Ross; The Wall Street Journal has some satisfying before-and-after photos.
And for all those who enjoy neighbor feuds—a very special celebrity once-removed edition: Marisa Tomei's parents are suing West 13th Street neighbor Sean Lennon over his failure to remove a decades-old Tree of Heaven plant, which they say is decaying, destabilizing their foundatiion and cracking their stoop, DNAInfo reports.
Last of all, The Real Deal reports that Brown Harris Stevens broker Louis Buckworth will have the pleasure of marketing the Zeckendorf's ultra-luxury tower at 520 Park Avenue, including its $130 million penthouse. It's a pretty big leap between the current record of $100.5 million and $130 million, but we guess at least there's not any more competition in the asking-more-than-$100 million crowd from the Pierre penthouse or Steve Cohen's Beacon Court aerie. It should be noted, however, that neither has actually sold.