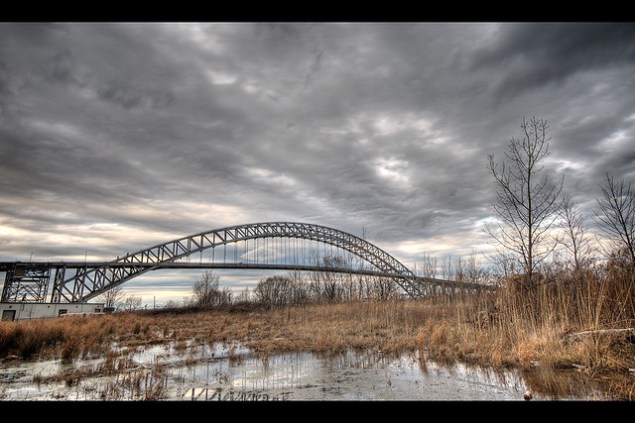 Nobody, not even the mayor, can pronounce the name of NYCHA chief Shola Olatoye right, The New York Times reports. Earlier this month, public advocate Letitia James flubbed it particularly badly, saying "Good morning, Chair Shantola … Ola … Chair." For the record, it's o-LAH-twoh-yay.
If you're delaying marriage in order to sink your money into real estate with your fiancee, DNAInfo has some advice: primarily, it's a lot riskier to buy property with someone that you're not legally bound to. Also, real estate in New York is expensive but a wedding doesn't have to be. Seems like a false choice to us.
How does this 27-year-old condo flipper do it? He reveals his methods to Brick Underground, but the biggest game changer seems to be having the money to buy a half-million dollar apartment right out of college.
The trial of billionaire mining mogul Ira Rennert, who stands accused of looting the magnesium empire he built to build the biggest mansion in the Hamptons, is wrapping up. During closing arguments, his lawyer asked jurors not to be swayed by the man's massive mansion, but rather to look at the transfer of money out of the company, Bloomberg via Crain's reports, telling them, "you are not a jury that is going to be sidetracked by pictures of a big house." But what a big house it is! With 29 bedrooms and 39 bathrooms.
In other saga updates, the owner of a Chelsea house that was once a stop on the underground railroad will have to go back before the city for review of the penthouse addition he was found to have built illegally, DNAInfo reports. The owner, Tony Mamounas, started building the addition about a decade ago, but it remains unfinished after a long legal battle over whether or not he needed to seek approval from the landmarks commission, which landmarked the house in 2010.
And we guess this qualifies as something of a saga, too: The Real Estate Board of New York and the New York State Association for Affordable Housing are meeting with legislators in Albany today, Capital New York reports, to press agendas that both call for the extension of 421-a tax breaks and to persuade Gov. Cuomo to direct the nearly $1 billion the state got in housing settlements toward housing initiatives.
Long Island-based investment firm Omek Capital bought a townhouse on the Upper West Side and in the West Village, which it intends to renovate and flip for twice as much, Crain's reports—a deal that emphasizes the ease of securing lending for residential acquisition. Though the townhouses only cost $22 million together, Omek secured a bridge loan for $25.85 million bridge loan to help cover some of the construction costs.
Popular vegan foodtruck Cinnamon Snail—it was once the highest-rated establishment on Yelp—is shutting down at the end of the week, The Wall Street Journal reports, because its owners weren't able to get a new permit after the truck's old one expired. The city offers 3,100 two-year permits to mobile food vendors every year, but no guarantee of a renewal.
Curbed visits New York's smallest neighborhood—a little place called Ramblersville by Jamaica Bay in Queens.