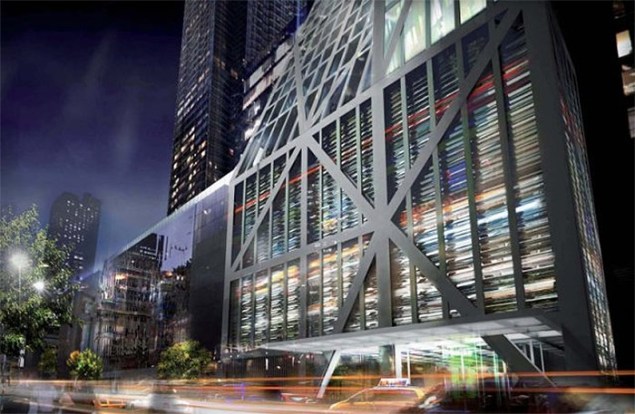 The owner of a Hamilton Heights building that has no heat or hot water on the coldest weekend of the year has been fined nearly a quarter of a million dollars by the city for failing to make that and many other repairs, DNAInfo reports. The landlord, Niam Nabavi, has been on Letitia James' worse landlord list two years in a row, racking up hundreds of violations for 545 W. 146th St.
On the opposite end of the economic spectrum, a glamorous interiors of Tower Verre, now known as 53W53 Street, are not yet floating beyond the clouds in Midtown Manhattan, but being worked out in a Sunset Park warehouse, The New York Times reports, where designer Thierry W. Despont is running a kind of design lab to figure out how to best use space in the strangely shaped Jean Nouvel tower. He previously worked on the restoration of the Statue of Liberty and is working on the Woolworth Tower Residences. Slanted windows, diagonal exterior beams and a tapering effect necessitating entirely different floorplans as one moves up the building are some of the more challenging issues.
At least it should help them avoid situations like the one the Plaza got into with its low-ceiling attic penthouse, which the Russian billionaire who bought it sight unseen sued the developer over. That unit, later purchased by Christian Candy, has returned to the market trying for $59 million, Curbed  reports, noting that it is still low-ceilinged and this time, Mr. Candy does not seem to be including furniture in the price.
Three years after buying 575 Lexington Avenue for $360 million—a $40 million discount on the price the previous owner had paid—Normandy Real Estate Partners is listing the office building again, according to Crain's, in the hopes of beating that previous high price.
Construction on the site of the former Rheingold Brewery site in Bushwick is slated to start this summer, according to DNAInfo. The first building at 123 Melrose St., a 385-unit building of which 20 percent will be affordable, should be finished by late 2016 or early 2017.
But the city's affordable housing goals may face scrutiny by HUD, which is reviewing the mayor's plan to set aside half of lower-rent units for local residents, The Wall Street Journal reports, because they believe that it may restrict housing along race and national origin lines, which would be illegal. But officials and advocates say that there's no incentive for any community to support construction projects if at least a percentage of locals won't be guaranteed a place in them. "Essentially, you're now competing with nine million people" for affordable units, said Rob Solano, executive director of Churches United for Fair Housing, told The Journal. "You have no interest as a community resident to support a project."
The city is trying to copy sites like Streeteasy to match pre-Ks with landlords who have space, according to Crain's, but brokers warn that it's not that easy.
In case you hadn't heard, micro-apartments are going up in Murray Hill and leasing is going to start this summer, which was apparently enough of a peg for The TImes to write about the project again.