LOS ANGELES—A few hours after the end of of the Oscars, an actress friend pulled up outside the Chateau Marmont, and after I jumped in shotgun we cut off Sunset Boulevard with a screeching hard left and ripped up Laurel Canyon Boulevard, scaling a mountain to get above the city, ears popping, and we came to a long, isolated driveway on Mulholland Drive, where a view of a thousand blinking parties burning in Los Angeles was unspooled below before us.
And from the wilderness above town, the elevated frontier, an attendant in a white jacket emerged.
"Excuse me," I asked. "Is this… Madonna's party?"
"Yes," he said. "This is Madonna's party."
Such is the City of Angels during the Academy Awards: A sprawling playground for the immortals of American culture, where tentacles of green currency and the greenlighting powers stretch out through the fire and brimstone on Hollywood Boulevard, and up to the clusters of palaces in the hills, and to the gilded hotel lobbies where boldface names stud the martinis instead of olives, and to the galleries and boutiques of Rodeo Drive, and to the beaches where Manifest Destiny officially ends.
And speaking of Manifest Destiny, there appears to be a new type of imperialism amid the madneess of the Academy Awards, a lingering fear among Angelenos that haunts the expensive campaigning of nominees and the swag-stuffed gifting suites and the constant soundtrack of  helicopters thwock-thwock-thwocking overhead. It's the fear of New York imperialism, that our city will storm the castle in L.A. and wrestle away control of the Oscars.
Let's consider a few things. The biggest party of the year is Vanity Fair's, which gives ur-New York editor Graydon Carter more power than anyone once the last envelope is rended open. Larry Gagosian runs his gallery empire from 980 Madison, and in recent years he's swooped into town to handily win Thursday night with an opening that becomes the world's starriest white cube for two hours. Bloomberg-era tax breaks offered wild perks to producers who film in New York. And most recently, the Sony hacks crippled the studio and by proxy the industry, leaving executives and stars fired and humiliated as New York blogs ran the juicier tidbits in full.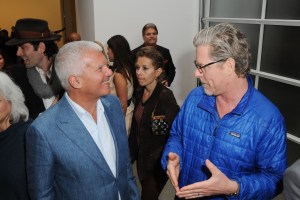 Sure, New Yorkers have always come to Hollywood thirsty to make fortunes off the dream factory. Take this letter from Citizen Kane screenwriter Herman Mankiewicz to Ben Hecht, a future script master who was then still at their old New York tabloid. "Millions are to be grabbed out here and your only competition is idiots."
With that advice in mind, I went out West to investigate whether New York really is nfiltrating La La Land, and I decided to do it during the nutty delirium that is Oscar Weekend.
After checking in at The Standard, Hollywood Thursday, it was off to Gagosian Gallery in Beverly Hills, where a John Currin opening attracted a level of star power that would require blockades of security in Manhattan.
Mick Jagger showed up, for instance, and I managed to have a chat with him in front of one of the neo-classical paintings.
"I've only seen his pictures on an iPhone, so it's good to see them in real life," Mr. Jagger told me.
There was Steve Martin in a periwinkle suit, Elton John and husband David Furnish being led on a quick tour by Mr. Currin's wife, the artist Rachel Feinstein ("And this one's very different, it's much more, um…" and then she trailed off, pointing to a conservatively painted oil work of a woman doing something very unconservative with her hand under her dress).
Leonardo DiCaprio, bearded and hat-clad, made one of his many appearences of the weekend (despite not even going to the actual ceremony) and at the opening stopped Tara Subkoff to tell her "I loved that valentine, I sent it to like five people!" And then everyone started to pour out of the space, at which point a homeless man approached a dude dressed like Jesus and asked for money. Jesus handed over a few bills.
The opening welcomed the public—where in New York can any schmuck off the street walk into a room and brush shoulders with Sir Mick and Sir Elton?—but the dinner at the Beverly Hills outpost of Manhattan's Mr. Chow was decidedly more private. I arrived to see Mr. Gagosian awash in lights from the paparazzi, and then ducked inside to hear about the other billionaires at the party who have come and left—"Jeff Bezos jumped out of a passenger seat of some random car, and then patiently spelled his name out for the person in front," the Australian rep for Dom Pérignon said—before suddenly being one of the last people remaining, along with Mr. Currin and his wife.
"Where exactly is this place again?" Mr. Currin asked, jabbing his fingers at his iPhone, zooming in on curvy streets—the artist lives in Soho and is clearly flustered by the whole L.A. driving thing. But the "this place" he spoke of happened to be "Larry Gagosian's $15 million Modernist mansion in Holmby Hills that was designed for Gary Cooper," and Uber said it was a few minutes away from Mr. Chow, so he decided to brave the winding unfamiliar paths.
"I can bring 10 people to Larry's, right?" Mr. Currin asked, ordering an Uber SUV.
"I mean, it's your party, isn't it?" I said.
I went too, and how nice, Mr. Gagosian casually had perhaps $100 million of art greeting me at his front door. There's an enormous Urs Fischer planted in the main foyer, Cy Twombly paintings are splayed across the walls, and the den has a DVD collection that appears to actually be a Richard Prince installation.
And then I witnessed the scene on the poolside backyard lawn like it was a vast Hieronymus Bosch tapestry of the Hollywood landscape: Mr. Jagger was chatting with flamboyantly attired European car heir Jean Pigozzi; Mr. DiCaprio and his wingman Ethan Suplee were asking an art dealer about where to get the best Lebanese food in L.A.; Dasha Zhukova was lounging by a fire pit noshing on guacamole; producer Brett Ratner was talking with Andre Balazs and, inevitably, some incredibly gorgeous women; servers were bringing out pizza topped with giant mounds of caviar; and the most famous models in the world were gushing to artists about how much they love their work.
"Those stickers you did for Garage magazine were so cool," said current Vogue cover star Karlie Kloss to the artist Alex Israel.
"So … it's pretty cool how supermodels can just know about your work and come up and talk to you," Mr. Israel said once Ms. Kloss left the patio.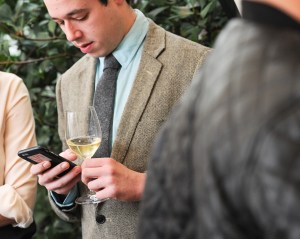 Museum Jumex founder Eugenio Lopez seemed to be rallying folks for an after-after-party, but there was more to come early the next day: A lunch at the Chateau Marmont, that divine temple of Tinseltown schmoozing, for Last Days in Vietnam, one of the nominees for Best Documentary. The pic happened to be helmed by Rory Kennedy, and along with her cousin Maria Shriver, they brought a touch of Camelot to the celluloid world hangout. (A member of another East Coast power family, one alike but different, was there, too: Nicky Hilton.)
"I'm a documentary filmmaker—we don't get treated like this," the 11th child of Robert F. Kennedy said of the luncheon, which was accompanied by three different vintages of Dom Pérignon and stretched into the early evening.
Richard Lewis and Jeff Goldblum lingered in the lobby, and after drinks with a New York friend who happily relocated to the City of Angels a few years back—though he does refer to L.A. as "that impregnable city"—it was off to The Standard, where a few other kids from my home city a continent away, seasick from the waves of undulating Oscar-happy Los Angeles and unclear if New Yorkers really are seizing power here, had come to hunker down before yet another surge of events and hubbub.
Saturday had a few choice offerings, though it seemed it had to be a relatively tame night given the proceedings that were to go down the next day. There was, oh, an enormous pre-Oscar bash at the Sunset Tower where Emma Stone, Adam Scott, Armie Hammer, Bill Murray and James Marsden apparently all stopped by. And a Chanel dinner in Beverly Hills with the likes of Kristen Stewart and Keira Knightley. And about a dozen other events all over town.
And then Sunday came. I took advice from a friend and chose an industry-heavy viewing party for the ceremony, the IFC party at the Sunset Marquis. The suits nervously chugged Grey Goose as the ceremony slouched toward the inevitable: A victory for Birdman, and a crushing loss for the IFC film Boyhood.
"Well, it's an honor just to be nominated!" said one woman. No one laughed.
Perhaps I picked the wrong viewing party—a friend texted me saying he watched the proceedings at a house with Mr. DiCaprio, Tobey Maguire, Kate Hudson, and Demi Moore. But perhaps it was just that my luck was up. Elton John's annual bash seemed to have lost its juice by the time I arrived. And then it became clear that I was actually not going to make it into the Vanity Fair party, due to the change in venues or something. So after a futile attempt to find some action at the Chateau, it was time for a Hail Mary: The famously "no press, no photographers" bash thrown by Madonna at her manager's house—where, rumor has it, people have been stopped at the door statuette-in-hand.
"Excuse me," I asked. "Is this … Madonna's party?" I said to the man in the white jacket.
It was, he said, but then he asked for credentials, and I had none. It was back down to Sunset, back out of Hollywood, back to being defeated. When it comes to this New Yorker's fight to invade the home of silver screen glory, L.A. ably defended its crown.