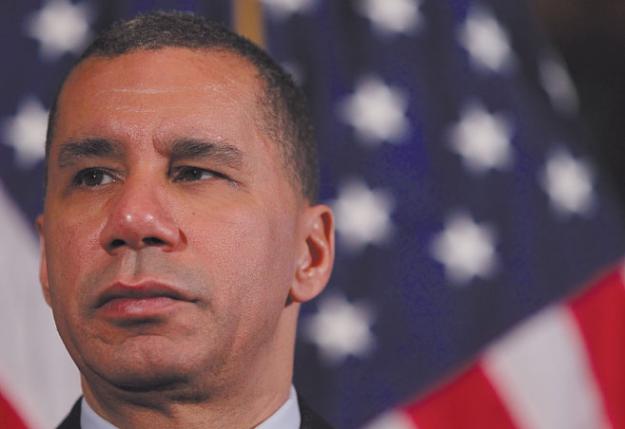 Former Gov. David Paterson today bashed the demonstrators who swamped the streets last year over police killings of black men as "narcissistic," and declared he only attends protests held by Rev. Al Sharpton.
Speaking at a panel discussion at Touro College in his native Harlem, Mr. Paterson told a small audience that the young people who protested the non-indictments of the cops who killed Staten Islander Eric Garner and Michael Brown of Ferguson, Mo., sought only to promote themselves. The state's first black governor and current chairman of the New York State Democratic Party argued that an unhealthy fixation on social media has left the anti-police abuse movement morally and spiritually deficient compared to their forebears in the civil rights movement.
"The technology is interfering with the culture and socialization and even the societies and government, so that it has shifted from a generation of people who care about each other to a generation who only care about themselves," he said. "So even in the recent demonstrations, after the inaction of the grand juries in the Brown case and also in the Garner case, the demonstrations to me looked a whole lot different than the demonstrations that I used to go to."
Mr. Paterson argued that the tactics the movement employed were more about self-promotion than about promoting reforms in police policy.
"The whole idea of protesting is to raise public awareness. Not to raise public awareness of the fact that you are there. So you have people doing things they would never have done years ago, when they were really trying to change things," he said.
Mr. Paterson went on to paraphrase a joke by Nightly Show host Larry Wilmore about the 'die-ins' at major transit hubs: "How does lying down in Grand Central Station stopping a bunch of white people from getting back to Connecticut help the movement? And the point is, that I don't think it was even in the some of the minds of some of the protesters. It was more like grievances, settling scores or finding almost any way to get attention."
The pol acknowledged that other movements, including pro-police protesters, had engaged in cheap stunts like corrupting Eric Garner's last words—"I can't breathe"—and putting it on their own t-shirts.
"It was one of the most insulting things that I've seen in my career," he said of pro-police demonstrators using Mr. Garner's last words. "So it isn't just us, but it's those of us who are trying to change things lose them all."
He contrasted the recent demonstrations that gridlocked city streets with marches led by Mr. Sharpton, who he claimed honored the history and techniques of 1960s black leaders.
"When I go to protests, the only time I go is when it's led by a man named Reverend Al Sharpton. And when he leads a protest, he takes the time to make sure that everyone in the protest is safe, and his security people interact with law enforcement and the people," he said. "And consequently, you've never seen a major incident at a protest led by Reverend Sharpton. Because he was trained by the people who went before."
Some have alleged that marches Mr. Sharpton led through the Brooklyn neighborhood in Crown Heights in 1991 provoked the infamous three-day race riot there, though official reports have claimed otherwise. Many accused the reverend of similar incitement in 1995, after a man shot several customers at Freddie's Fashion Mart in Harlem before setting the store on fire, after Mr. Sharpton demonstrated against the Jewish owner's plan to evict a black tenant.
Mr. Paterson suggested that the latest wave of protests draw too much inspiration from the 2011 Occupy Wall Street movement, which he argued was ineffective because of its failure to present a unified platform for social change.
"But you saw Occupy Wall Street, it was a group that was marching, and didn't even tell anyone what they were protesting about," he said. "So much passion and, not one substantive point to the process."
"That is an aspect of a culture that has seduced a whole generation into this narcissistic conduct, rather than fighting for something greater than yourself," he continued.