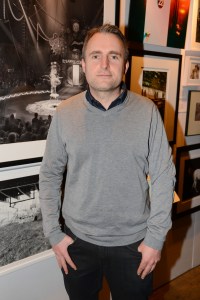 Photographer Matthew Pillsbury has a fairly impressive c.v., with numerous New York Times magazine credits and a host of solo and group shows in the U.S., Canada and Europe, but we doubt he could have done a more impressive job of capturing 102 Gates Avenue in Clinton Hill than the photos featured in the Brown Harris Stevens listing, held by Nadine Adamson and Kelsey Hall.
In any event, Mr. Pillsbury, whose great great grandfather was the founder of the eponymous baking goods company, was evidently quite taken with the place: city records show that he dropped $3.5 million on the five-bedroom, 3.5-bath townhouse, a jot above $3.35 million asking price. That's a lot of dough!
And it's more than double the $1.55 million that seller Austen Colgate LLC paid in 2013, though the house was, at that point, a somewhat painful sight to behold—a spooky affair of bad carpet and bare lightbulbs. The resultant restoration, on the other hand, is, in the words of the listing "a faberge egg" that is "ready to last another lifetime."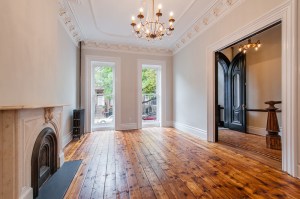 While the brick exterior isn't quite that opulent, the interiors are a stunning sight of nouveau Brooklyn loveliness—from the refurbished, wood-burning fireplace and painstaking restored original quarter-sawn oak parquet floors to the wedding cake crown moldings and braided mahogany borders. That said, the closing price does seem rather steep, if not for Clinton Hill anymore, then at least the section of Clinton Hill that veers close to Bed-Stuy.
But then, the house's evanescent, two month spell on the market and the premium paid over ask suggest that even if Mr. Pillsbury did not pay $3.5 million for the place, someone else would have.
This is, after all, the new Brooklyn, a place that even those with famous family names, formerly of France and New York, New York, now long to call home.