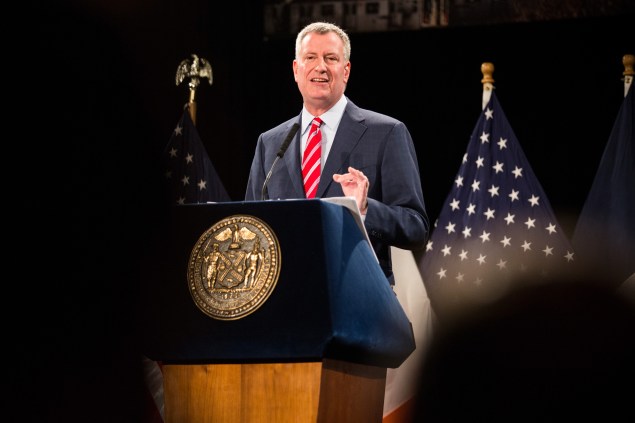 During Tuesday's State of the City address, Mayor Bill de Blasio announced a plan to provide 1,500 units of affordable housing to artists and musicians. The initiative is part of his goal to preserve or build 200,000 affordable apartments throughout the city by 2024.
"We know that New York is the city it is today in part because of the contributions from generations of artistic visionaries who at one point struggled to make ends meet," de Blasio said.
Many of the nitty-gritty details haven't been released, including where the apartments will be located. But officials told WNYC that the city will build 150 units of artists' housing each year for the next 10 years and will target working artists who qualify as low-income.
The plan also calls for developing 500 units of work space for creatives, and the city will pick one or two city-owned spaces for the first leg of the project by the end of this year. Funding will come from the Department of Housing Preservation and Development, the Department of Cultural Affairs and private foundations.
According to the income limits the plan will most likely use, an individual would qualify as low-income if he or she makes $29,400 to $47,000 a year. A family of four qualifies as low-income if they earn an annual salary of $41,951 to $67,120.
Last year more than half of New York renters spent 30 percent or more of their income on housing, de Blasio said. So far, the administration has tried to make a dent in the city's housing crisis by creating and maintaining 17,300 affordable units in 2014, beating its goal of 16,000 units.
It remains to be seen if the promise of 1,500 cheap apartments will be enough to encourage musicians and artists to stay put–or whether Patti Smith's words at a 2010 Cooper Union event still ring true.
"New York has closed itself off to the young and the struggling," she said. "But there are other cities. Detroit. Poughkeepsie. New York City has been taken away from you. So my advice is: Find a new city."