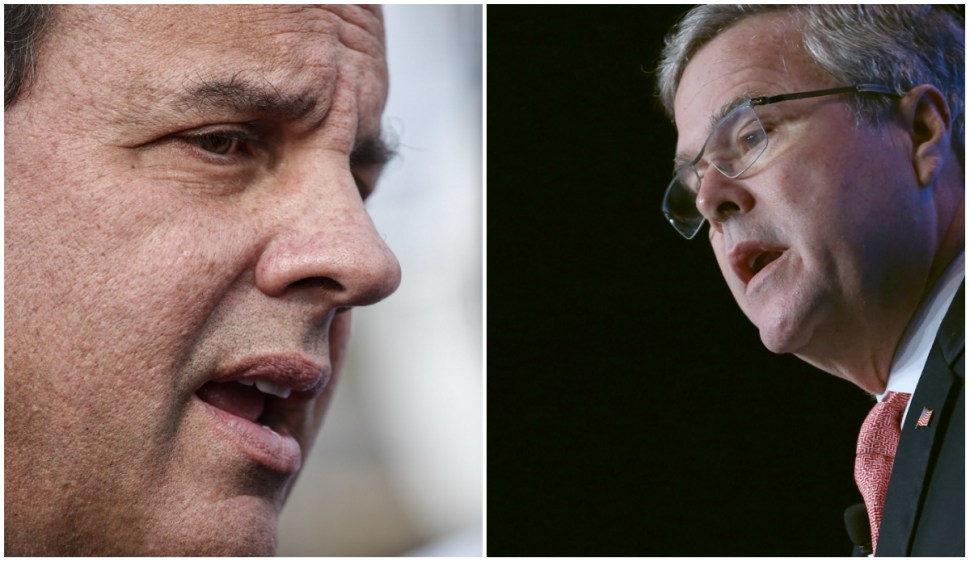 The New York Observer, PolitickerNJ's sister publication, has a piece out today further outlining some of the ways Gov. Chris Christie might be losing the pre-presidential primary fundraising/support race to party nemesis Jeb Bush, the former Florida governor and other moderate candidate mulling a bid for the 2016 nomination. Bush, according to the article, is moving quickly to secure backing from some of the region's biggest bundlers and figures — including, apparently, former Secretary of State Henry Kissinger — and has been filling his Right to Rise leadership PACs coffers with several GOP dinners held in his honor by various donors.
Per the article:
"But it's an event scheduled to take place this Thursday afternoon, February 12th, that might send the clearest signal yet of Jeb Bush's dominance of the Republican establishment. According to two sources, including one inside the Bush organization, former Secretary of State Henry Kissinger will be the star attraction at a lunch hosted by Right to Rise at which Mr. Bush will also appear.

In addition to bolstering Mr. Bush's momentum, his strong push into the tri-state area will likely add to a developing narrative that Northeast Republicans are deserting New Jersey Governor Chris Christie just as he gears up to launch his own presidential bid."
That Christie's fledgling campaign is facing some real challenges, not just from other establishment-backed candidates like Bush but also from other prospective Republican nominees like Wisconsin Gov. Scott Walker, has been made increasingly clear over the past few weeks. Beginning with a somewhat disastrous trip to London last week, Christie has been forced to weather a bout of bad press as Walker has inched closer into the spotlight, and Bush continues to encroach on valuable political support that otherwise could have gone to the Garden State guv. Many of those challenges were outlined in an Observer cover story written by PolitickerNJ's own Mark Bonamo last week — which also shared for the first time names of more than a dozen New Jersey and New York finance heavyweights who attended a major GOP dinner for Bush, hosted by New Jersey lawyer and former RNC finance chief Larry Bathgate.
But the news included in today's Observer piece bodes even worse for Christie's chances, it seems: not only is he losing the race to Bush but he's losing it on his home turf. According to article author and Observer editor Ken Kurson, Bush is amassing support from what he calls the "'Big Three' of New Jersey's Republican rainmakers" — key bundlers and financiers who sit at the heights of the GOP establishment in the Garden State. The team was most recently made whole with the support of Cliff Sobel, a former ambassador to The Netherlands and then to Brazil during the administration of George W. Bush, who is considered one of the most sought-after fundraisers in New Jersey's well-moneyed Republican circles, according to insiders.
"The trio of Mr. Sobel, a former ambassador to two sweet postings; Mr. Bathgate, a former RNC Finance Chairman; and Lew Eisenberg, the current RNC Finance Chairman, forms the "Big Three" of New Jersey's Republican rainmakers. With Mr. Bathgate having already committed to Jeb Bush, the addition of Mr. Sobel represents a major coup for Mr. Bush's campaign as it quickly takes shape."
As Kurson points out, it's all further proof that Christie faces stiff odds in the lead up to 2016 — but also that the popular incumbent governor may be losing the "vice grip" he once had on the Republican Party in New Jersey. That point was the main takeaway of a statewide GOP conference Assembly Republicans held at the Borgata in Atlantic City last week, which Christie himself failed to attend because of his London trade mission trip: among the 600-or-so Republicans gathered there, not even Christie's face on the big screens, or the fact that the event was hosted by one of Christie's closest allies in the legislature, Assembly Majority Leader Jon Bramnick (D-21), could cover up the palpable sense that this was a party straining to put a spotlight-hogging governor behind them and turn their heads to future challenges, such as this November's Assembly races.
Now, it seems, Christie's nonchalant approach to securing support at home could impact the future of his presidential bid.  One high-profile New York donor and experienced political veteran quoted in the Observer's article offered a particularly telling assessment of that struggle:
"Jeb is making more inroads than Christie. Christie is oddly taking a lot of people for granted. You know, Christie is the closest thing we have to a home-state governor in New York, so therefore Christie has a lot of relationships. He just assumes all these people who have been so supportive of him are going to be there for him in 2016. I just see no evidence of that. It's not to say some won't. Some will, but Jeb Bush is making huge inroads with a lot of them."