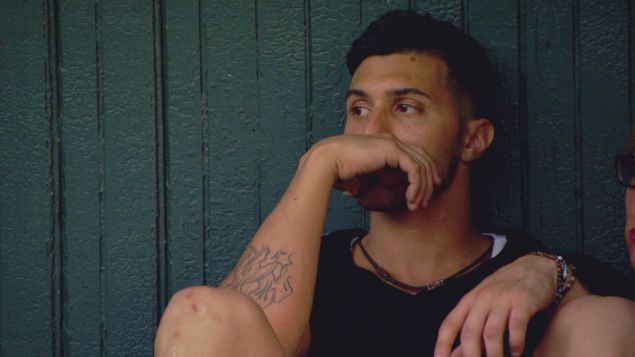 Confession time. I have been so caught up in the Real World Skeleton conceit—the idea of bringing in a skeleton (or two) from all the cast mates' pasts to stir up drama—that I completely forgot each one of these people actually have a skeleton inside them already. You don't need anyone to be your skeleton for you. Be your own skeleton. Be like Bruno.
Okay, don't be like Bruno because Bruno is not okay. There is something wrong with Bruno. I don't mean that in an insulting way. I mean that in a watch how erratic this guy's behavior is, one minute he's laughing and smiling and the next he is screaming and punching way. This storyline has been building over the last few weeks. Bruno is trying to put on weight in the gym. He freaks out over hamburgers and mild insults. He doesn't go out with the cast mates because he thinks drinking and partying every night is stupid. And his moods change from one second to the next. Does MTV test for performance enhancing substances on the Real World? Because Bruno's performances have been on another level lately.
Bruno's brother, Briah, shows up at the house. They have not spoken in three years. Because they got into a fight over a tuna fish sandwich. It was Bruno's only source of protein. Briah also said that he wished Bruno died in the car accident that very nearly did almost kill Bruno. So that's pretty messed up. But the punishment doesn't fit the crime. Not at all. You know who doesn't talk to their brother for three years over a can of tuna? Someone who doesn't want to be close to anyone at all. So that way, when people try to get to know you and you flip out on them, they'll be like: "Why are you so mad, what is the big deal?" And then that angry person can say, "You don't think this is a big deal? Well, I didn't talk to my own brother for three years over disgusting tuna fish, so whatta ya think I'll do to you?"
But Briah apologizes to Bruno almost as soon as he walks in the door. And Bruno reluctantly accepts it. And that's it. The Great Protein War is over. Production asks them if they want to make up for lost time and they're both like, "NAHHHHH, we're good." Briah does drunkenly bother Bruno while he's out on a date with Carla, which means he talks to him about his feelings in public—a thing Bruno hates but Carla still seems to be the one person who Bruno can keep his cool around. Unfortunately, Bruno's grandfather passes away while Briah is out there visiting. Bruno is very close to his mother and she is taking it hard. But Bruno doesn't want to talk about it at all. He tells Briah but also wants him to keep it a secret from the roommates because it isn't any of their business. They very clearly know something is wrong, and they also know Bruno is not going to tell them what it is.
And then, Bruno loses his shit. I don't know if he's annoyed that everyone is drunk. Or that they are in a van. Or that they were just on a boat. Or that they are in Chicago. But he accidentally calls V, Sylvia. Sylvia yells at him and hits him. And Bruno goes atomic. He screams at Sylvia. He screams at everyone. Tony tries to stick up for Sylvia by telling him to chill and he puts his finger in Bruno's face. Bruno smacks it away a couple of times. He punches the ceiling. He gets in Sylvia's face. He looks like an animal with its back against the wall; he has pure rage and fear in his eyes while he tries to open the door to the moving van and jumps out. Nicole follows him. She gets him sort of under control and they decide to run. I don't know if they're running to shake out the anger or to get away from the cameras. It looks like both. After Nicole finally calms him down, Briah finds them and tells them that Tony was talking shit about him in the van after he left. Bruno goes flying into the house and starts screaming at Tony again. Everyone tries to keep Bruno back, but he is able to domino through four people in his way. The dude is strong. They finally get him separated and he storms off and locks himself in the confessional by crumpling down into a human pile in front of the door. These parts are not fun to watch. Especially when Bruno is curled on the ground, clearly trying to avoid the cameras. The most haunting time shows him lying on his stomach, checking to see if he's in the clear and then turning back to see one camera still on him. He looks directly into it as it cuts to commercial.
The Producers ask the rest of the roommates if they are scared of Bruno. Nope. Nobody is. Hurray, everybody in the house is so goddamn brave. I don't get it. I am scared for them and I'm just watching on television. Maybe it looks worse than it is onscreen? Maybe they really aren't worried for their own safety. In past seasons, Bruno would have been gone for the accumulation of everything he's done up to this point. Maybe MTV's new clause says that a cast mate is allowed to be murdered on air, as long as they don't feel scared up to that point? I think Bruno is actually dealing with something, or many things, and he should probably go take care of that, rather than stick around and make himself and the other roommates unhappy.
So that's the dark stuff. It was not a feel good episode. But there were some highlights. V plans a birthday party for herself on a boat (right before Bruno's flip-out) and for some reason her friends drive 19 hours to get there. I'm sure there is editing involved but it looks like they are only there for the length of the Booze Cruise. Bonus points for being amazing friends OR having a really solid dedication to drinking on a boat. V also calls the Production phone to see if she can order strippers to the house. They say yes but to make sure the guys are okay with being on camera. V cuts them off and is like, "no we want girls." End scene. No other mention of it. This is disappointing. Not because I need to see the strip show but because it leaves so many unanswered questions. A) Did they get them? That's really the main one. I believe they probably did but the strippers preferred not to be on tv. That's what I'm sticking with in my head.
The best subplot of the episode is the relationship between Tony's brother and Bruno's brother. Tony's brother, Shane comes to visit while Briah is there. Shane is like a mini-Tony, except his eyebrows are more manicured, he's shorter, and he's not into every woman who is into him. He's actually been out of the closet since he was 15. Briah has only recently revealed openly that he is gay. And the two younger brothers begin to flirt, even after their older brothers nearly try to kill one another. Briah even tries to explain why he had Bruno's back and Shane hits him with the "I don't have any allegiances either way, I only care about what's right, so respect that." I'm sure in the history of the Real World all types of hookups have happened while siblings are visiting but this has to be the best one. Tony and Bruno sort of, kind of makeup at the end, but the idea that their brothers like each other while they have beef is too good.
We're approaching the end of this wild ride. Hopefully, everyone can make it out in one piece. Madison's Skeleton is coming next week and we have no clue who it could be…