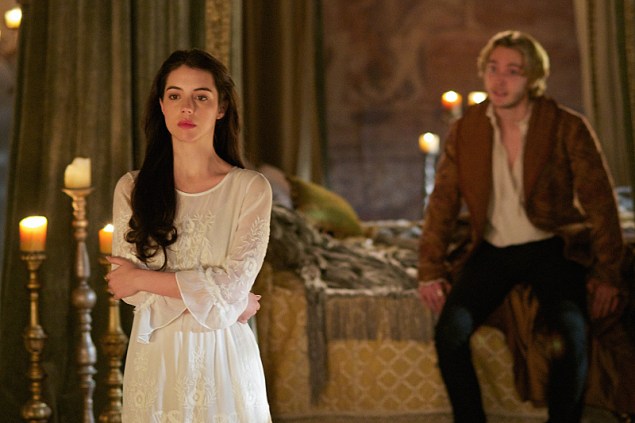 As the season goes on, we hear more and more talk of Queen Elizabeth. Even though she hasn't been seen yet, she should probably have her name in the opening credits considering how much her name has been bandied about in 'Forbidden.' It would be really entertaining if she was one of those storied characters whose name was always invoked, but was never seen, like Tino from "My So-Called Life" or Maris from "Frasier." However, we'll most likely eventually see her in the flesh and her entrance better be memorable after all the build up.
Marie de Guise, Mary's mother, returns to Court for the funeral of her brother and to urge Mary to get to the goddamn baby making already. Apparently the fact that she hasn't produced an heir is one less thing keeping Elizabeth from making a claim towards the Scottish throne. Still, Marie de Guise isn't content with just a pep talk. No, she takes it upon herself to drug Mary's drink to get her to sleep with her husband. I'm going to go head and given the writers the benefit of the doubt that this was written before the renewed interest in Bill Cosby's alleged assaults. This show has a way of being prescient, what with opening with a plague storyline at a time when Ebola hysteria was dominating the headlines. Then there are the depictions of violent religious uprising during a time when ISIS pretty much owns the news cycle. Then there was the notorious rape episode at a time when campus rape was a huge part of the national conversation. On one hand, the show is dealing with themes that transcend time and place, so yeah, a lot of the topics covered would feel relevant despite the fact that everyone's wearing a corset. On the other hand, sometimes the timing just feels eerie.
Anyway, after out-Catherining Catherine, Marie de Guise gives Lola a bitch out for the ages about how her illegitimate son with Francis is a threat to Mary's reign. Frankly, Mary probably should have had this dressing down with Lola herself, but Amy Brenneman really kills it here. After Marie storms off, Lola desperately needs a drink and downs the spiked wine intended for Mary leading to one of the greatest things to ever happen in the history of the show. Namely, we are treated to loopy Lola talking to furniture, insulting the wildly inbred family to which Lola's son was intended as a future bride for their son, hitting on Francis, and laying down some prime Lil' Kim level filth talk on Narcisse, who decides to take a sex raincheck for when she's more lucid. He's probably already running the bath water. Still, the tension between Lola and Narcisse is one the most legitimately sexy things about the show and has been well-paced throughout the season. Plus, the added closeness between her and Francis does seem to complicate the matter in a compelling way. Regardless,  every week, Lola should get fucked up and then blow through the castle like an adorable tornado.
Mary is having a lot less fun this week, what with her failed attempt to get busy with Francis and the reveal that her mom is doping herself up on the regular because she is dying and she's also forced to admit her rape to her mom amid the pressure to conceive a kid. Between the marital discord, the looming threat of her cousin Elizabeth and the fact that she just can't seem to catch a break these days, Mary is all "fuck this," confesses her feelings to Conde and proposes that he run off to be her consort-with-benefits while she goes back and rules Scotland, dspite the fact that Francis explicitly forbid her from keeping the company of another man. Seriously though, LOLZ at Francis forbidding anyone from doing anything.  This would basically be Conde's dream come true if Antoine hadn't swooped in to tell him that Elizabeth had tapped him to be her husband, resulting in an advantageous alliance for Antoine and Elizabeth and leaving Conde looking like he wants to throw up. No one has ever looked more pained at the prospect of having to choose between potentially being beheaded for sleeping with a king's wife or becoming a king himself.  Furthermore, this new develop adds another angle to the love dodecahedron forged between Mary, Conde, Francis, Lola and Narcisse.
Antoine, Kenna and Bash are embroiled in a much more simple love triangle, with Antoine aggressively courting doubt in Kenna and Bash's marriage and even appeals to Kenna's desire for wealth and security by dangling the possibility of marriage in front of her once his sickly wife passes. That's just what every girl wants to hear.
Also, Greer is now successfully pimping her prostitute neighbors and making a bit of money for herself, despite the fact that her messy hair is supposed to signify that she is down and out. Still,  who says there are no second acts in life?