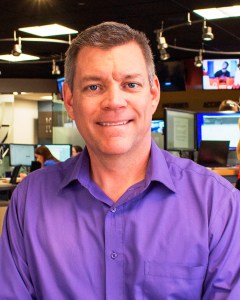 Every single weekday, I spend 50 minutes with Mark Moran. He's the narrator of Audible.com's podcast of the New York Times AudioDigest, a perfectly curated synopsis of each day's news and opinion that arrives on my iPhone every morning. It's exactly what you think it'd be. Each day, the editors of the Times choose about 20 stories—mostly news, but occasionally an enterprise piece or an obituary, plus two editorials and a column—and Mr. Moran reads them in his nice, easy way, ideal for the subway or while walking to work.
"I started this when I came to Arizona through a friend who used to work at Audible," Mr. Moran told the Observer in an interview. "It's a fun thing to do despite the crazy hours. I like the challenge reading it, especially the international stories."
As the world adjusts the way it consumes news, podcasting is entering the mix. The Times has been producing its Digest for years and its popular new NYTNow app is an outgrowth of ongoing initiatives to reach readers in the format they desire with story lengths they prefer. Audible has been reading the Digest for a decade and a half now, but the sudden appearance of hit podcasts might just be providing the "moment" it needs to break out.
So how does it work? This thing appears on my iPhone between 5 and 6 a.m. EST so that means Mr. Moran is recording in the middle of the night mountain time.
"I get it about 10 p.m. Arizona time and go through pages to look for words that might trip me up and look for pronunciations. If something trips me up, I'll edit it and hopefully it's a seamless edit and you can't hear that."
Mr. Moran's day job is at Phoenix's public radio station, KJZZ. He started in public radio hosting a jazz show while still an undergraduate at Texas A&M. He went to Alaska to cover the Exxon Valdez and then to Iowa to cover politics. He was recruited to become a news director and general assignment reporter in Phoenix, where he is now the Associate General Manager.
Mr. Moran has some idiosyncrasies that knock me out. He murders any Yiddishisms that slip into the Times and consistently makes mincemeat out of certain last names, so the Koch Brothers are pronounced like Mayor Koch rather than Coke. He told me, "I haven't said that in months after I was corrected on that a year ago."
He also makes small but weird alterations to the text. Yesterday morning he inexplicably changed "A newly disclosed National Security Agency document illustrates the striking acceleration of the use of cyberweapons by the United States and Iran against each other" to "illustrates the shrinking acceleration." So it's basically the opposite.
Not only do I forgive Mr. Moran because he's got to record this stuff in the middle of the night, somehow these quirks have grown on me, Harry Caray style, and given him an even greater authority because he's just so damn earnest and well-meaning. I also find myself listening to stuff that I'd ordinarily ignore in print, even though the thoughtfully designed app makes it very easy to skip from chapter to chapter and even do the forward 30 seconds thing that I love. I'm willing to tolerate 60 seconds of which stocks are up and down and even Paul Krugman starts to make some sense when filtered through the trustworthy Mark Moran.
When I first got the idea to write this story a few months ago, it took me a while to even identify this delightful narrator. Until recently, Mr. Moran didn't say his name on the podcast.
In an unfortunate sign of my frosty relations with the New York Times, spokesmeanie Eileen Murphy declined to identify the narrator, telling me "Audible hires their own voice talent, so it's not something we can help with."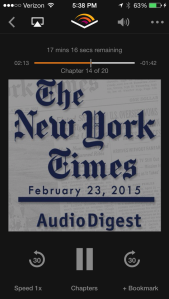 I didn't press too hard because, in a way, it was nice not knowing—just this remote voice that plays a minor daily role in my life, like the woman who tells me to press the pound key for more options or the man who advises to please stand clear of the closing doors.
All of a sudden about a month ago, at the end when he says "you've been listening to the New York Times," he added, "narrated by Mark Moran." It was jarring. A burst of pride in his work? A longing for recognition? According to Mr. Moran, "After 15 years of doing this, it occurred to me that someone might actually care who is reading the stuff they are listening to."
Mr. Moran is as sunny as I'd guessed from his affable reading style, but when pressed for a "name one thing that annoys you" angle, he cited the occasional editing of stories in the digest that inadvertently crop out the first mention. So a version of a story about the Ukrainian president might mention "Mr. Poroshenko" but then it's up to Mr. Moran to figure that his first name is Petro. (Mr. Moran declined to answer my nosy question about how much Audible pays him to read this in the middle of the night five times a week, but I hope it's a ton—he allows only, "I wouldn't do it five nights a week just for fun.") A spokesman for Audible told the Observer that the daily recording has "hundreds of thousands" of subscribers, many of whom get it for free as a perk of being a subscriber to Audible.
Finally, a shocking admission. Mr. Moran has never heard Serial!
"NPR's CEO Jarl Mohn was out here a few weeks ago and was going on and on about Serial. I have not had a chance to listen to it. People will reference it in the newsroom and I'm like, 'Jeez, I'm not in the know.'"
For those who listen every day, "in the know" is exactly what they are, thanks to the Audible, The New York Times, and a night owl in Arizona named Mark Moran.