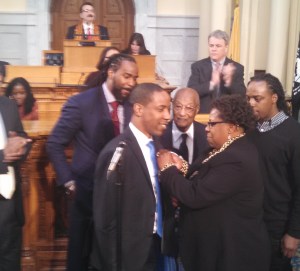 TRENTON — Legislative district 20's newest representative was sworn-in on the Assembly floor today amid cheers and jeers of approval.
Friends and family nearby, Roselle Mayor Jamel Holley took the oath of office during the body's session. Holley replaces former Assemblyman Joe Cryan in the legislature's lower chamber, who left his seat beginning this year to replace the late Ralph Froelich as Union County sheriff.
"This is a remarkable place," Assembly Majority Leader Lou Greenwald (D-6) said. "Out of thousands of residents, only 128 of us get to serve the the New Jersey state legislature."
Others, including Assembly Minority Leader Jon Bramnick (R-21), praised Holley as an "optimist," and congratulated Union County Democratic Chairman Jerry Green (D-22), also in attendance, on securing him as Cryan's replacement.
"Green — that's a smart chairman," Bramnick said, turning next to Holley. "I'm not happy about about the fact that you're a potential superstar."
Holley was formally selected to succeed Cryan by the county's Democratic organization earlier this year, announcing his official intent to run for a full term shortly thereafter. He's expected to join current Assembly Annette Quijano (D-20) in June's primary election — and is likely to face a challenge out of the political organization otherwise known as the Elizabeth Board of Education.
Sources in Elizabeth have already indicated that Board Member Tony Monteiro is gearing up for a run at Quijano. Nevertheless, Holley has said he is confident in his hometown, one of four towns in LD20, where he is backing At-Large Councilwoman Christine Dansereau for his replacement in city hall.
Green, for his part today, said Holley's induction was a good way to wind down Black History Month, and later cracked a joke about Republican Gov. Chris Christie, who is expected to return here tomorrow to give his annual Budget Address in the Assembly's chambers.
"The only thing missing in this chamber is Jerry Jones of the Dallas Cowboys and Chris Christie," Green said.
Holley said he was thankful to friends and family for the support.