Since writing an article in the Observer urging the New York Jewish Community Relations Council (JCRC) and the UJA-Federation to refuse the New Israel Fund (NIF) participation to the annual Celebrate Israel Parade, I have been inundated with calls and emails from people supporting—and attacking—my position.
So much panic has been caused that Israel's former Ambassador Danny Ayalon—who was aware of and supported my position before I wrote of it—received calls in the last 48 hours from Michael Miller, the head of the JCRC; Eric Goldstein, president of UJA; and Jerry Levin, UJA's past president, pressuring him to silence the voices condemning the NIF. They have a meeting set Feb. 23 to discuss this issue.
Clearly, mass concern remains over the parade's decision to allow the participation of the extremist New Israel Fund (NIF), a group that hurts the Jewish State, funding legal efforts that seek to place the rights of the terrorists over victims who were killed while praying in Jerusalem, and has called Israel "racist" and "murderous."
In response to my op-ed, the JCRC crafted a statement, which reads "JCRC-NY has for years required that all parade groups must identify with Israel as a Jewish and democratic state. This year, JCRC-NY, for clarification purposes, added a new rule that all groups must oppose, not fund, nor advocate for the Boycott, Divestment and Sanctions Movement (BDS) against Israel, which seeks to delegitimize the State of Israel by not recognizing it as a Jewish state."
However the JCRC will not address the fact that on NIF's own website, the group clearly supports BDS. Even though the NIF states that it "will not fund global BDS activities against Israel," a paragraph later it apologizes for exactly those activities, stating "NIF will thus not exclude support for organizations that discourage the purchase of goods or use of services from settlements."
The high-profile SodaStream debacle, which saw actress Scarlett Johansson step down as "global ambassador" of Oxfam centered around this very issue. Ms. Johansson resigned from Oxfam, noting she has "a fundamental difference of opinion" with Oxfam International because the charity opposes all trade from Israeli settlements, and noted that she and Oxfam "have a fundamental difference of opinion in regards to the boycott, divestment and sanctions movement."
Scarlett Johansson was right, and the organizers of the Israel Day Parade are wrong. These areas are part of Israel, and any boycott of Israel is harmful.
The JCRC knows that the extremist, radical New Israel Fund supported the efforts to force the closure of SodaStream's Maale Adumim plant—yet, they continue with their word and boundary games.
There is far more here than JCRC or UJA are willing to see. NIF spends in the neighborhood of $30 million annually, and a majority of its grant money and grantee organizations engage in efforts that are overtly hostile and damaging to Israel. As the Knesset's Deputy Speaker Yoni Chetboun said, "The main goal of the NIF is to undermine the Israeli Army, by knowingly financing left-wing Israeli groups that try to get young Israeli soldiers prosecuted for war crimes."
An NIF grantee, Breaking the Silence (Shovrim Shtika), for example, provided information to the United Nations Human Rights Council following the 2008 Gaza incursion, which proved pivotal to the 2009 Goldstone Report accusing Israel of war crimes. Over 90 percent of the information against Israel and the IDF was provided to the report committee by organizations that were funded by the New Israel Fund. Breaking the Silence is once again providing information to the U.N. to create a similar report for the Gaza War of 2014.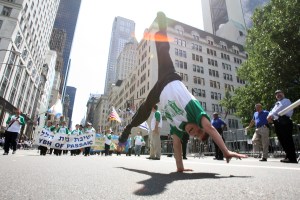 Adalah, another NIF grantee to the tune of $1,673,634, launched a "Discriminatory Laws in Israel" database on its website. Adalah goes around the world on NIF's dime filing lawsuits against Israel in as many jurisdictions as it can to tie up Israel's resources and time in a campaign referred to as "lawfare." These are just two of many organizations NIF funds that harm Israel.
Instead of owning up to their mistake, the JCRC is digging its heels in and calling in favors to quiet pressure. Wealthy donors and Jewish leaders have called on former Israeli Ambassador Danny Ayalon to try and stop those of us naysayers. Ayalon is active against NIF, yet JCRC has summoned him for a Monday meeting to appeal to his sense of the "importance of the parade."
This is not an issue of the right versus the left; it is an issue of the right versus the wrong.
In private appeals, the most senior executives from these Jewish organizations, whom I know and like personally, talk about their families in Israel, their love for Israel and of course, how long and hard they have worked for the Jewish people. They had a prominent JCRC board member and professional colleague ask me to stop writing. While many of these people tell me privately they abhor NIF, they will not speak out publicly.
They are wrong to be silent. As I have said to them privately, and repeat here publicly, being a Jewish leader requires determination, strength and integrity. Being a good person does not necessarily qualify one as a good Jewish leader.
There are wealthy donors within the UJA and JCRC who support the New Israel Fund. Jews—and others—have the right to actively finance this organization that whitewashes BDS, supports efforts to bring Israel before United Nations' war crimes tribunals, and demoralizes IDF soldiers. But they cannot do so in the name of American Jewry. Nor can New Israel Fund be allowed to participate in an event that is described as "the single largest gathering in the world in support of Israel."
Scarlett Johansson, the sexiest woman alive, was commended throughout the pro-Israel world for walking away from Oxfam due to its involvement with the Boycott, Divestment and Sanctions Movement. Similarly, JCRC and UJA must walk away from the New Israel Fund.
Ronn Torossian is CEO of 5WPR, one of America's largest independent PR firms.