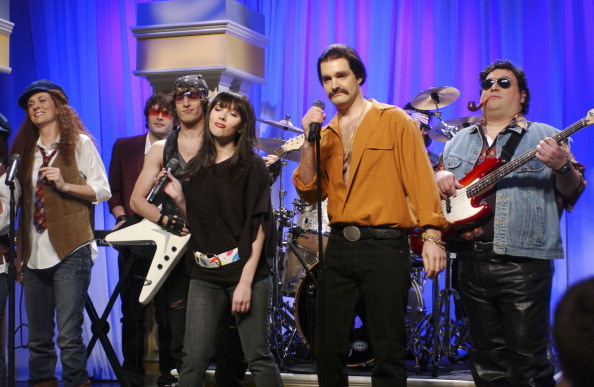 It's a known fact that Scarlett Johansson's sultry voice is a certified knee-weakener. Remember Her? The actress managed to melt hearts with nothing more than a voice-over role for crying out loud. As it turns out, those vocal chords can carry a tune, too, and they're pretty damn good at it.
Together with Este Haim, Holly Miranda, Kendra Morris and Julia Haltigan, Ms. Johansson formed a group called the Singles. No, this is not the plot of an unreleased chick-flick.
"The idea was to write super-pop dance music written and performed by girls," Ms. Johansson told Rolling Stone, listing Grimes, the Bangles and the Go-Go's as inspirations for the band's sound. "I wanted it to be like those bands: Ultra-pop but also a little ironic, a little in on the joke."
If the group's lead single "Candy" is any indicator, the Singles sure have that "super-pop" thing down. Produced by TV On The Radio's Dave Sitek, the song has us humming and mouthing "You're the candy to my heart" all day long. And quite honestly, nobody can get away with singing "Boy I'm like a piece of sticky gum" quite as well as Ms. Johansson does.
"Candy" will soon be released on Sitek's Federal Prism label. Pre-order it now at PledgeMusic and take a listen for yourself. Like we said, the girl can sing.
[soundcloud url="https://api.soundcloud.com/tracks/191660469?secret_token=s-vScPm"]