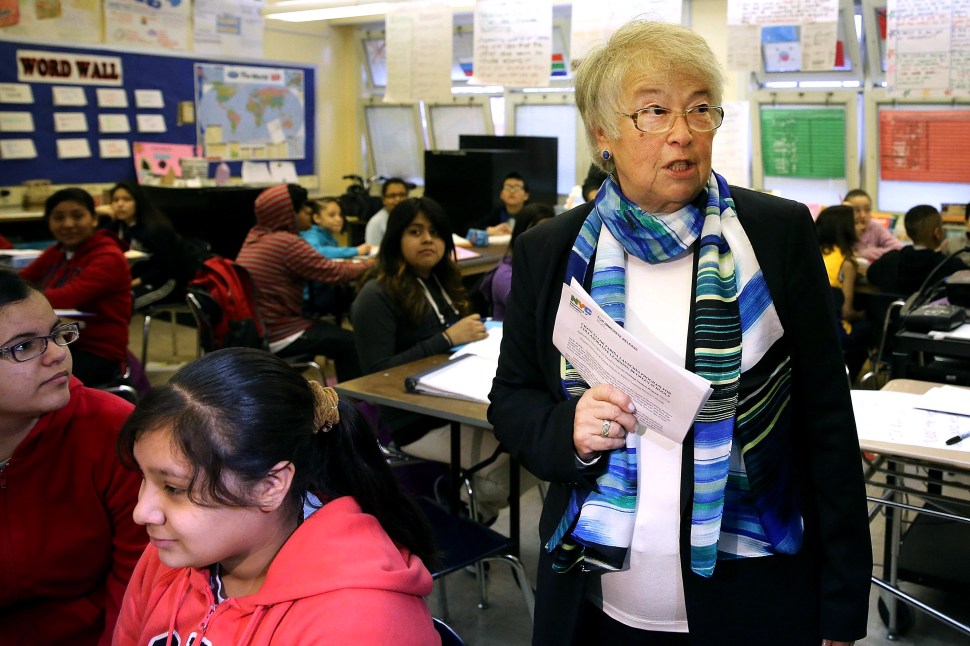 Of all the not-like-Mike administrators in and around Bill de Blasio's City Hall, Schools Chancelloris the most aggressive in the pursuit of erasing all and everything associated with the late Bloomberg administration. Before you know it, she'll be testifying in Albany in favor of abolishing mayoral control over the city's schools—one of Mr. Bloomberg's first and most-enduring legacies.
Ms. Farina has made a great show of her contempt for Bloomberg-era demands for accountability and data-driven decisions. Secure in the knowledge that she knows best, Ms. Farina has been systematically dismantling reforms that Mr. Bloomberg and two of his chancellors, Joel Klein and Dennis Walcott, put in place, usually over the kneejerk objections of the United Federation of Teachers.
---

Nobody is more delighted with the chancellor's throwback style than the teachers' union.

---
Her latest crusade will reverse Mr. Bloomberg's empowerment of individual school principals, a reform put in place because it was thought that principals understood the needs of their schools better than remote district superintendents did. In an ironic twist on the de Blasio tale-of-two-cities narrative, Mr. Bloomberg supported decision-making at the grass-roots level, while Ms. Farina is intent on re-imposing a top-down, centralized leadership style throughout the city's 41 school districts.
Ms. Farina has every right to re-order the city's schools as she and her boss see fit. But it is fair to ask whether she is acting on behalf of the city's 1.1 million public school students or if she simply wishes to banish Bloomberg reforms simply because they were, well, Bloomberg reforms.
Certainly nobody is more delighted with the chancellor's throwback style than the teachers' union. The UFT's leaders know that by weakening principals, Ms. Farina is creating a power vacuum in individual schools, a vacuum that the union will be more than happy to fill, just like the good old days.
Ms. Farina's disdain for accountability is troubling, but even more disturbing is her burning desire to purge the school system of the changes implemented during the Bloomberg years. One has to wonder what she was thinking—and saying—when she served as a deputy chancellor under Mr. Klein, who devised so many of the reforms Ms. Farina is intent on dismantling today.
Ideologues who wish for a return to union-controlled public schools and unaccountable leadership no doubt believe Ms. Farina is doing a great job. Those who care about actual students have good reason to disagree.