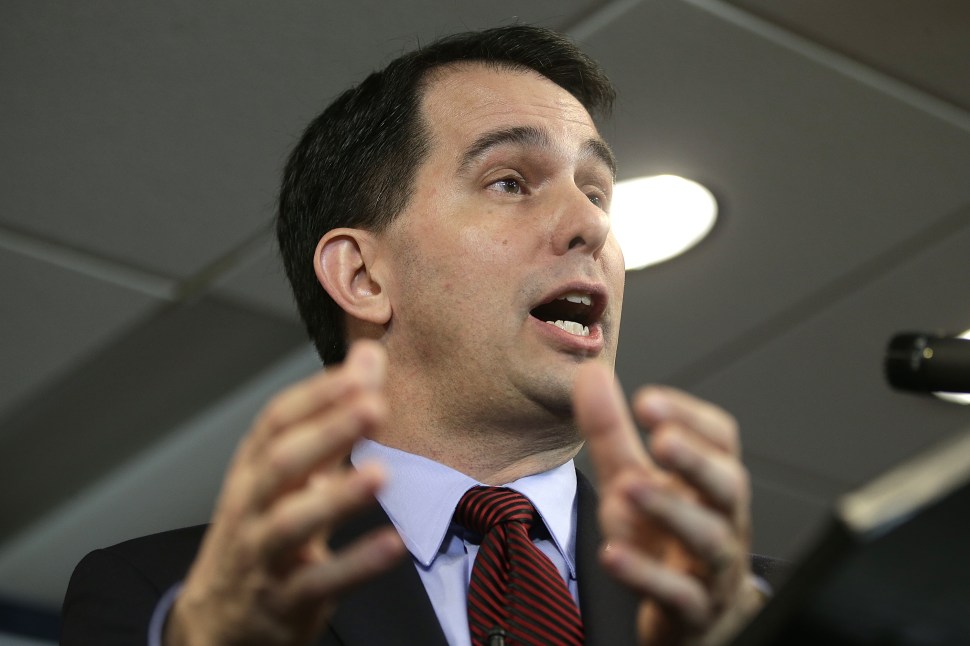 We've been hearing all day about Rudy Giuliani's remarks at the Scott Walker event last night, including coverage of the current mayor's reaction to same and Rudy's exclusive interview with the Observer reacting to that reaction. What we haven't heard much about is the event itself.
While the kerfuffle over Mr. Giuliani's words has overshadowed the dinner, it's actually quite extraordinary that a relatively obscure governor from Wisconsin, best known for almost being recalled, could pack a room with the luminaries he entertained last night. Furthermore, Gov. Walker had three additional New York City events scheduled for today, again posting impressive signs of inroads being made in a city that makes up for in contributors and media wattage whatever it may lack in Republican electors.
The Observer and others have covered the eye-popping wads of cash Jeb Bush has been hauling out of the city and the way it's dented next-door neighbor Chris Christie's ability to maneuver. But the fact that Mr. Walker, who had not been on many Republican radars until recently, can swoop in and pack four events in two days will definitely register.
Here are the details.
Last night's event at the tony 21 Club was, according to one attendee, "more of a braintrust—a policy roundtable as opposed to 'hey, give me money.' It wasn't like that. Who are your influences, how are you thinking about taxation and monetary policy? More of a brainstorming session."
According to Eric Anton, who attended last night's affair and is co-hosting two of Walker's three events today, it was "a very intense policy debate with no softball questions and he passed with flying colors. There were people in that room who walked in undecided and walked out very supportive."
In addition to host John Catsimatidis, the former Republican candidate for mayor and owner of the Gristede's grocery chain, there were former Sen. Al D'Amato and Daily News Publisher and real estate magnate Mortimer B. Zuckerman. The event included a who's who of right-leaning media personalities such as the Wall Street Journal's Paul Gigot, Heritage Foundation's Stephen Moore (late of the Journal's edit page), and National Review chief Rich Lowry made the scene. Also spotted: Fox News host Maria Bartiromo, former Congressman Vito Fosella, and former Congressman Bob Turner, who won a special election to fill out Anthony Weiner's term and was said by one attendee to be telling people at the event that he's "about to become the Queens Republican Chair."
The group enjoyed salmon and salad and kidded the Wisconsin governor about how the Giants had beaten the Packers in both 2008 and 2013 to go on to win Super Bowls.
Mr. Giuliani's comments about President Obama's patriotism didn't come out of the blue, apparently. According to one attendee, there was "lots of concern by everyone in the room about ISIS, and how our current policy is terribly weak and will invite more horrible acts."
An attendee made a tactical observation, as well. There was a "very good turn out by women—almost half the room … and Walker is very approachable. Given how important the women's vote has been and will be, I think Walker is in good position to do well with women and young people."
Mr. Anton's co-host for today's afternoon and evening events is Jonathan Burkan, a UBS wealth manager. He attended last night's event as well, but declined to comment to the Observer for the record.
As reported by the Washington Post, whose headline joined in wondering what all this activity in his backyard indicates for Chris Christie, there was also a breakfast meet-and-greet for Walker this morning at the office of Roger Hertog and "two dozen Republican donors" who were apparently not asked for cash right then and there but primed by longtime Walker fan Mr. Hertog.
The lunch and the dinner, however, were indeed fundraisers, with a source involved in both telling the Observer, "There were 30 people at the lunch, with 60 expected tonight at the Harvard Club for the evening." The same source told the Observer that between the two, they will easily get into the six figures—not Jeb Bush money, but not chicken feed either, 11 months before the first caucus.