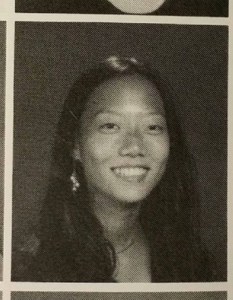 The Serial podcast about the 1999 murder of Hae Min Lee has been heard and debated by millions, yet there are still untold stories and perspectives from Woodlawn High School teachers who taught and had close relationships with students Adnan Syed, Jay Wilds, Stephanie McPherson, and Hae Min Lee but declined to talk to Sarah Koenig for the podcast. I was able to sit down with some of these teachers for an exclusive conversation.
I am a second-year teacher at Woodlawn High School, and like so many, I became obsessed with the Serial podcast this fall. However, my experience was just a little bit different. Some of my Woodlawn colleagues had heard about the podcast but absolutely no one else was listening to it. I felt like I was living through the case as I drove past the Woodlawn Branch Public Library into the school parking lot and walked past Hae Lee's memorial tree on my way into the building every morning. I knew certain things, like with after-school traffic, the parking lot setup and the bus loop, and how implausible it would be to drive to the Best Buy in less than 20 minutes after the bell rang.
Not only was I seeing aspects of the podcast each day, but I was also listening to the real voice of the school announcer, Jay Terry, who is heard in the podcast, and my former co-worker Inez Butler Hendrix, as I heard her testimony about Hae's continuous use of the after-school food stand. I was even taken aback by hearing my para-educator, Catrice Sneed, a Woodlawn 1998 graduate and track star, whom I share my classroom with, speak about her friendships with the "characters" and her perceptions of them.
As my connections to the podcast became more surreal with each episode, I kept waiting for teachers and students to start gossiping about the case and reacting as strongly as I was, yet it never happened, even after the final episode. I couldn't believe that the people closest to the events in the case were oblivious to its resurfacing while the rest of the country was transfixed. It seemed like everyone I knew was listening, except for people at Woodlawn. I was practically begging my co-workers to start listening. My only successful convert was our school librarian.
As my fascination deepened and I continued to lap up every possible Serial detail, I began thinking that, as a part of the community in which the tragedy took place, my students and I had a unique opportunity to discover missing information, which may shed further light on Hae's death. More importantly, with Serial becoming the most popular podcast of all time and its cultural relevance for my students, this educational opportunity was just too good to pass up. Luckily, I came across an article titled "Why I am Teaching Serial Instead of Shakespeare", so I reached out to the author, a California English teacher for support, and on the 16th anniversary of Hae Min Lee's murder, I began an entire unit based around Serial in two of my classes. Not surprisingly, the students have been more engaged than ever before.
During this time, I also developed my detective skills alongside my school librarian (details about her follow later) as we rummaged through old yearbooks and considered who in the building might have more information. This brings me to today as I recently sat down with the current teachers who did not seek fame in being a part of the Serial podcast but who knew the students involved best. This was an informal conversation about what it was like to be at Woodlawn during such a difficult time and the students in question themselves. We drank coffee, flipped through the 1996-99 yearbooks and talked with no filter. Mostly, I listened.
Around the table were four current Woodlawn teachers: Margaret "Meg" Muse, Woodlawn's art teacher and department chair, who is the warm, motherly, friendly face around the building. Meg was contacted several times last year by Sarah Koenig to be a part of the Serial podcast but declined each time and was reluctant to talk to me as well. Joining us was Tom Lawler, in his 42nd year at Woodlawn, who started as a science teacher and then became science department chair and magnet coordinator. Tom has been teaching magnet students since the program's inception in 1992. Also in on the conversation with us: Rebecca Frager, Woodlawn's spunky librarian, who always has a fresh pot of hot coffee and baked goods to welcome teachers on Monday mornings.
Even without Hae's murder and Serial, Woodlawn would still have a reputation as a tough school, and the veterans recounted stories that have formed that reputation, including one that became something of a national joke back in 2004 — when an anger management assembly descended into a brawl, sparked by the mother of a student who showed up and started a fight. This caught the attention of Jay Leno and the rest of the nightly news.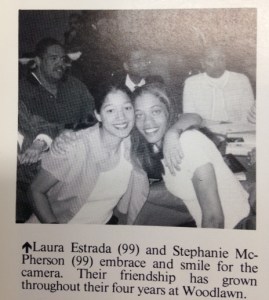 Hae's murder has become part of the Woodlawn folklore. People know that a girl was once murdered but the details are vague. It's just not something that is talked about here. Meg and Tom explained teachers and students may have heard there was a grisly crime here, but that's all people know.In fact, even when the murder occurred, the school seemed to shrug it off. In the winter of 1999, Tom said, "Within the school, the story died off rather quickly and things moved on. There was barely any news coverage about it, no city-wide news or follow-up in the school. By spring break, the whole thing pretty much came and went." Until Serial came along, those at Woodlawn — if they thought about the case at all — didn't question the result of the trial that found Adnan guilty of the murder. It was not until the Serial podcast that details, or rather discrepancies, of the case really came to light. This made the recent podcast all the more interesting to teachers like Meg and Tom who saw these students nearly every day leading up to the murder.
One of the biggest take-aways from Serial has been to cast suspicion on Jay Wilds, who was portrayed as a shady character. I was able to hear Meg's perspective and as her colleague Tom put it "Of any teacher, Meg knew him the best." She knew a quite different Jay.
Meg said Jay was one of her favorite students ever. Jay would be in her classroom most days, hanging out during or after school, often with his girlfriend Stephanie and Adnan. In a world where Jay couldn't trust many people, he felt safe in Meg's classroom.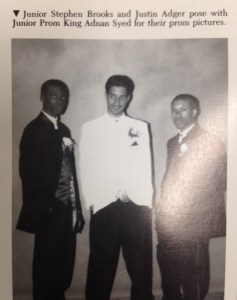 Jay wasn't alone in feeling that way. The art room is and always has been a safe place for many students at Woodlawn. Because of this, Meg gets to know the "regulars" who hang out in her classroom. Such was the case with Jay.
Meg said, "He loved Conan the Barbarian movies and Arnold Schwarzenegger was his favorite actor," Meg said. "He once cut my class to get his tongue pierced!"
Though she confirmed that Jay was a rebel, he wasn't this wild Dennis Rodman-like character, as portrayed in the podcast. To Meg, Jay was extremely bright and had diverse interests that may have appeared strange to the average Woodlawn student.
"Jay is very smart; he was right up there with the magnet kids," Meg said. Yes, he would often get in trouble, but it was for things like cutting class, nothing really serious.
To me, Meg was describing Jay as a certain type of Woodlawn kid, the type I have in almost every class I teach. You need to put in a little more effort to hold their interest. If you can't challenge them or make them think deeply, you might not see them next class. This type of kid is a challenge but it feels so rewarding if you can reach them.
The Jay that Meg knew was a smart and engaging young man, far different from the Jay in Serial. She described him as a good, honest person. Jay's changing perspective of his own persona at Woodlawn is one of the inconsistencies Sarah reinforces. I couldn't help but thinking about the line in Serial when Jay said "I'm the criminal element of Woodlawn to everyone," but "teachers who really know me, know I'm not like that." For me, Meg confirmed these two statements are true and teachers who took the time and cared enough to get to know Jay, like Ms. Muse, saw him as a good kid.
Still, Meg said: "Jay was paranoid of the police and didn't trust them at all." She said his mistrust of authority was maybe why he left pieces out of his story when he spoke to law officers, as he feared how the police would interpret the information. She did say there are things Jay did not tell her back then, but "There was nothing from Jay's recent three interviews by the 'The Intercept' that I didn't already know or believe."
She was adamant that there is absolutely no reason Jay would have killed Hae. She said Serial did not give him enough credit. I will admit after listening to Serial I was biased against Jay because Sarah did not include testimonials about his good character. It was fascinating to hear these good things about Jay from a teacher who knew him well at the time. Like many listeners I was given the impression he was a liar, and a sketchy and suspect character.
For what it's worth Ms. Muse painted a very different picture. On the other hand, Meg doesn't have anything bad to say about Adnan, who was also a regular in Ms. Muse's art classroom. Meg vividly recalled the morning after Hae's body was found. "Adnan was in school the morning after they found her body, I know for a fact because they called me down to the nurse's office and he was hysterical. He just threw himself at me crying and he was saying 'I can't believe she's dead, I can't believe she's dead' and I absolutely believed him in that moment." She also remembered little details about Hae and Adnan's relationship that year and said, "I do remember when he got the coat from her," in regard to the Christmas present he received from Hae right before she went missing.
After listening to Serial, she said: "I think Adnan deserves another day in court because there are holes in the stories. I hope the evidence is so strong and the case is so tight that the truth, whatever it is, wins out this time."
Serial's portrayal of Adnan as a model student aligns with Tom Lawler's recollection. As a magnet teacher, Tom taught Adnan, Stephanie and Hae. Tom said: "Adnan was a good student, smart. … I never saw him antagonize other kids or saw any sort of mean streak. … It is absolutely surprising that he could have done this."
In the podcast Adnan actually describes something he learned in Mr. Lawler's computer applications class when he makes the analogy of trying to figure out this case to looking at two graphs with the same data of the price of tea at C-Mart and 7-11 and seeing two different things.
What about Stephanie, perhaps the biggest mystery of the podcast? Tom had her in his magnet classes, and she was one of Meg's students as well. Thousands of avid Serial listeners and bloggers with their conspiracy theories are convinced Stephanie was involved in the murder. Meg said she doesn't see how Stephanie could even be part of the story.
As reflected in the many photos of Stephanie in the yearbooks, she was as much the golden child of Woodlawn as Hae was. "Stephanie and Hae were best friends," Meg said and described Stephanie as "gorgeous inside and out, a lovely girl, just like Hae." Tom said Stephanie was one of the smartest students in the school and an amazing athlete. It was also clear she was one of the prettiest girls in the school.
However, when it came to Jay and Stephanie's relationship, Meg said, "Stephanie's parents did not approve of Jay at all." Stephanie could see the good in Jay, but her parents could not see past his rough exterior.
Something that Serial misconstrued about Woodlawn in the late 1990s was the nature of the magnet program, the veteran teachers said. Tom explained the magnet kids were like a family in a variety of ways. In the '90s, the magnet kids took every class together except gym and art and even took their classes in a separate part of the building.
With such closeness, it would not be strange that Adnan would buy Stephanie a present for her birthday. "They all bought each other presents and hung out together inside and outside of school," Meg said. In 1999, Tom said, there would have been no more than 25 seniors in the magnet program (Serial said 30 to 40). It may be worth considering those facts when digesting conspiracy theories about love triangles alluded to in Serial.
But, in the end, after listening to every word of Serial and going back over their own experiences with Adnan, Jay and other principals in this story, what conclusions do Meg and Tom draw?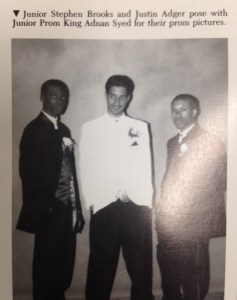 One of most revealing questions I asked was, "After living through it, and then listening to the podcast fifteen years later, what is your reaction?" Meg began by saying "I will admit to being as glued to it as everyone else in the world…" Tom interjected, "I'll take it one step further, because you knew the kids, it was personal and mesmerizing, these were our students!" In order to reflect on this question, Meg had to take a step back to consider what her position was before Serial. Meg said, "The day after Adnan was arrested the detective came to school and questioned any of the teachers who had them in class. The detective told me they had a lot of evidence against Adnan." Although confused and saddened, she took the detective's word for it and assumed he has been rightfully put in jail all these years. "Looking back, I believed Jay. But I believed Adnan, too," Meg said. "Jay's story made more sense."
But now, after absorbing all that she learned in Serial, with so many holes in the story and trial, she said: "I still think there are things that Jay and Adnan left out. They both aren't telling the whole story."
So I had to ask, "What does your gut tell you happened?"
Meg did not want to go on record with what she truly believes but she did explain, "I don't want to think I knew a student who murdered somebody," she said, adding, "I wish the Gwynn Oak serial killer would show up in the DNA, and it would be another person."
Finally, I asked, "What do you think the average listener should know that they don't know?"
"To most people, and I know this because I have looked through some of the blogs, it's not like it's real people to them," Meg reflected. "It's just characters, it's like an episode of CSI to them. But they were teenagers, they were children (sigh) … children, no one is trying to connect to real people."
A few days after our conversation, Meg sent me an email. She wrote: "As I thought about our conversation this morning, I realized I had done exactly what I promised myself I wouldn't do — I had given you the interview that Sarah Koenig wanted me to give her. I don't want to be 'Episode 13.' I don't want anything that I may have said or what you may have thought I was saying to look like I think one person is now more likely to be guilty."
Even all these years later, the veteran teachers feel a connection to these students and haven't quite shaken the sense of loss. Adnan is in prison. Jay is marked with suspicion. Most tragically, Hae is gone.
To every listener, Serial is an excellent and compelling story. But to a few, it is a personal, real, and traumatic story. For the last few months, the topic of Adnan, Jay and Stephanie's connection to Hae's murder has come up nearly everywhere. From dinner parties to SNL skits, shouts of "Adnan definitely did it!" or "Jay is totally lying!" could be heard all over the country. For most people, these speculative thoughts and statements come quickly and easily. Talking about these former students feels like talking about two characters in a popular movie or book. For Meg Muse and Tom Lawler, however, individuals like Adnan or Jay are not abstract, distant characters. For my students, Hae was an example of an amazing college-ready senior at a school where they know the odds are stacked against you to become successful.
As outsiders looking in, we all want to know who did what. But if there is anything to take from the Serial podcast it's the unfortunate story of girl with a promising future who lost her life too early. I think the teacher who knew Hae best, who stopped working at Woodlawn only a couple of years ago, sums this up best in a recent Facebook post: "Hae Lee was my closest and best student at Woodlawn High. We got along like pals. Hae was incredibly smart, hilarious, beautiful, light-hearted, athletic and kind. She was one of 5 honors students coming with me to France that summer. She was also my senior intern, hand-chosen by me. I had to testify in the first murder trial and also the second trial. NPR called me to be interviewed for the podcast and I declined for several personal reasons. I pray for every teacher, student, friend and family member who was touched by this murder as it is so extremely painful and sad for all parties involved. Please do not ask me my thoughts on the verdict as I have no idea about innocence or guilt."
CORRECTION: An earlier version of this story misspelled the first name of Catrice Sneed. The Observer regrets the error.
Peter DeCandia teaches Geometry and Advancement Via Individual Determination at Woodlawn High School in Baltimore, Maryland.