The infamous love day comes with a few givens—chocolates, roses and, of course, cocktails.
A selection of lovey specialty drinks will be served up this Valentine's Day at some of Manhattan's most romantic restaurants. You know the type—redish pink, sweet and bubbly, served in a champagne flute and above all, delicious.
"We created this cocktail for people to feel special with their significant others on the holiday," Eric Marx, owner of The Wayfarer, told The Observer. "Valentine's Day is one of the most popular dining nights of the year, and we want to give back to our guests who decide to spend it with us."
The cocktails will be poured at The Skylark, JIMMY at The James New York, The Wayfarer and Spyglass Rooftop Bar and Courvoisier. If your V-Day plans don't include one of the above, don't fret. We have the recipes, so grab the Amaretto and champagne and mix one for yourself as a pre-Valentine's Day treat.
The French Kiss
By Courvoisier
In a champagne flute:
1 oz. Courvoisier VSOP cognac
1 oz. Demerara sugar cube
2 dashes Angostora bitters
Top up with Champagne
Soak a sugar cube in bitters and drop into champagne flute
Cover with Courvoisier VS
Slowly top with champagne
Chocolate-Covered Cherry
Served at The Skylark
By Mixologist Johnny Swet
In a tin:
.5 oz. Combier Cherry
.5 oz. dark crème de cacao
.5 oz. Zu Vodka
1 dash chocolate bitters
Stir with ice
Pour into a champagne flute
Top with champagne
Garnish with spiked cherries
"At The Skylark we came up with the Chocolate-Covered Cherry, which was inspired by the Valentine's Day chocolates," Mr. Swet told the Observer. "The drink really has all the notes of the candy without being overly sweet, and of course, the use of champagne into the cocktail really makes it special and sexy."
Je t'adore
Served at Spyglass at The Archer Hotel
By Mixologist Joe Goglia
In a champagne flute:
5 oz Prosecco
.5 oz Combier Rose Liqueur
.25 oz Grenadine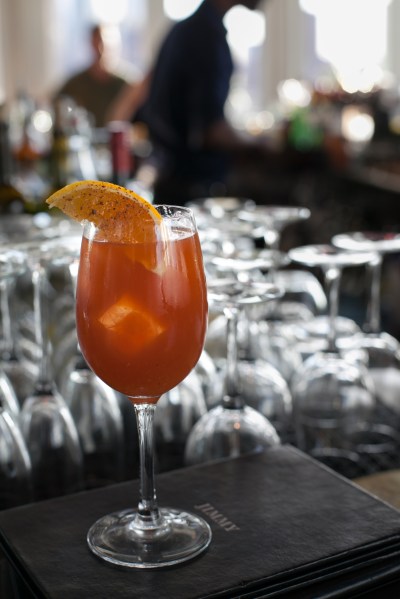 Punch Drunk Love
Served at JIMMY at The James NY
By Mixologist Johnny Swet
In a wine glass:
1 oz. Jim Beam bourbon
1 oz. Blackwell rum
.75 oz. Carpano Antica
.5oz. Amaretto
1 oz. orange juice
3 dashes Peychud's bitters
Stir with cubed ice
Grate fresh nutmeg on top
Garnish with ½ an orange slice
"For Punch Drunk Love at JIMMY, I wanted to do a spin on a classic New Orleans style of a punch," Mr. Swet said. "I really like the sexy, sultry romanticism of New Orleans, but for our cocktail I've sweetened it with Amaretto, which gives it a well-balanced almond flavor with a little Italian La Dolce Vita."
Love Struck
By Eric Marx
Served at The Wayfarer
In a coupe glass:
5 oz. Perrier Jouet champagne
1 oz. St. Germain
Garnish with an edible flower petal and a lemon twist