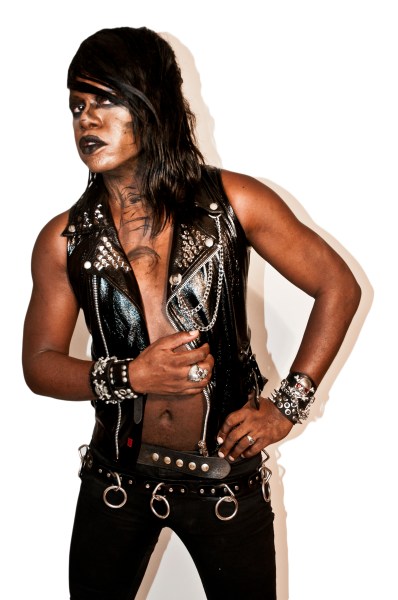 Musician, composer, and performer M Lamar proudly calls himself a Yale dropout. After leaving the Ivy League school's masters program in sculpture, he returned to San Francisco – where he'd formerly lived as an undergraduate at the San Francisco Art Institute – and devoted himself entirely to music, creating haunting compositions that merge post-punk, goth, and heavy-metal stylings with more classical formats, from black spirituals and gospel to opera.
A recent invitation to create an exhibition at Participant gallery in Brooklyn, however, brought M Lamar back to art, and his first complete body of work, "Negrogothic," opened last week at SFAI. Anchored by an immersive video projection starring many of his friends, the show weaves music, performance, and film into a suite of graphic, surrealistic narratives that explore racial and sexual histories—particularly the legacy of slavery in America, and its continued ramifications—from the artist's personal perspective as a homosexual black man living today.
Taking a moment to break from the show's hectic install and dressed in his signature uniform of black studded leather and heavy black eye makeup, M Lamar sat down with The Observer to discuss his work.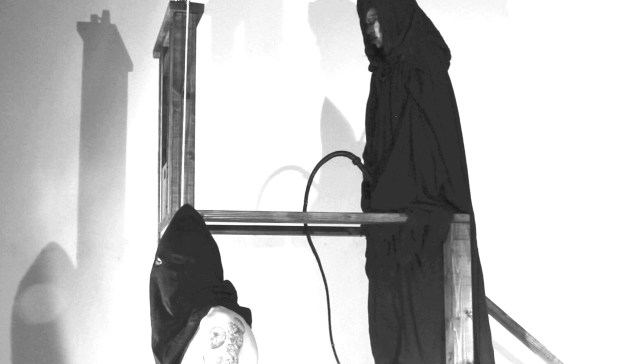 Your exhibition is called "Negrogothic," like the body of work on view. Can you explain the origin of that term?
The way I see it, black people—and actually all marginalized people—have to constantly imagine themselves in these mainstream narratives. And I think that one of the things that I immediately wanted to do when I started being in these kind of goth-y, punk-y, metal-y bands, is make racialized narratives that had black people in them already.
People talk about the gothic novel as this blend of romance and horror, but in the context of my work, the horror is actually not fictional. The lynchings that are part of the American historical landscape were always this very sexualized event, where they would cut off the penises of these black men, and then sometimes force them to eat their own penis. Or they would photograph the penises and sell the photos, or they would pickle them in jars and sell them. So that horrific history is real—we don't even have to make up these scenarios. And part of what I'm doing with the spirituals I write is to avoid some roundabout path for having blackness or black people at the center of these stories—I'm trying to just make black horror really explicit.
You've talked about the idea of the "White Psychotic": can you elaborate on what you mean by that?
Part of my work is about a certain awareness of what's really going on. I always turn to [feminist writer] Bell Hooks, when she talks about living in an "imperialist white supremacist capitalist patriarchy." And to me it's like, we have to all have at least acknowledge that we are in fact working in this imperialist white supremacist capitalist patriarchy, and then we can begin to unpack what that means, for black people and white people—for all kinds of people.
How do you conceive of the relationship between the personal and the political in your music and your art?
I actually think that when you're really specific and personal, that ultimately ends up being the most universal, so where I'm at with my art making is balancing my own experience with the black experience in general. But if people don't even know about these histories, then how can we possibly have a sophisticated discussion about why the police officers that shot Mike Brown imagined him as some Hulk figure? That construction of black masculine identity as this monstrous thing, as this overly sexualized thing within the white imagination is real: the thing that allows a police officer to violently shoot down a black man is the same kind of thing that allows someone having phone sex with me to imagine me as a thuggish black man, asking me to rape and rob them. I'm really concerned about the extent to which black people have internalized this kind of "niggerization."
Beyond that, I've always been obsessed with this romance and this horror: I mean, I'm living through it. It's not like some research project where I'm studying some foreign land. I am a black male and I have this black male body and I'm having sex and working through this stuff, so it just really behooves me to unpack it, simply for the quality of my own life. And maybe this work isn't going to change the world politically—but it's certainly changed my life, in terms of just being able to deal, emotionally.