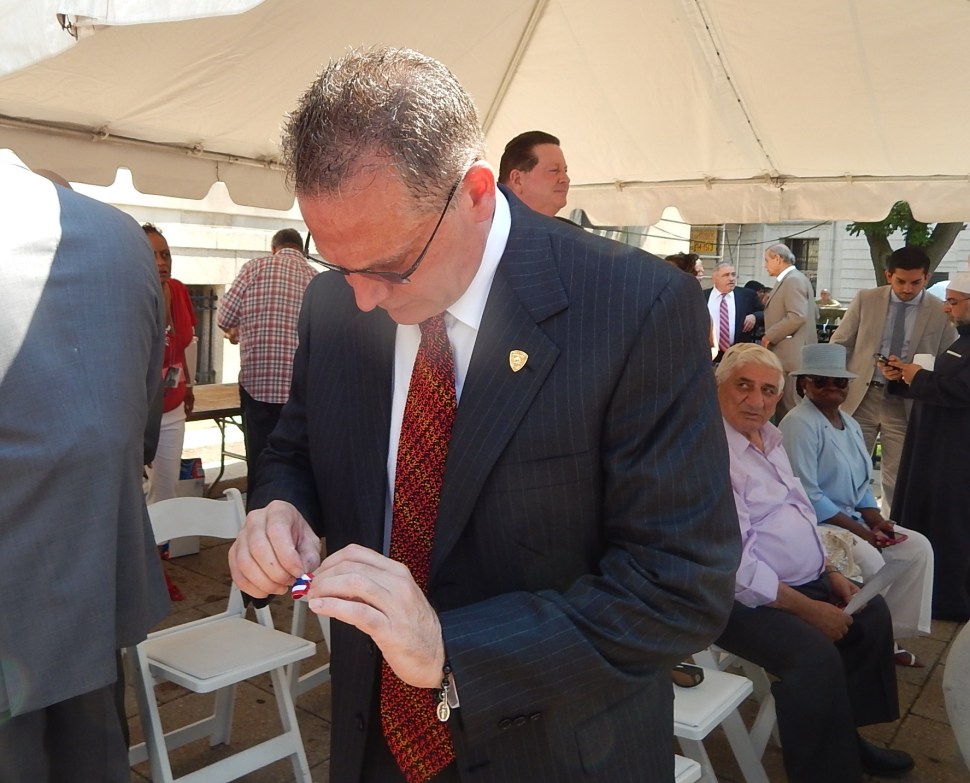 Look what the Tides dragged in.
Democrats at their party function in North Haledon tonight did double takes when they looked up and saw a table purchased by Paterson Police Director Jerry Speziale.
And there was Speziale himself, the former Passaic County Sheriff who left a livid Passaic County Democratic Chairman John Currie in the lurch when he backed down from a 2010 re-election run.
Repackaged tonight after a county party hiatus of four years, Speziale resurfaced under North Jersey chandeliers following a tortured and unlikely road that took him to the Port Authority of New York and New Jersey, to Prichard, Alabama, then back to Paterson.
Speziale's odyssey home occurred when the county organization-bucking Jose "Joey" Torres welcomed the former sheriff's 2014 endorsement, which the prodigal Speziale gleefully offered up in a YouTube equivalent of a hot poker in the eye of Passaic County Dems.
After Torres won, Speziale returned to the city of his birth last summer as Torres' police director.
His surfacing tonight at a county Democratic-sponsored, Currie-dominant event had the appearance at least of a laurel leaf gesture following the former sheriff's surreal estrangement.
"He's been making inroads," a source confirmed.
Speziale said he wants to be friends again.
His first priority?
"A safer Paterson," the police director said.
"Collaboration unleashes the power of the many," Speziale added, welcoming the political alliance of the county organization. "I'm a Democrat. Many people have shaped my life. I am blessed that Mayor Joey Torres brought me back home. I will always be grateful to him. We're all Democrats.
"It's important that I emphasize the word 'team' whenever I speak about being part of something that involves interacting with others, sharing thoughts and visions… and most of all, having love, admiration and respect for those serving beside you," he added, "especially, whenever you're part of something bigger than yourself; something that involves loyalty, commitment and dedication to such an important cause: public service. We're all Democrats and I support our Democrats."