SPRING/BREAK Art Show is moving to midtown. This year, the curator-focused fair will be held on the third and fourth floors of Skylight at Moynihan Station at 307 West 31st Street, part of the McKim, Mead and White-designed James A. Farley Post Office adjacent to Penn Station, from March 3 through 8.
As SPRING/BREAK prepares to open its fourth edition, the curator-focused satellite fair has become a staple event during Armory Arts Week in New York. It's part site-specific pop-up exhibition, part trade fair, and a successful example of what's possible when the focus isn't on galleries for a change.
For its first three years, it occupied Nolita's Old School, a landmarked turn-of-the-century schoolhouse at 32 Prince Street that is part of St. Patrick's Old Cathedral complex. But in 2013 the building was sold, and it will be partially torn down (only the sections completed in the 1950s) and built anew to make way for condos.
While fair founders Andrew Gori and Ambre Kelly maintain a relationship with the building's new owners, and will be able to use portions of the space for other projects in the future, they've spent months in search of a new home for the alternative fair. In its short history, SPRING/BREAK has distinguished itself from its peers by exhibiting ambitious installations, and a wide range of artists (emerging to established) within the unorthodox environment of the historic, non-white box space on Prince Street.
Crossing paths with creative director and producer Vance Garrett—whose production background includes Sleep No More, Lantern Floating at Lincoln Center, and Conor Harrington's NY debut—proved integral for finding a historic space large enough for the fair, with features unique enough to inspire the artists and curators that might occupy it.
"Some spaces wouldn't work for us," said Mr. Gori to the Observer, "We like that historic element in the foreground whenever we use a space." And Moynihan Station has plenty of history, and plenty of space. It clocks in at about a third more space than the Old School, and includes a 41,000-square-foot mail sorting room, a 33,000-square-foot postal dock, and many former offices.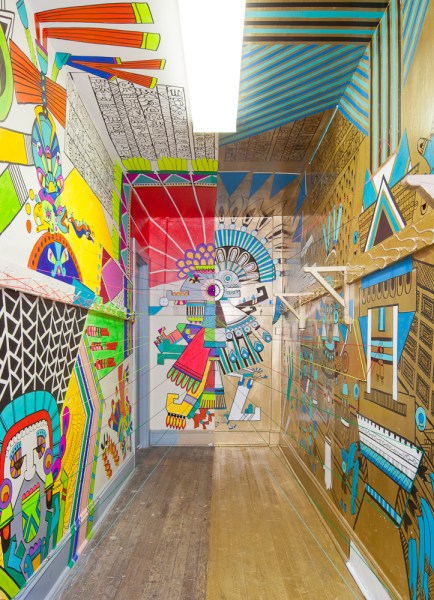 "With the scarcity of historic New York City space available for this exchange with contemporary art, we are profoundly grateful to have this landmark as an ideal meeting place between aesthetic past and present," said Ms. Kelly in a statement.
This year's theme of "TRANSACTION" also fits well within the halls of the new Midtown home, with a focus on different forms of exchange. Over 80 curators will occupy the space come March, filling the offices with group exhibitions and solo projects like they did in the classrooms of the Old School in previous years. And this year, visitors to SPRING/BREAK will also get to see inside Moynihan Station, a rare glimpse at an architectural marvel of old New York.