When the bi-annual circus that is New York Fashion Week descends on the expansive plaza of Lincoln Center, story after story covers the colorful street-style scene. But little is said about the photographers who dedicate their time to scouring the streets for great shots. This past New York Fashion Week has been brutally cold for the style-snappers, yet most remained unperturbed.
Street-style photographers are by and large freelancers, with a few exceptions. The work is hardly lucrative, but for many, they are not in it for the money. A photographer at Feather-weight.com — a photography site — explained, "Personally I am interested in fashion so shooting street style allows me to get a little closer to the business."
For Ashley Ecklund at Dandizette Magazine — a Denver-based fashion and lifestyle online publication, "it's fun!"  Lisa, who assists a style scout and photographer for a major retailer, echoed this sentiment adding, "I love style. I worked in fashion in a few different ways, and this is just a cool way."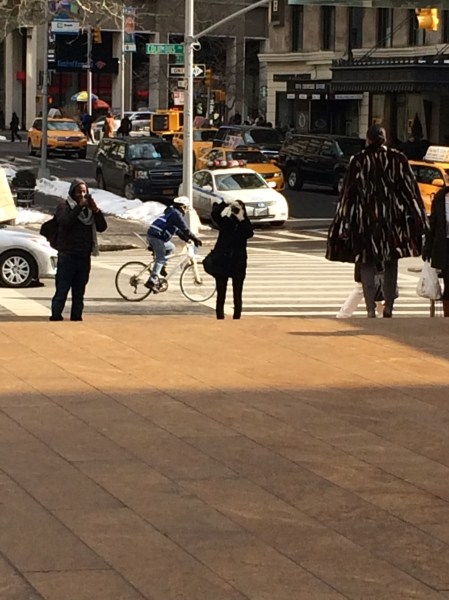 Jordan Rosenzweig,  there with his colleague from zappos.com, Peter Gaunt, said, "I am creative, I like to see style out and about in different parts of the country." For Nathan, a freelancer who has several media clients, the career path chose him. "I just always had an interest in fashion, and someone asked me to [photograph street style] years ago just as a one-off. I enjoyed it so much that I kept doing it."
On this brutally cold fashion-packed day, the photographers were wearing heavy winter coats; a distinct contrast to the notorious weather-inappropriate dressed fashion folk. Ed McManus, a freelancer from Florida, carefully scanned the crowd exiting the tents. "I'm just trying to get people coming out of there, normal people," he explained. But he was incredulous to how so many attendees were not dressed for the weather. "People are walking around with no coats on. They're out of their minds." A group of three women passed by. He motioned toward one of the women in the group, indicating a girl in a long wool camel coat  left open to reveal a lightweight silk slip dress. "She's dressed for the springtime. She's gotta be freezing to death. I got three layers on and [can] barely stay warm."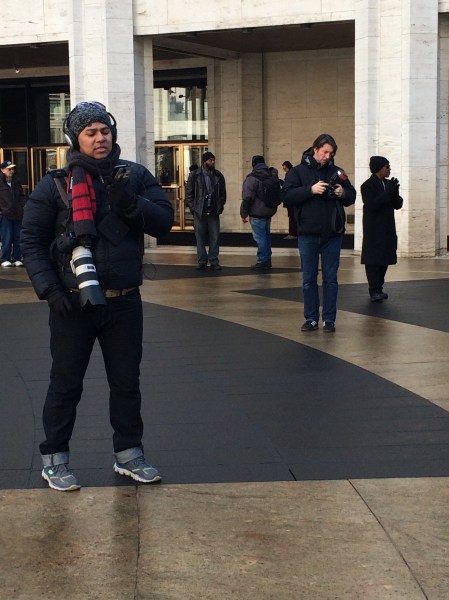 On the other hand, it appeared that the fashion crew had finally caved to the frigid elements as the week progressed. As Mr. Rosenzweig explained, "Today I've seen a lot of people bundled up. A couple of days ago it seemed like people were trying to push it a little bit more."
There was a tacit acknowledgement that people came to Lincoln Center for the express purpose of being photographed, at the risk of hypothermia and frost bite. "I just shot somebody wearing a completely fur dress…everyone else around her was bundled up and you could tell that she was there just to be photographed wearing that," said a photographer who wishes to remain anonymous.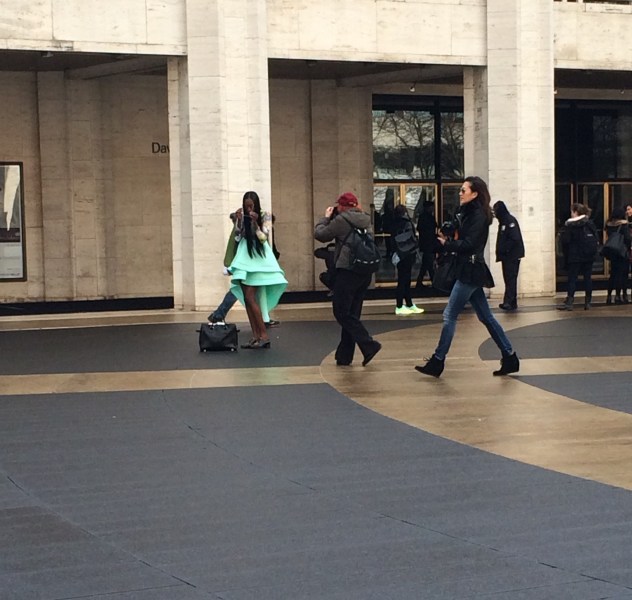 But despite the occasional snark, the photographers were almost unanimous in their fondness for the peacock-ing, the posing, and the people wearing little more than sundresses.  "I think it's really neat," said Mr. Gaunt. But, he acknowledges, "I used to [think it was ridiculous] before I came and photographed it."
Nathan was a little more critical of the flamboyance of some attendees. "It can be a little funny, I won't lie…I'll know that they're probably a blogger. They seem to be the ones hungriest for the exposure and to be documented." Despite this, he saw the benefit of their flamboyance to his own bottom line. "If they're wearing good things that we're looking for then sure, that just makes it easier for me."
Lisa was a little more explicit in her critique. "Everyone dresses ridiculously. I think it's stupid." As if to underscore her point, a girl wearing little more than a sweater dress and booties stood on the steps to Lincoln Center as she posed for a photographer. The photographer, ostensibly the girl's friend, was clad in a winter coat and stood a few feet away. The girl continued to preen, with passerby and tourists bundled in multiple layers stopping to gape. The street-style photographers positioned themselves nearby, but not one stopped to take her picture. They were too busy photographing a brunette beauty clad in a richly hued fur coat as she wended her way through the crowd to the tents.