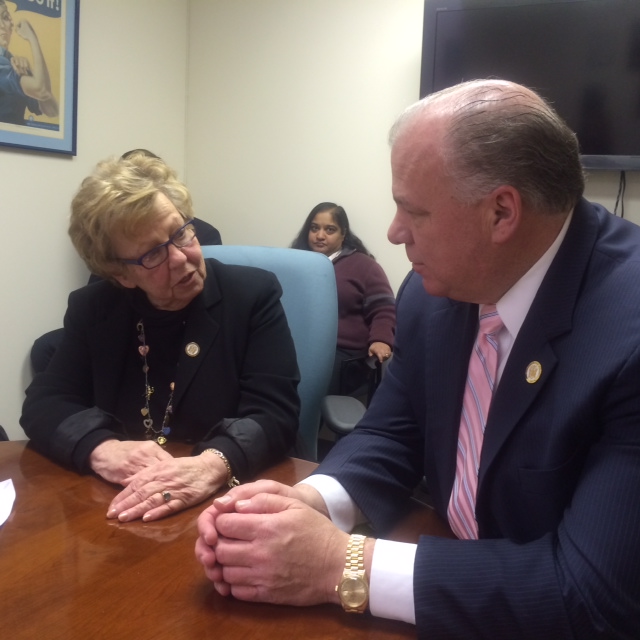 TEANECK – State Senate President Steve Sweeney (D-3) and state Senate Majority Leader Loretta Weinberg (D-37) both unequivocally expressed support for New Jersey Commissioner of Transportation Jamie Fox after he was mentioned in a federal subpoena.
The Record reported last week that federal prosecutors have subpoenaed the Port Authority for records related to the personal travel of the agency's former chairman, David Samson, as well as his relationship with Newark Liberty International Airport's largest carrier, United Airlines.
Fox's name surfaced in connection with a subpoena issued last month that appears to be part of an investigation into a flight route begun by United between Newark and South Carolina, where Samson has a home, while Samson was chairman of the Port Authority, which oversees the region's airports.
The subpoena demands, among other things, any communications Samson had with United and its former lobbyist, Jamie Fox, a friend of Samson's who lobbied for the airline in the private sector before he took his current position last year. The subpoena also points to a recent pattern indicating that the scope of the almost 13-month-long federal investigation led by U.S. Attorney Paul Fishman has widened beyond the cause of the September 2013 George Washington Bridge lane closings, also known as Bridgegate.
Samson and Fox served together in the administration of former New Jersey Gov. Jim McGreevey as attorney general and transportation commissioner, respectively.
It is unclear right now what role, if any, Fox might have played. As of now, he has not been subpoenaed by the U.S. Attorney.
Sweeney and Weinberg, together in Weinberg's Teaneck office on Wednesday for a joint meeting held to highlight the importance of maintaining social service programs during a difficult budget season, tag-teamed to offer support for Fox and his ability to help fix the troubled state Transportation Trust Fund.
"I can't see one person on our side of the aisle that doesn't have absolute support for him. That's not because he's a Democrat. It's because he is someone that we all know and have a great deal of respect for," said Sweeney. "Jamie Fox is as good as they come."
"I've known Jamie since he was a kid, literally," Weinberg said. "He's grown up in government and politics. If you want to be in the proverbial foxhole with somebody, it's him."