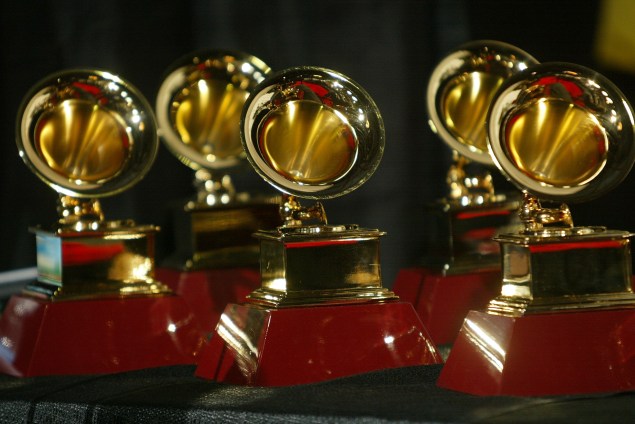 No, I did not watch the 57th Annual Grammy Awards last night. Why? Well, for one, fuck award shows in every way possible. But also, I've live-blogged every other award show under the sun, I think I've earned my repose. You know what I watched instead? FX showed The Avengers, twice. I watched that. Twice. It was literally better the second time. (Ed note: #FactChecked! Vinnie admitted that this Avengers thing was only because "the TV was on.")
But thanks to this age we live in, I didn't even need to watch the show to review it. Social media, bloggity blogs and prior knowledge of how every award show since the dawn of time goes down has given me all the info I needed. Here's a run down of the 57th Annual Grammy Awards, AKA all the shit that annoyed me about the 57th Annual Grammy Awards.
Professional sad-factory Sam Smith absolutely cleaned up, taking home four Gramaphones for "Stay With Me, which is kind of lame on multiple levels. First lame-level, Mr. Smith's music itself. If I wanted to hear a song that was literally just the sound of someone crying, I'd steal my ex-girlfriends phone and listen to the voice-mails I leave her. Again. But also, "Stay With Me" is literally "Won't Back Down" by Tom Petty. I'm not making that up. It was decided, legally. I understand that blah blah originality is dead and gone blah. I just find it strange that the award show to honor an entire year's worth of music was swept by a song that is legally just another song. In other news congrats on your Grammy, Tom Petty!
I understand that Kanye West almost interrupted Beck's speech, ala 2009 Kanye West. First of all, to every pop culture outlet ever, stop trying to make Kanye West nearly "I'mma let you finish'ing" Beck a thing. Secondly, it's not a thing because it's also known as "acting like a childish dillhole when you don't get your way." I'm not even defending Beck. He's a dillhole, too. But he won. These things do not matter as much as Kanye West thinks they do.
Apparently Lady Gaga is still carrying around that grotesque Tony Bennett puppet. Weird. (Ed note: Even weirder was that chick carrying around the Tom Jones puppet, right??!)
The show opened with a performance from AC/DC. A band formed in 1973. And from what I heard it was the most dynamic, exciting performance of the night. Does this not worry anyone else? Brian Johnson has not opened his eyes or said a complete sentence since 1982. Angus Young literally does not know where the fuck he is when he is playing guitar. And these men still put on a better show than every young talent we have these days? And seriously, I have to see people criticizing the band for using a teleprompter? You're right, if you had lived the kind of life these dudes had you totally wouldn't need a teleprompter. Because you'd be fucking dead.  
I also see that Beyonce obsession has reached peak insanity. I love Beyonce, like, as a singer. (Ed note: Correct.) She's incredibly attractive, and surprisingly poised and human for someone so successful. But just once, if an interviewer asked what she's doing after the show, I want her to say "Oh I'm going to slaughter a newborn lamb and drink its blood," just to see how many people would say what a brave and rational decision that is, and how Beyonce is really revolutionizing the newborn lamb slaughter game.
How is "Let It Go" from Frozen still winning things?! It feels like that movie came out like 17 years ago at this point.
(Ed note: I wanna do one! I 100 percent believe that Katy Perry's hair grows out ombre if she thinks about it enough.)
LL Cool J hosted? And Madonna performed? And Prince showed up? What is this, 1986? You know, the year I'm pretty sure Frozen came out?
You know if you don't watch the actual show and just read the results you get to see all the things they don't televise. Like Best Album Notes, Ashley Kahn for John Coltrane's Offering: Live At Temple University. That entire category raises more questions than answers. 
Pretty cool that Obama introduced Katy Perry, and the whole thing was to promote the end of domestic violence and abuse. Unrelated, did you know Chris Brown was nominated for three Grammys last night? But yeah anyway, it's really cool to see the Grammys stand up for something important.
Can we do that Sia thing for Imagine Dragons where someone else performs? But also they don't perform Imagine Dragons songs? What I'm saying is oh shutup, Imagine Dragons.
So, yeah, not 100% sure on all the other stuff, but if someone can prove I missed something worthwhile, sane, or not involving Iggy Azalea, then I'll see what I can do for 2016.