The Bachelor is so good, it's frustrating that we have to cap it off at a measly two hours per week. That's why each Tuesday, we'll be having a Bachelor morning-after rose ceremony to celebrate the people, places and moments that really made the previous night's episode shine.
A rose to Megan, who possesses exactly the right intelligence level to succeed on this show. "I'm so excited—I've never been out of the country," Megan says, upon learning they'll be traveling to New Mexico.
A rose to Carly, who has not had physical contact with a human male for a year and a half, and before that dated a guy who didn't want to do sex (CARLY THERE IS SOMETHING YOU NEED TO WATCH), but who now has to rub a strawberry all over Chris's face in the name of "love" and "intimacy." The show cuts back and forth between Chris and Carly straddling each other and breathing all over each other's faces, and Carly literally weeping as she describes the scene to the camera. Um, who exactly planned this butt-clenchingly awkward date, and is that person here for the right reasons?
Thankfully Carly's weeping and sexless relationship history pays off, because Chris says Carly would be the "best wife you could ask for" and also that she's beautiful inside and out, which is definitely a line he Googled before coming on the show. At the end of the date, Carly scores a pity rose rose based entirely on Chris's attraction to her.
A thousand roses to Kelsey, who, in an act of unprecedented psychopathy (even by Bachelor standards) has literally begun re-enacting Gone Girl. Much like Gone Girl's Amy gradually reveals her craziness over the course of the book, so, too does Kelsey reveal her madness subtly, starting with a super robotic conversation with Ashley and Mackenzie about her late husband's death:
No roses to the Bachelor producer who definitely knew Jade had some crazy medical condition where her body goes into hypothermia at non-hypothermic temperatures, and yet still thought it was TOTES OKAY for her to go white water rafting. Um, is this the same producer who made No-Sex Carly bend over for a spiritual thigh massage from Chris?
Anyway, Jade gets a foot rub from Chris to make up for the fact that her organs are shutting down, and Kelsey adds Jade to the list of people she will most definitely kill over the next four weeks.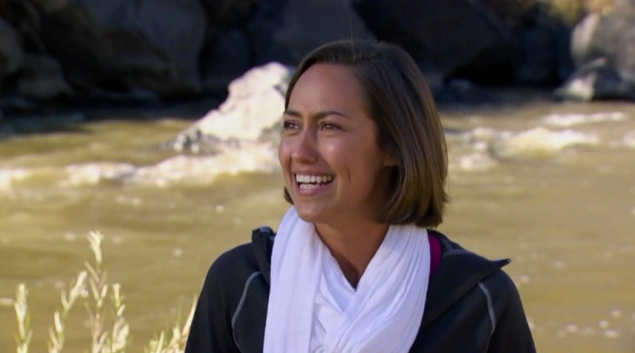 A rose to Chris's diarrhea-colored jacket, which is really the only thing that keeps me entertained during ousted contestant Jordan's attempted return to the show. Jordan, who for once isn't drunk, says her faith in God told her she had to return to the show. [Side note: Do you think God watches the Bachelor?? I feel like YES??] After blowing the entire second half of the group date on Jordan-related conversation, Chris decides not to let Jordan re-join the show. Bye Jordan, we hardly knew ye.
Whitney gets the group date rose, and everyone goes home sad because this group date was pointless and boring.
No roses to Chris for waking up Britt in the creepiest, axe-murderer-fantasy-est way possible—i.e., sneaking into her dark bedroom and breathing predatorily onto her face (as prescribed by the love guru, perhaps?).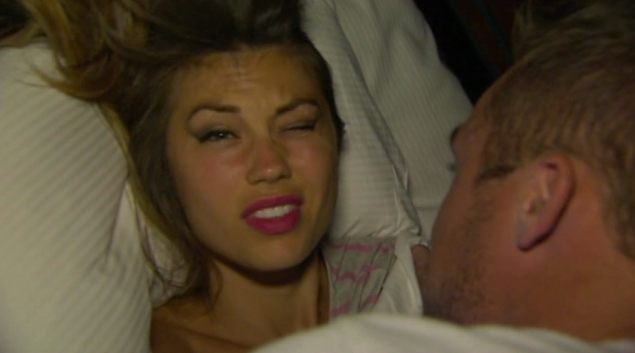 I'll give the roses to Carly, instead, whose trajectory on this show is honestly one tragedy after another.
A rose to the hot air balloon operator who had to stand in a tiny wicker balloon compartment with one person who hasn't showered in the past five weeks, and another who says things like "we had chemistry I couldn't explain" and "I'm on cloud nine," the number one phrase used by Bachelor contestants doing fun things that involve ~heights~.
Britt and Chris's one-on-one date is cute, but I have so many questions. Does Britt shower? Why would a person who allegedly wears make-up to bed also be a person who doesn't ever shower? And does Britt really not want to have kids? Or does she want hundreds of kids? Most importantly, did Britt really have a chaste, post-balloon nap with Chris, or was she the first lady this season to CLIMB CHRIS'S (SOY)BEAN STALK, IF YA KNOW WHAT I MEAN?!?!?! I don't know any of these things for sure, but I do know that Britt gets a rose.
Even more roses to Kelsey, who commences Gone Girl: Stage Two immediately after learning of Britt and Chris's marathon of sex nap. Unbeknownst to the other ladies, Kelsey sneaks out to Chris's hotel room to dazzle him with the story of her husband's sudden and tragic death one beautiful day in Austin, which was both sudden and tragic and sudden and tragic and definitely something about which Kelsey feels many sad emotions.
"Isn't my story amazing?" Kelsey asks the camera, a robotic smile on her face. "It's tragic. But it's amazing. I love my story."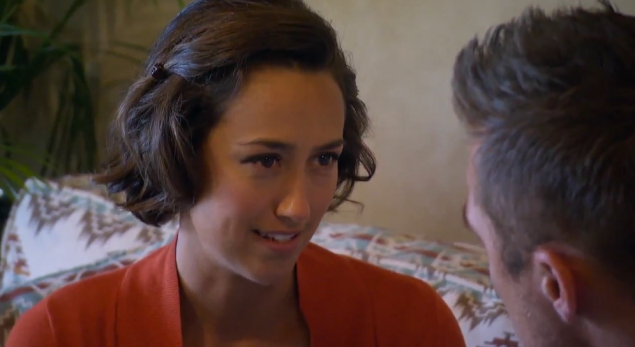 A rose to all the viewers who, at this point, are preeeeeetty sure Kelsey's husband died not of congestive heart failure, but of murder. By Kelsey.
A rose to Chris, who breaks down midway through addressing the women before the soon-to-be-cancelled cocktail party. Is this because, after talking with Kelsey, Chris is finally contemplating death for the first time? Did Chris grow up in one of those families where the parents quietly replaced the goldfish every time it died? Additionally, is this all part of Kelsey's terrifying master plan? Either way, poor Chris. Let Chris Harrison comfort you, because it's literally the only thing he's done all episode and he likes to feel important.
A rose to the following statement, which is an actual thing Farmer Chris says to Chris Harrison:
"In talking to Kelsey, and thinking about what she said, and how important time is, and how important making every moment count, I feel like the decisions I'm making right now are life-changing decisions."
Cool cool.
A gazillion roses to Kelsey for initiating Gone Girl: Stage Three—a full-on, lying-on-the-floor-hyperventalating-and-crying panic attack. Is Kelsey genuinely scared she's going to be sent home? Or is it the most genius, calculated move since Survivor's Jonny Fairplay lied and said his grandma had died so that no one would vote him off the island? Whatever the case, thank you, Kelsey, for a flawless climax to this already-incredible episode.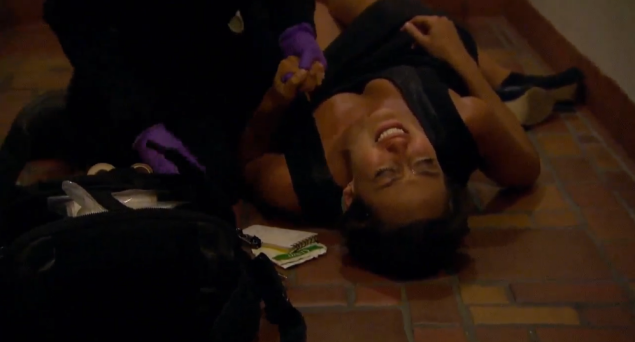 The episode is TO BE CONTINUED! Not sure how you're going to wait a whole week? Maybe in the meantime you should sign up for KELSEY POE'S MYSTERIOUS-AS-FUCK WEBSITE COMING IN MARCH 2015