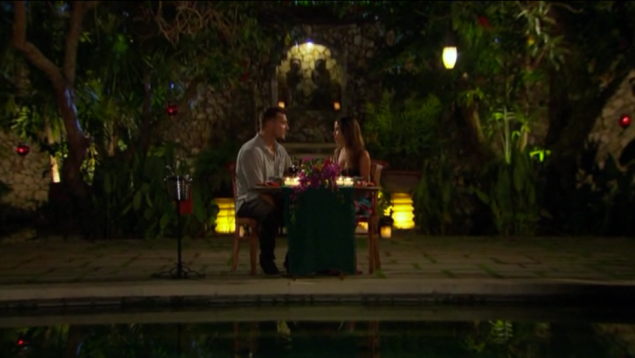 The Bachelor is so good, it's frustrating that we have to cap it off at a measly two hours per week. That's why each Tuesday, we'll be having a Bachelor morning-after rose ceremony to celebrate the people, places and moments that really made the previous night's episode shine.
A rose to ABC for shelling out the big bucks to shoot the final episodes in Bali. Chris says it's the most exotic place he's ever been, but then again, ABC probably could have sent him to Utica and he'd have said the exact same thing.
A rose to Kaitlyn, who always gets saddled with the worst. dates. ever. and yet still tries to make the most of touring a temple where she and Chris can't show affection in any way whatsoever. "In its own way it was romantic," Kaitlyn insists.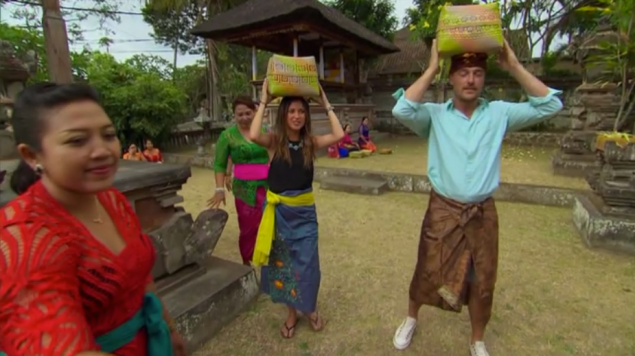 Sorry, Kaitlyn, but I'm taking back that rose now that you've delivered what might be the worst love analogy in Bachelor history. As Kaitlyn and Chris feed bananas to a pack of demonic, ravenous monkeys, Kaitlyn makes the following profound observation: "Watching these monkeys, I feel like they know what they want, and they go and get it. They see that banana and they're going to go get it. I definitely wish I could be more like a monkey and just go after what I want, and not be afraid of anything that might stand in the way."
Deep.
A rose to Chris and Kaitlyn for doggedly sweating their way through what was supposed to be a nice dinner conversation, but honestly looked like a fight not to pass out from heatstroke. I've never been to Bali, but from what I can tell, it is located on the surface of the sun.
I think Kaitlyn wants to talk about the guard she's put up since her last relationship ended, but she and Chris just sit limply in their seats, every so often mustering up the strength to say the words "I'm vulnerable" or "I'm excited about what we have going."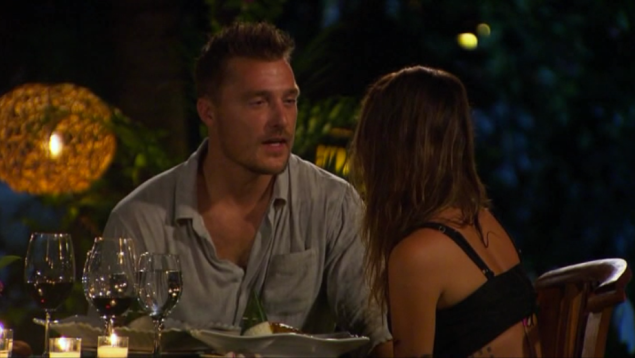 At the end of dinner, Kaitlyn accepts the invitation to the Fantasy Suite—not because she wants to bang Chris, but because there's a chance it'll have air conditioning.
A rose to Whitney's date, which—in terms of activity choice—is a solid 7,000 times better than Kaitlyn's crap-tastic day with Chris. Chris takes Whitney for a boat ride on the Indian Ocean, complete with a light picnic and swimming—activities that I estimate produce significantly less sweat than that time he and Kaitlyn walked along the side of a dirty, concrete Balinese thoroughfare, limply clutching beers in their hands.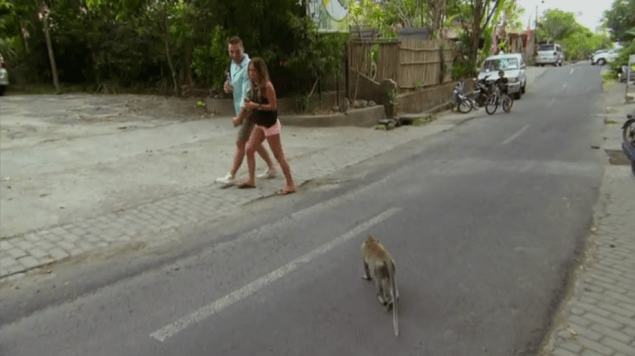 A rose to the deep connection Chris and Whitney clearly share. "Take it in," Chris says as the pair recline on the boat and gaze out at the magnificent Balinese landscape. He doesn't need to complete the sentence because, even without speaking, they both know exactly how it ends: "because it's the last time you'll see the world outside Arlington for the rest of your life."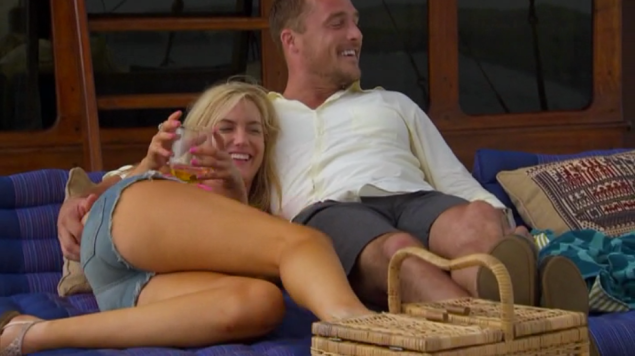 A rose to all the sperms and eggs that will never form zygotes, because Whitney is TOTES willing to leave her job as a fertility nurse and move to Iowa to be with Chris. At dinner, Whitney explains that she loves her career, but that she won't be fully happy until she's also a wife and a mom. If she moves to Arlington, "I would just be ready to have babies," she says confidently. "That would be my career."
"I firmly believe that life takes you places, and it's not where you are, it's who you're with," she says. OK GURL BUT DID CHRIS MENTION THERE'S LITERALLY NOT A SINGLE OPEN BUSINESS?!
Right off the bat, no roses to Becca's outfit for her date with Chris. Are those shorts made of very thin, flowy leather? Are they silky, black pajama bottoms from PINK's new line for gothic tweens? Did Lena Dunham serve as guest costume designer for this episode?
A possible explanation? Fashion is probably the last thing on Becca's mind, because all she can think about is how to tell Chris she's not having sex until marriage. Sorry about that whole Fantasy Suite thing.
A rose to this poor Balinese farmer who just wanted to harvest her goddamn corn crop, but first had to wait for the American reality stars to stop filming an ~authentic looking~ make-out sesh in the middle of the farmland that feeds her family.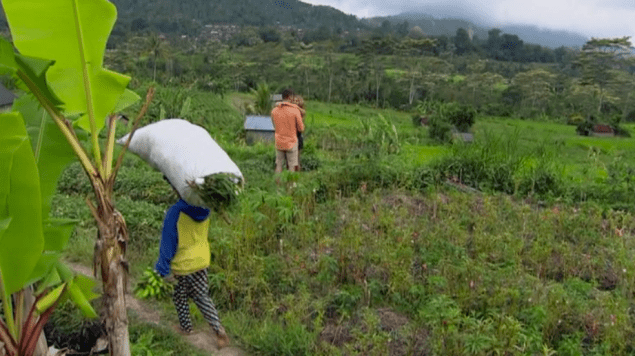 Well, you knew this one was coming. A rose to Becca for becoming—as far as I know—the first virgin to set foot in the Fantasy Suite. I feel bad for Becca—she's just so in over her head. Not only is she a virgin, but she's never been in love, and now Chris Harrison is inviting her to a hotel room that he implies, ever so subtly, should be used as a chamber of sex. [Side note: Why is it Chris Harrison's job to invite the couples to the Fantasy Suite? Isn't that creepy?]
[Wow, correction: Becca is NOT the first virgin in the Fantasy Suite. Somehow, I completely forgot about Sean Lowe's entire season, where basically everyone was either a virgin or born-again virgin. Can't imagine why that riveting season slipped my mind. Anyway, good news, Becca—your virgin-ness was no big deal!]
A rose to the exact moment Chris realizes that Becca's trying to tell him she's saving herself for marriage.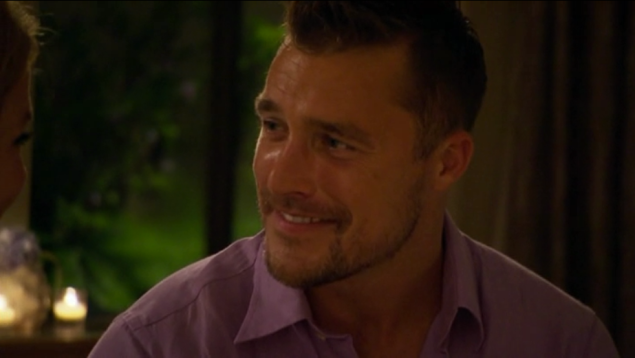 A rose to poor Kaitlyn, for whom things are starting to not look very good—despite the fact that it's Becca taking the long, brooding, post-Fantasy Suite walk along the beach.
Let's break this down. The morning after his overnight date with Becca, Chris says they had a "serious conversation" about their "future," and now he has no idea how to feel, or how Becca feels about him. But in his bro-to-bro chat with Chris Harrison, Chris says he knows one person who's for sure getting a rose—Whitney, obv—but can't possibly decide to whom he should give the second rose.
If his feelings towards Kaitlyn and Becca were equally strong, it'd be a no-brainer—Kaitlyn, who isn't currently acting all emo on the beach, would be the clear choice. But the fact that Chris is torn means he likes Becca more than Kaitlyn; it's just her current weird behavior that's making him question his decision.
Q.E.D., bitchez.
A rose to this ancient Balinese temple—"one of the most special, sacred temples in all of Bali," according to Chris Harrison. May it continue to hold its holy status despite having been turned into the set of an American reality TV dating show.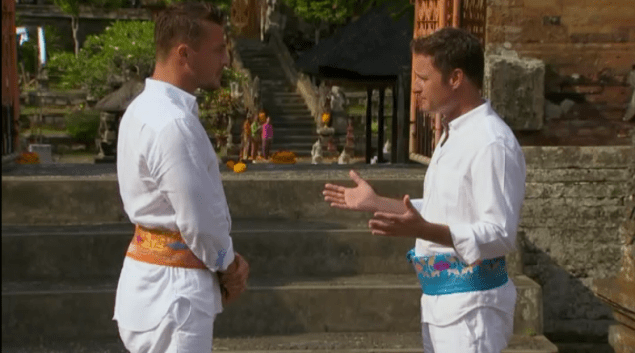 Oh god—another rose to Kaitlyn, who thinks she totally has it in the bag, once Chris asks Becca to speak with him privately. In Becca's absence, Kaitlyn starts explaining how excited she is to meet Chris's family next week, and how "good" and "happy" she feels.
Meanwhile, Becca is confirming to Chris that she's crazy about him, and that she thinks she's maybe definitely falling in love despite having no idea what love actually feels like. Instead of giving Becca the boot, Chris brings her back to the Rose Ceremony. Sry Kaitlyn.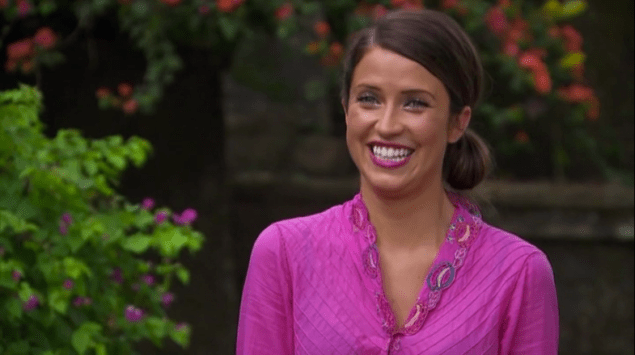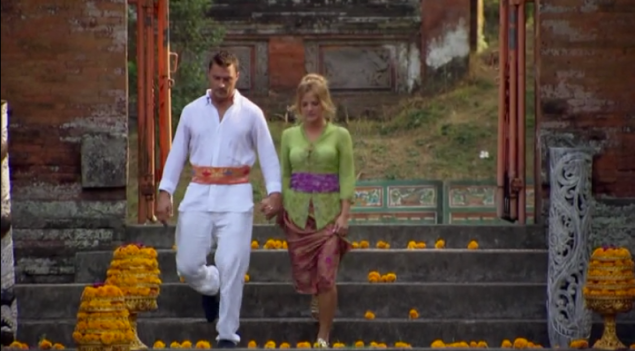 No roses to Chris, who proceeds to break up with Kaitlyn in the most selfish way possible—i.e., explaining to her how hard it's been for him to make this decision.
Kaitlyn says the break-up is the most humiliating moment of her life, which says a lot, given that she once rolled around Costco in a giant inflatable ball.
See ya at the Women Tell All, Kaitz.