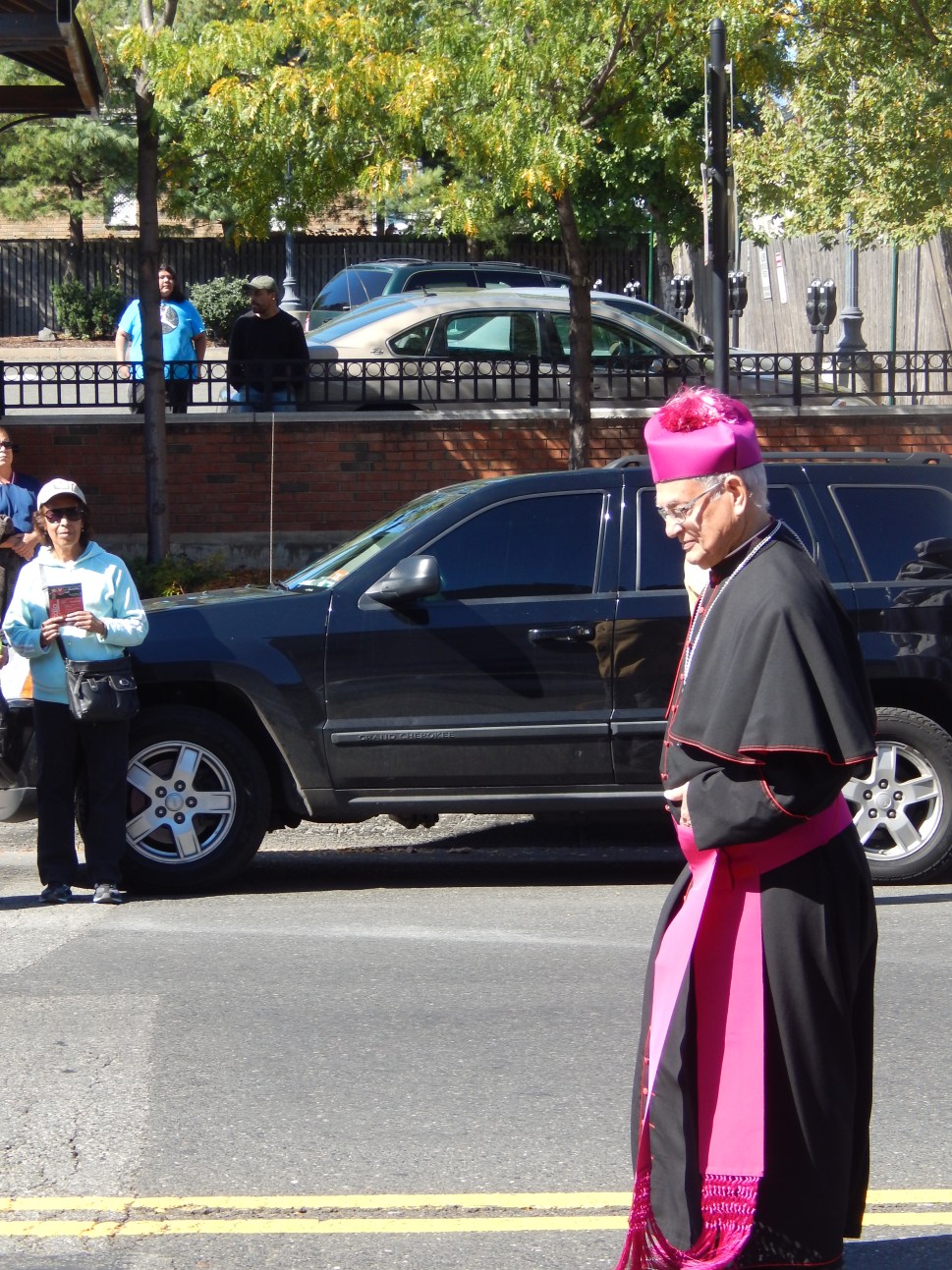 UNION CITY – It might have been the most raucous scene in New Jersey on that fall afternoon, as Marc Anthony's "Vivir mi Vida" blared on Bergenline Avenue, a pulsating accompaniment to those slow-motion floats crammed with Central American beauty queens, standing-room-only sidewalks arrayed with flags, and a tramping horde of beaming politicians: Grand Marshal U.S. Senator Bob Menendez (D-NJ) and U.S. Senator Cory Booker (D-NJ) in matching sashes at the vanguard.
It took several minutes for the Diego Rivera-like hallucination to finally pass, trailing Anthony's exuberant vocal soundtrack and the outstretched arms of Booker and Menendez.
Then a lone figure appeared.
No one around him or near him, his presence momentarily freezing the frenzied motions of waving flags and braceleted arms, the unmistakable black robed figure moved slowly up the street.
It was a Catholic priest; a bishop, in fact.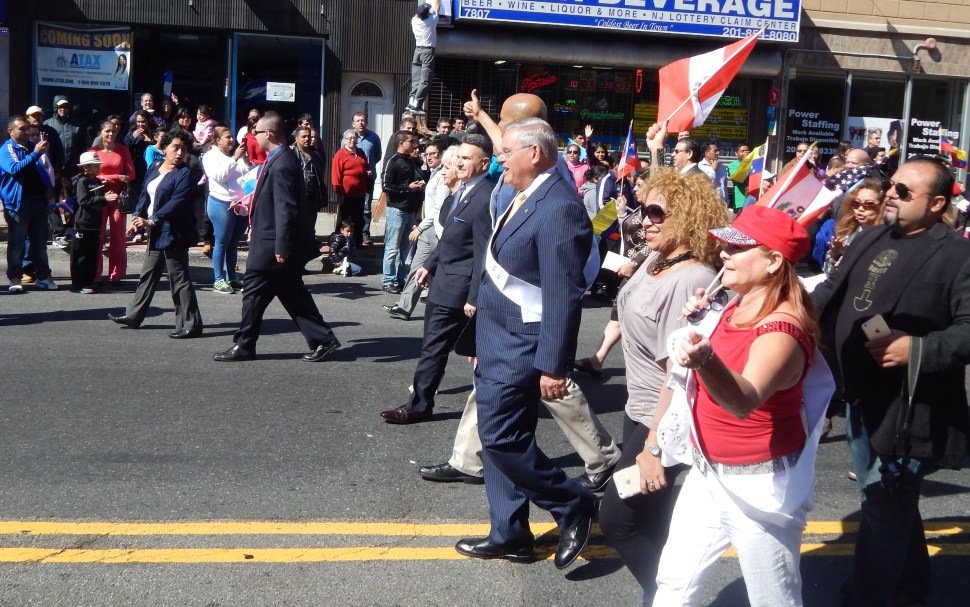 That stark contrast begs the question: what role exists in New Jersey politics right now for the Catholic Church, an institution that claims the state's biggest percentage of religious adherents at nearly 40%, or between 3.2 million and 3.5 million people in the second most Catholic-concentrated state (after Rhode Island) in the country, a tradition jarred by scandal but possibly buoyed by a new pope?
Partly the answer lies in a recognition of the jagged nature of New Jersey, a scrap heap of compressed urban and sprawling suburban parts, seemingly disparate and mismatched and yet inter-related.
"I don't think a bishop would have get a reception like that if he were in the Belmar St. Patrick's Day Parade," noted Assemblyman
Sean Kean (R-30), when told of the scene on Bergenline.
Nor would he apparently in Woodbridge, where Bishop Gregory Bootkoski of the Diocese of Metuchen – celebrated locally for his seeming tough response to Catholic scandal – gave the invocation at Mayor John McCormac's state of the township earlier this month. "Booming," said McCormac, when asked to describe the Catholic Church's presence in his town.
"I think the Catholic churches are fairly healthy in Morris and Essex," said Assemblyman Jay Webber (R-26), assessing his own region. "Certainly, there is a crisis in Catholic education, which, for the long-term health of the church, is troubling."
In the words of one Catholic who sized up the scene of Bishop David Arias Perez alone in Hudson that day, the work of the Church is "in the ditches," not at parades.
And yet, Catholic Church population declined from 1990 to 2008 in the country, according to a 2008 survey released by Trinity College (Hartford, Conn.). And while Catholic population increased in the South and West, it fell in the Northeast. In Camden County, "26 of that county's 37 municipalities experienced overall population declines in recent decades," according to the study. "Thirty-four of the diocese's 48 Camden County parishes — or 71 percent — are in those locations that have experienced population declines."
Part of the debate about the church's public role and influence centers around its teachings.
Asked about Catholicism, a Hudson operative, the product of a Catholic high school, blandly shrugged off the Western institution, which he claims permanently lost the war with science. "It has about as much relevance as Greek mythology," he said. "Come on. Let's stop the nonsense. The Church is a non-factor at this point." The source said those weekly churchgoers act out of habit, repeating observed theatrics from their youth while unable to summon rational arguments.
Partly the Church's own recent history handcuffs its ability to convincingly project a moral message.
"Religion is important as you know," another Hudson source said. "But it is not coincident with spirituality.The Catholic Church has fallen in the West because of the loss of moral authority in its governance not because of societal change….more than ever, the more we 'know', the more there is a need to 'believe.'"
"The impact of the scandals cannot be underestimated," said Union County Sheriff Joe Cryan, the son of Catholic Irish immigrants, referring to sex abuse cases reported worldwide. "The abuse scandals and the lack of candor and resulting lack of confidence in Church leaders have had a significant impact. I think a lot of Catholics feel that the Church's religious teachings are correct, but that those providing that teaching are flawed."
In recognition of an embattled Archbishop John Myers (who shielded known sex abusers, and received considerable criticism when The New York Times amplified Bergen Record and Star-Ledger reporting on a $776,700 retirement home he built for himself), at least one Catholic lawmaker noted that when a priest brought to the congregation's attention the annual "Archbishop's Appeal" last week, he merely referred to "the appeal," leaving out a specific reference to the scandal-saddled Myers.
In part, the Church feels the chill of those parishioners who have experienced, sometimes suddenly or without adequate explanation, the closing of schools; to name a few, in Paterson (Paterson Catholic High School), Trenton (Holy Angels), Middletown (most recently, Mater Dei High School); or a hospital in Newark (St. James); or the elimination of services and churches; or simply an enduring and unanswered question, like the seemingly terminally abandoned Cathedral in downtown Paterson.
"If you close a church, you close a whole lot more than a building, and a lot of people feel misguided about it," Cryan said.
In large part also – and arguably most significantly – the pro-life Church's standing in politics here relates to its collision on social
issues with a pro-choice Democratic Party, whose adherents number roughly 700,000 more than Republicans in New Jersey.
1984
A generation ago, Pope John Paul II's aggressive installation of hard-nosed conservatives in Church leadership roles deepened the entrenchment of Catholic leaders in a core values fight. In the words of one Catholic Newark insider, a Democrat, "The church's emphasis on evangelization and less on social service and a focus on the poor made it become a Republican establishment. Then the Christian conservative movement took over as the principal religious force in the country and internationally, with a fight going on in Latin American, priests found themselves losing to alternative religions preaching more tolerant values."
That values fight within the Church slammed headlong into the vice presidential candidacy of the late U.S. Rep. Geraldine Ferraro, Walter Mondale's running mate in 1984. In her biography published in 1985, Ferraro, a progressive Democrat, devoted an entire chapter to "The Conservatives, the Italians, and the Archbishops" and the confluence of those entities on her candidacy.
"For the first time in over 20 years, religion became a political football in a game that should never have been played," Ferraro wrote. "In 1960, President John F. Kennedy, our first and only Catholic President, said, 'I do not speak for my Church on public matters – and the Church does not speak for me.' I agreed with him entirely. But there was a difference. The fear in Kennedy's time was that his Catholic beliefs would influence his public policy. In my candidacy, the opposite fear was being played out. In 1984, the fears of a very vocal minority were that my Catholic faith would not play a part in public policy.
"I provided a natural target for these religious extremists who were trying to get God on the ballot," the Democratic nominee for VP added. "I was a Catholic woman who supported a woman's right to abortion. That was a sin of faith. To other extremists, I was an Italian-American woman who had stepped out of her traditional role as homemaker, wife, and mother to run for high office. That was an ethnic sin. In the South I was stamped as a Northeastern liberal who advocated federal commitment to minorities, civil rights for homosexuals, and equal rights for women. That was a conservative sin. If all these people had had their way, I would not have been on the campaign trail but on my knees in the confessional booth."
In New Jersey, a state dominated by Democrats, many of whom rose out of an ethic immigrant faith tradition, few in public office frequently vociferously self-identify with that faith, presumably owing to the demands of a secular and highly diverse society and the very nature of elected office in this country, but also because of those persistent contradictions inherent in the staked out social positions by party and Church, which Ferraro notes in her book.
The rise of Democrat Bill Clinton, a pro-choice, socially progressive Southern Baptist, and a coming five straight wins by Democratic Party presidential candidates starting in 1992 solidified New Jersey as a blue state.
For New Jersey's Catholic Democrats, what started with Kennedy appearing at the War Memorial in 1961 alongside gubernatorial candidate Richard J. Hughes, one Irish Catholic helping another gain the governorship here, turned into the ultimate soul-searching send-up with Jim McGreevey, who in 2004 came out as a gay American, resigned his governorship and later announced his decision to leave the church to become an Episcopalian.
There was also former state Senator Bernard Kenny, denied Catholic Holy Communion because of his pro choice views, leaving the Church; and state Senator Ray Lesniak (D-20) likewise declaring his decision to leave the church for new faith frontiers. Over the course of the past decade, since McGreevey's public downfall, social issues at the Statehouse underscored the opposition of the Church's teaching with Democrats and their perceived base, as Catholic Democratic lawmakers like Paul Sarlo, John Girgenti, Kean, and Steve Sweeney all used the foundation of Catholic working class constituencies to initially make their case against gay marriage.
Those lawmakers later changed their position – or paid a political price.
Sarlo and Sweeney backpedaled their votes, the latter making a very public confession about his mistaken abstention on marriage equality before taking a lead role in ensuring its passage. Girgenti dug in, subsequently got kneecapped as chair of the Hawthorne Democratic Party by an openly gay challenger, then redistricted into oblivion in 2011.
"I'm sure Democratic strongholds becoming more liberal and progressive puts them at odds with a Church that opposes gay rights and abortion," said Kean. "Perhaps Catholics are feeling less embraced than in some of the suburban areas."
In Elizabeth, Lesniak and Elizabeth Board of Education organizer Rafael Fajardo stand on opposing sides of a bitter political divide in the Democratic Party. But they both left the Church to become born again Christians.
"The Catholic Church was a traditional bureaucracy that did not get involved with the community," Fajardo told PolitickerNJ. "They offered good services, Catholic relief; however, there was a disconnect with the community, particularly with those people who started diving deeper into the Bible on their own and asking questions.
"I consider myself to be a conservative Christian," the local political leader added. "I believe in traditional family values. The Latino community needed closer and very sensitive contact. It may have fulfilled that a century ago."
Christie's Catholicism
Democrats aren't the only ones split by the Church's demands – and flaws.
In 2009, Governor Chris Christie infuriated socially conservative Republicans when he tempered his own Catholic, pro-life position with his selection of pro choice Monmouth County Sheriff Kim Guadagno as his running mate. He irked staunch social Catholics when he signed a gay conversion therapy bill in 2013, his re-election year, and continues to rankle party members who wanted stronger, pro-life appointments to the New Jersey Supreme Court. Former Assemblyman Richard Merkt (R-25) goes so far as to openly doubt the sincerity of Christie's pro-life views. "If I were a cynic, I'd say he may just have been reading the tea leaves and said, 'Hmm, if I want to have a future in the national Republican Party, I can't be a strong pro-choice person,' " Merkt told The Daily Beast earlier this month.
To the most diehard socially conservative Catholics, Democratic leaders in New Jersey represent little more than chic antagonists of the faith, and a danger zone to GOP members open to a liberal social agenda for the sake of viability in a progressive state. But Republican Catholics say they would be surprised if Christie signed the so-called Aid in Dying Bill. Passed by the Assembly last year, A-2270 allows terminally ill patients to end their lives by obtaining and self-administering lethal doses of medication from a doctor, and signifies multiple Catholic dynamics in what amounts to a single inter-party, intra-faith political bloodletting.
Catholic Republican Assemblyman Webber opposed the bill. So did his fellow Catholic Republican Kean.
Catholic Republican Assemblyman Declan O'Scanlon supported the bill.
"I have an issue with the suicide bill," said Kean. "I personally don't agree with that bill. I don't think people should be making those decisions."
In one of his last acts before leaving the Assembly, Catholic Democrat Cryan co-sponsored the bill.
Webber made a point in his opposition to criticize fellow party members – also Catholics – who backed A-2270. "The notion that taxpayers are better off paying some people to commit suicide because it's cheaper than helping them live is kind of sick," Webber responded to Assemblyman Jack Ciatterelli, who voted in favor of the bill. "The problem with taxpayers' funding assisted suicide is not the money it might cost, but that public funding forces millions of people to participate in something they find so objectionable."
Worried about letting doctors prescribe life-ending drugs to people with terminal illnesses, Christie told 101.5 FM earlier this month, "We'll certainly take a look at it [the bill, if it reaches his desk], but I don't want to give you false encouragement either. I have grave concerns about it."
For his part, in the midst of debates like this and others, Webber said he wishes Church leadership would expand its voice in the public domain.
"I think they [the bishops] can play a larger role in terms of the public discussion, not being partisan, but encouraging people to be aware of the principals and the ideas that that the Church has for citizens and how they should be thinking about government," the assemblyman said.
"I wouldn't name any one particular issue, I just think in terms of a healthy political culture and speaking to Catholics, I would hope that they would be active about promoting that lead to ordered relations between people and how to encourage and protect civil society," Webber added. "I'm not sure parishioners go away from mass thinking that every Sunday."
Democrat Lesniak, who championed marriage equality in the legislature and hosted one of the state's first same-sex marriages in his living room, agrees; although his own preferred emphasis for the Church differs on most issues – but not all. The Church lobbied for Lesniak's Opportunity Scholarship Act, a pilot program for school vouchers, for example, which had the backing of the governor, Republicans and pockets of Democrats, but ran into the opposition of the New Jersey Education Association (NJEA). In a rare overlapping of social interests with New Jersey Democrats, however, the Church won – and showed appreciation by lighting up the Coliseum in Rome in recognition of New Jersey's (and Lesniak's) effort – when then-Governor Jon Corzine abolished the death penalty in 2007. The Church also vigorously backs comprehensive immigration reform. The New Jersey Catholic Conference, which represents the views of the bishops, "endorses and participates in USCCB's Justice for Immigrant Campaign which supports pathways to citizenship for unauthorized immigrants living in the United States, highlights the importance of preserving family unity and supports secure borders. Immigration reform will take several years to accomplish, during that time we must work to address the root causes that push migration such as persecution, violence, and poverty."
Immigration and Pope Francis
The immigration debate – and the Church's position, which dovetails in the main with their own position – gives Democrats an issue here in New Jersey and a chance to harden key political support nationally, or so they hope. After a pro-immigration reform program sponsored by evangelical Christians and assisted by U.S. Senator Bob Menendez (D-NJ) and U.S. Rep. Albio Sires (D-8) in Elizabeth last month in the face of Republican resistance to President Barack Obama's executive immigration order, Lesniak offered one word when asked about the Church's role.
"Francis," he said, a reference to the Argentine, whose papacy began in 2013, and who has called publicly for a change in world
attitudes toward immigrants. "I do see a revival of activism in the Catholic Church, and that attracts me," the senator added. "A lot of it has to do with Pope Francis and his focus on the poor."
Lesniak said Pat Brannigan, executive director of the NJCC, backs his faith-based leadership against violence initiative, and noted of the bishops that "They're more visible than in the past. When I was supporting scholarships for private schools, I told them if they put half the effort into that as opposed to lobbying against gay marriage it would have been effective.
"Now I see less religious ideology coming out from folks associated with the Church and more hunger," he added. "It's going to be a rough road for the Catholic Church, but this pope has given new hope to people like me."
When a local parish priest noticed Lesniak in his church he remarked that he hadn't seen the lapsed Catholic there in a while. The veteran senator told the priest that Pope Francis just might force him back into the flock. "Yeah," the priest cracked, "me too."
Lesniak's former district-mate, Union County Sheriff Cryan also identifies Pope Francis as the wildcard, and confessed to wanting tickets to Philadelphia to see the pontiff in person when he visits the United States later this year.
Now working in Jersey City as head of the city's employment and training program, former Governor McGreevey told PolitickerNJ, "Francis has triggered a rebirth of Catholic social justice, e.g. recognizing the toxic nature of income inequality and tragedy of [Archbishop Oscar] Romero's martyrdom. Look at the masses who have gathered worldwide to see him. In Philadelphia, predictions are upwards past 2 million congregants and a financial impact greater than the Democratic National Convention [slated for Philadelphia in 2016]. The Church's unwinding has been prophesied in every generation. The Church typically survives the doomsday predictions of its demise.
"Pope Francis represents transcendence; his unique gift calls us to our better angels: to place service above self, gratitude above self gratification, and ultimately love above fear," the former governor added. "As the first letter of the Apostle John states, 'Perfect love casteth out fear' [1 John 4:18 KJV]."
That expectation of Francis playing a vital and positive role crosses party lines – at least here in New Jersey. "All the way around the new pope is probably going to be a favorable force, for divorced people and others, welcoming people into the fold," said Kean. "I'm sure that will appeal to people. But at the end of the day, it's the church that has endured and it's arrogant to be dismissive of it. Criticize it? Yes. But not dismissive."
Elizabeth School Board Member Carlos Trujillo said that despite the proliferation of evangelical churches in his hometown and those challenges the Catholic Church faces internally, the institution remains a powerhouse in Elizabeth, the state's fourth largest city with a 60% Latino population. Trujillo too made a point of citing the impact of the Pope. "The Church did lose a grip for a while," he said. "I think it has made gains again. I think the economy had a lot to do with it. The Catholic Church provides many services and continues to provide them even in bad times. The small churches can't compete. I see them opening and closing, moving and consolidating more and more. There are more pastors competing for the same group of souls.
"Saint Pat's [Catholic Church] has an excellent leader in Father Fabio [Roy De Jesus]," Trujillo added. "His mass does very well. I know that Saint Anthony, once a Large Italian Mass, still offers a great Mass to the Italians but it's the Spanish Mass that fills the plate. I am hearing that Father Manny, a very charismatic pastor, has returned. The New Pope I think is perceived as a breath of fresh air. Even the Catholic Church realized the power of Latin America and its need to reach this exploding Community. …The Pope speaks, world leaders listen. With its many followers and what seems to be an endless amount of money, the Pope is a strong leader. I always tell the immigration population about all the great things the Catholic Church provides them that their local pastor can't. The hospital in Elizabeth, so much of the charity it offers, is through the Catholic Church."
But just as Pope John Paul II created deep-set and varied responses to his views, the sitting pope with a perceived greater tolerance on the social side of Catholic issues and with his pro-immigration reform comments, doesn't always say what some Hispanic Democrats want to hear, which Menendez discovered last year when Francis brokered the United States' deal to normalize relations with communist Cuba.
In short, it's complex.
The Paradox
Discerning the views of those Catholics in the state who occupy the public square, that lone bishop glimpsed on the street in Hudson appears emblematic
of the enduring paradoxes in the Church, too confounding to chronicle, an institution that at once encompassed the vocal support of the war in Vietnam by Cardinal Francis Joseph Spellman and the activism of Jesuit priest Daniel Berrigan, who broke into a nuclear facility to protest the war; the relative silence during the Iraq War of American Church leadership, and the stout advocacy of nonviolence in response to 9/11 by individual priests; the condemnation by clergy of those supporting pro-choice politicians, and the emphasis alone by others on the needs of the poor; the pro-life work of U.S. Rep. Chris Smith (R-4), who voted for the Iraq War resolution, and that of the pro-choice Menendez, who opposed the war resolution; and the resistant Hudson operative, informed that this piece contains his off-the-record dismissive comments about the Church, said to be sure his remarks remained "way off the record."
Then as an afterthought, groaning, as if the discomfort of getting discovered might not be worse than a nagging, otherworldly undercurrent of worry about damnation for the heresy of his views, said, only half joking, "I'll be banished to hell!"
For Webber, reliance on his own formation informs everything he does, and that formation, the contradictions be damned, includes faith.
"In my professional and family life, the Church is a big part of that formation," said the Republican assemblyman. "But I am always careful to bring to the public debate arguments for everyone, not just Catholics. The Church's teachings are not specific to believers, but relevant to humankind and mankind, and there's a deep, very well-thought out and persuasive body of natural law theory that is applicable no matter what church you attend or whether you attend church at all.
"Those universal truths and principals upon which our nation was founded – and remember, there was only one Catholic who signed the Declaration of Independent – those are the documents I've learned," Webber added. "I've tried to study my faith and great thinkers part of that faith tradition, but I haven't limited my studies to Catholic thinkers – not to mask my faith or biography, but by way of respect and advocacy for good policies and good rules for society, for maximum opportunity. There's no reason [Democratic Assemblyman] Gary Schaer [the legislature's lone Orthodox Jew] and I can't talk the same language about human rights and the poor. Those are thoughts and ideas that aren't limited to a particular faith."