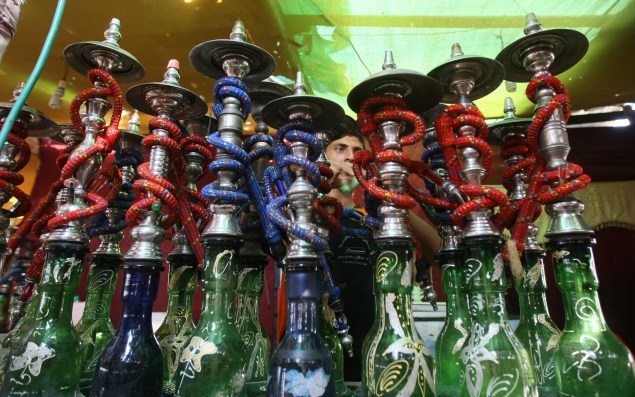 WEDNESDAY February 25
I don't know about you, but I hardly consider a meal a meal unless there are some belly dancers performing for my amusement. Also, a hookah. I am a time traveler! But I will feel right at home at the "A Taste of Morocco" event co-hosted by Shishapresso, which promises on its website to change "the way you smoke your shisha." There will be signature cocktails and hors d'oeuvres to go along with belly dancers (and, undoubtedly, henna tattoos).
Haven Rooftop, 132 West 47th Street, 6-8 p.m., invite only
THURSDAY February 26
Black ties aren't just for stuffy rooms. Take them out on ice! And do it while holding a glass (plastic, we hope) of Prosecco at Altaneve on Ice. I'll be lingering in the background eating a chocolate-dipped strawberry, listening to the live jazz and admitting your agility at the Black Tie Ice Skating Event to Benefit Gabrielle's Angel Foundation for Cancer Research.
The Rink at Brookfield Place, 200 Vesey Street, 7-9 p.m., gabriellesangels.org/events, $40
FRIDAY February 27
Jazz not your bag? That's cool. Maybe you'll prefer Sandy Bell (who collaborated with the late Jeff Buckley) and Dave Doobinin and his band at the Benefit Show For Hope and Heroes Children's Cancer Fund. A fantastic guitar will be auctioned off over the course of the night.
The Living Room, 134 Metropolitan Avenue, 7 p.m. $10
SATURDAY February 28
Get out your gowns. Don your pearls. Those white gloves that Amal Clooney wore at the Golden Globes? You're going to want to get yourself a pair of those, probably. Not off Amal Clooney, obviously, you're going to want to get something in a similar style that does not belong to her. You should not actually steal from the Clooneys, because if you did, you'd likely be unable to make the New York Junior League's 63rd Annual Winter Ball (because you would be in jail). And you seriously don't want to miss one of the year's most delightful black tie events. Attendees will enjoy an elegant four-course dinner, where CBS News Anchor Kristine Johnson will preside as mistress of ceremonies as the year's outstanding volunteers and sustainers are honored. Raffle tickets will also be available for a range of prizes from dinner at Harry Cipriani to fitness packages at SoulCycle, presumably to work off the dinner and Bellinis you had at Cipriani. Proceeds from the event go toward supporting the NYJL's collaborative community programs in the New York City metropolitan area (such as Mentoring USA or the Women's Prison Association).
The Pierre Hotel, 2 East 61st Street, 7 p.m., nyjl.org/events/winter-ball, $525
SUNDAY March 1
Do you look at Rockefeller Center and think, "I want to climb to the top of that thing?" Well, that is frankly insane. Elevators were invented for a reason. Your logic is foolish. Except on this one particular day, where you can climb 66 flights of stairs to the Top of the Rock to benefit the National Multiple Sclerosis Society. The event will be timed, so you're probably going to want to spend some time practicing your walk-up in advance. And if this sounds absolutely insane to you, but you still want to help the cause, good news, they also need volunteers! You can help set up tables or join the "spirit team," which entails cheering for the participants as they cross the finish line. However you participate, it sounds like a fun, unique way to help support a terrific cause. And it's probably still a lot less painful than the ice bucket challenge.
30 Rockefeller Center, 6-10 a.m., eventnyn.nationalmssociety.org, $100 registration, $250 fundraising minimum
MONDAY March 2
You know who's fun? Meryl Streep, Tom Hanks, Danny DeVito, Renée Fleming and Carole King. And they'll all be at An Evening of SeriousFun Celebrating the Legacy of Paul Newman tonight. The event pays homage to SeriousFun founder Newman, and feature performances from the notables in attendance and I am pretty excited to see what those performances entail. Either they all have hidden singing talent or someone is going to twirl a baton. I'm betting on DeVito.
Avery Fisher Hall, 10 Lincoln Center Plaza Show, lc.lincolncenter.org/find-an-event, $100-$250, after-party tickets $1,500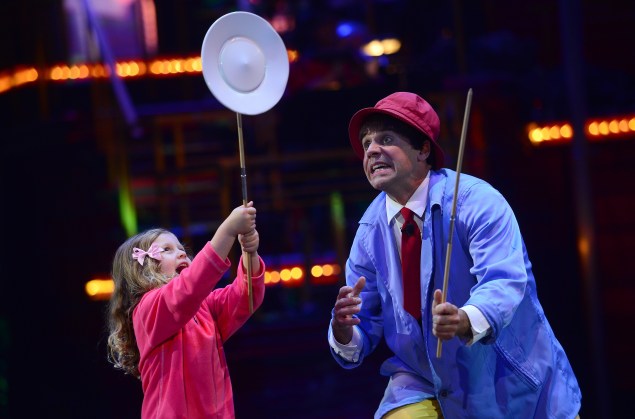 TUESDAY March 3
If you don't have any children, borrow some. The Associates Committee of The Society of Memorial Sloan Kettering Cancer Center will host the
24th annual Bunny Hop. The family-friendly day treats visitors to a live animal show, a petting zoo, spin art and three acts from The Big Apple Circus. And Gucci sponsors it.
583 Park Avenue, 5-7 p.m., giving.mskcc.org/society-msk,, $200/adult, $80/child
WEDNESDAY March 4
The world's best art fair is back. Or one of them? One of them, surely. In any case, it's time for the Armory Show, and even if you don't make it to the Piers, you're absolutely going to want to go to
the MoMA Armory Show benefit party. Ezra Koenig from Vampire Weekend will be DJing, and Kelela will be performing.
The Museum of Modern Art, 11 West 53 Street, 9 p.m.-12: 30 a.m., moma.org, $175