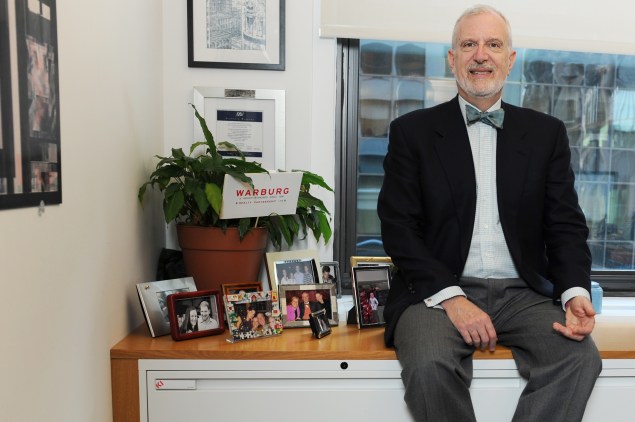 Frederick W. Peters, the president of Warburg Realty, which is in the midst of an expansion unprecedented in the residential firm's 118-year history, has himself led much of his life inside a tight circuit.
Aside from a few unpleasant years at  school in Andover, Mass., and later at Yale, he has lived all of it, devotedly, in New York City. Mr. Peters cannot see himself in rugged Washington, Colorado, Vermont or New Hampshire, where some of his cousins have settled. Nor, he avows, in a sparse landscape, like the desert surrounding Santa Fe. In an era of the quick turnover, he has declined for the last 37 years even to vacate the seven-room apartment in the Upper West Side co-operative at 86th Street and Central Park West that he shares with his wife, Alexandra.
Mr. Peters, a descendant of two of the 20th century's more influential financiers and philanthropists—Felix Warburg and Jacob Schiff—believes in community. He is fond in particular of what he calls the "vertical village" of co-op living, with its  stability and mutual esteem largely and increasingly absent from condominiums, which accommodate house-flippers and pied-à-terres alike, and which mostly forgo the kinds of vetting, held dear by co-op boards, that preserve and enrich a building's character. (The quality of that character in your better buildings, of course, tends to include considerable social cache, philanthropic devotion and cash reserves sufficient to make foreclosure an irrelevant possibility.)
It was in this milieu, in large part, that Mr. Peters staked his professional claim, dealing in eight-, nine-, 10- and 12-room apartments in grand prewar buildings on Park and Fifth Avenues and on Central Park West. As he has noted, the Warburg name "has a lot of resonance in this town," particularly, perhaps, in the uptown precincts of the traditional elite. Mr. Peters rarely handles listings himself these days, delegating the many referrals he receives to underlings, while he attends to managing the brokerage, which now has three offices and more than 100 agents. Still, Mr. Peters is, by his own admission, a perhaps excessively tactile manager, and Warburg Realty reflects its helmsman, whose reputation among colleagues for honesty, empathy and a kind of conspicuous urbanity is uniform.
Some have been known to raise an eyebrow, from time to time, at this last quality. "He always puts forth his background in essence as a sales tool," one competitor prickled. "I don't know whether it's self-aggrandizing or whether it's important or interesting for consumers. But I'm sure some people are buying what he's selling." Indeed, people are. Warburg is currently in courting mode, aiming to near-double the size of its broker pool; when the Observer met recently with Mr. Peters, he flourished a wad of recruiting lunch receipts. In the coming months, Warburg will open a fourth, 5,000-square-foot office, in the Flatiron District.
This month, Mr. Peters will turn 63. He resembles today perhaps more what people tend to think of when they imagine owners of prewar Manhattan co-ops than he did at 25, when he and his wife, who met as teenagers and had recently married, moved to their current home from a walk-up in Brooklyn Heights.
Mr. Peters is tall and solid, with a brisk gait and gray hair thin on top and thicker at the sides. At the moment, he wears a neatly trimmed beard about the mouth. He makes a cordial and genteel impression. Cufflinks, bow ties and paisley are for everyday wear, and gather no dust awaiting special occasions. On the desk of his Madison Avenue office, which is for a real estate executive modest almost to the point of austerity, Mr. Peters keeps a tiny green teapot, tins of Earl Grey and several plastic bottles of Great Lakes brand honey. He is a baker of hot-cross buns and an enthusiast of prune and poppy danishes. He speaks with a slight honk. "He is," one prominent uptown agent calculated, "sort of one of the last in the generation of the gentleman brokers."
Mornings, when Mr. Peters pads, pajama-clad, around 7:30 from his bedroom to a sofa in his dining room, where he attends to email, his passage is beset by books. "We're not quite to the point of having to tunnel from the kitchen to the bedroom," he says. "But we're getting there." At the time of the Observer's visit to his office, Mr. Peters said he was slogging through a new Beethoven biography; when Alice Munro came up, he fluttered his hands over his chest like a dancer, as if to contain a thunderously beating heart.
Mr. Peters speaks in long, floral paragraphs studded with metaphors that often serviceably illustrate whatever point he is making, which can be abstract to a degree untypical for sellers of real estate. Mr. Peters majored in English at Yale and named his first child, Clelia, who recently left a career in management consulting to help revamp Warburg's approach to marketing and technology, after a character in The Charterhouse of Parma. He also holds a master's degree in classical music composition, the vestige of an abandoned Ph.D.
Mr. Peters describes himself as something of a frustrated writer. As a young man he composed poetry, and some years ago, he began blogging on Warburg's website, in a weekly column titled "Fred's View of New York Real Estate." The entries range from philosophical, "The Art of Letting Go," to service-oriented, "Listing Your Home: A Primer For Sellers." The tone is reliably upbeat and nostalgic, the use of exclamation points liberal. 
"I have a favorite genre of my blog," Mr. Peters says. "Which is the ones that start with real estate and turn into meditations on the meaning of life." Kirk Henckels, a broker with Stribling with whom Mr. Peters has worked on many deals, confirms: "Fred does wax intellectual!"        
Mr. Peters traces his interest in real estate largely to the gift of a book his wife made him some four decades ago, soon after their apartment search. Apartments for the Affluent, by the lawyer and architect Andrew Alpern, is an illustrated compendium of Manhattan's great 20th-century houses—the bulk of them co-ops—replete with detailed floor plans.
Mr. Peters studied the book obsessively, identifying new idols in architects: Emery Roth, Rosario Candela and, especially, J.E.R. Carpenter.
"I found that there was something about floor plans that interested me," he says. "I would be hard-pressed to say exactly what it was. There is a way in which they bring together visually my interest in symmetry and proportion, which I think probably is inherited from music."
Several of the rooms in Mr. Peters' apartment, which was designed by Sugarman & Berger, a second-tier partnership that he nonetheless considers to have done fine work on his building, conform to the golden ratio—a proportional concept stretching back to Euclid that artists including Le Corbusier and Dali have thought to express an aesthetic ideal.
"The golden ratio applies to a lot of things," he reflects. "And there is a way in which the relationship of these spaces resembles the sonorities you find in art—the relationship of the prime to the octave and the octave to the fifth. It's very scientific, in a way, and it also has the capability, when done well, to kind of end run the brain to create a sense of well-being. I've always been very interested in what makes that happen. And in how it is committed to the page."     
 ***
Music and hallowed Manhattan architecture overlapped early. Born to Phyllis Rothschild, whose grandparents lived in the Fifth Avenue mansion that now houses the Jewish Museum, and C. Brooks Peters, a Pulitzer-winning New York Times writer who covered Kristallnacht from Berlin, Mr. Peters grew up in a Carpenter-designed co-op on the Upper East Side.
At 10, he took up piano and not long thereafter, suffered from Osgood-Schlatter disease, a painful affliction of the ligaments associated with rapid growth. The condition was isolating, limiting his movements but also making him more likely to remain seated at his instrument.
"One of my fondest memories is of my 12th or 13th birthday," he says. "My mother bought me a complete set of Beethoven's sonatas being performed by Artur Schnabel. I also had the editions in print form, and I remember retreating to the library where the record player was, closing the door, and not coming out for days—just following along with the printed music."         
After college, Mr. Peters enrolled at the City University of New York, where he wrote what he calls "thorny, atonal, very modern" musical pieces that sought to "explore historical techniques in a modern soundscape." Several nights a week, he bought standing-room tickets for the Metropolitan Opera. It was all rather heady stuff. But his parents, who divorced when Mr. Peters was a child, were enthusiastic about the arts, declining to exert professional pressure on either Mr. Peters or his three siblings. "There was nothing that looked remotely like pushing us toward a lucrative or traditional career," he recalls. 
Having achieved a flicker of early success with a piece for a string trio that got a favorable review in the Times, Mr. Peters withdrew professionally from the music world. The environment felt uncollegial, viperish. He felt ever more enchanted by the physical stuff of well-made real estate and with a second child en route, that business exercised fiscal attractions that seemed unlikely to materialize in the realm of avant garde classical music. (Mr. Peters' son, Jack, is now a district attorney in Boulder, Colo.)
In 1980, Mr. Peters became a full-time broker and in 1991, he bought Albert B. Ashforth, a firm of 40 agents founded in 1896, for what he has described as "a small upfront payment," plus a percentage of profits through 2011. (Between college and the beginning of his real estate career, Mr. Peters lived on family funds.)
Of course, the New York City real estate industry, too, can be something of a hornets' nest. And when Mr. Peters arrived on the scene, secrecy, subterfuge and sabotage were perhaps even more common among agents than they are today.
"Fred was one of the first active residential brokers [on the Real Estate Board of New York] when I took this job 30 years ago," Steven Spinola, the outgoing president of the Real Estate Board of New York, recalls. "He is not shy, and he pushed early on for co-brokerage—to require that REBNY agents share their listings, which has become a universal agreement. When Fred speaks, people listen, and I think a lot of that goes back to that effort."
Mr. Peters, who is known among associates and friends for oft-colorfully-expressed forthrightness, also drove hard amid popular opposition for an Internet data exchange allowing brokers, with permission, to post one another's listings on their websites. Today, more than 50 percent of REBNY agents participate. Such efforts, Mr. Spinola says, have had a warming effect on what can otherwise be a standoffish environment.
"I was amazed when I got here at how many residential leaders didn't even know each other," Mr. Spinola says. "When you've got a list of apartments, and someone else has a list of apartments, you're not going to trust people. It took years to get those ideas through. And Fred never flinched." 
All this community building, Mr. Spinola allows, is not strictly an exercise in kumbaya: "Fred has an expression that he likes, 'If it's good for the industry, then it's good for Fred Peters.' " ν