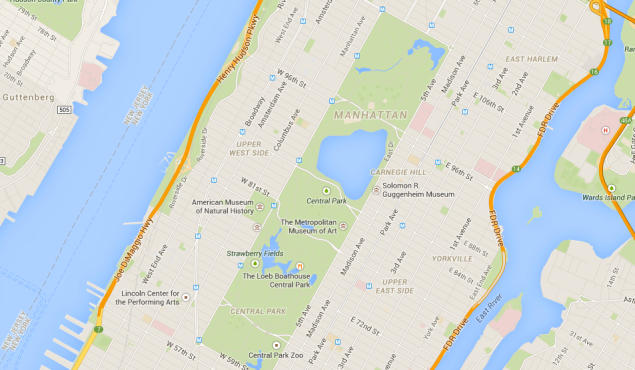 Happy 10th birthday, Google Maps!
For the last decade, Google Maps has fulfilled all of our navigation needs. In fact, we've become so accustomed to having the all-inclusive route planner, GPS system and world atlas in our pockets that it's hard to believe there was still a market for paper maps only 10 years ago.
From its humble beginnings to its first double digit birthday, Google Maps has seriously upped its game. It's older and wiser now, so to celebrate 10 years of being there for the lost and confused, we've put together a list of the Google Maps tips every New Yorker needs to know.
Subway Hacks
Did you know you can use Google Maps offline while you're down in the subway? Tap the mic and say "OK Maps" to save your map to your phone so you can refer to it without service or data.
Also, Google Maps is fully integrated with the MTA schedules. It will notify you of a delay along your route, and if you choose the time and day you want to leave or arrive at your destination, Maps will give you a pretty accurate and detailed overview of your trip with rush hour traffic in mind.
"The Drunk Train"
When a Google representative walked us through Maps' newest features a few months back, he briefly mentioned a small feature that sifts through public transit schedules to find the last possible route to your destination. He was reluctant to deem it "the drunk train," but we cannot deny that's what it is. And it's easy—enter your destination, hit the train icon, hit settings, and choose "LAST"  and "done." Never again will you have to wallow in sadness as you witness the last LIRR of the night pull away after a night out.
Orient Yourself
Unsure of which direction you're facing when you come up from the A train? Tap the compass in the top right corner of your screen and the map will shift to match the direction you're facing. It's a life saver when you're heading for the Hudson rather than the East River.
Voice Navigation
NYC has been blasted with some frigid weather lately. If you somehow can't find coffee and want to summon Google Maps to help you out but can't bare to take off your gloves, you don't have to. Just say, "Ok Google, how do I get to the Starbucks on First Ave and 12 St.?" and your directions will pop up and guide you on your way.
Business View
With Business View, you can scope out the interior of an establishment before ever stepping inside—just tap the restaurant's place card then select "See inside." It's perfect for planning an ambient dinner and can be used for checking out event venues, concert halls, airports and some museums and historical monuments as well.
My Maps
With My Maps, you can check out all of the landmarks your favorite characters from NYC-based shows like Seinfeld and Sex and the City have visited. Check out maps made by other fans or make your own.