If a young woman seeking social recognition in New York is going to get spotted by anyone, it might as well be NYC's premier star-snapper, Patrick McMullan, which is what happened early in Olivia Palermo's career. Now a flourishing representative for numerous fashion and beauty brands, latecomers on the social scene might wonder at her talents. Because the city's partygoers are generally in accord over one thing, she is seldom photographed uttering a word. Ever.
When I sat with Ms. Palermo in a corner table at One Girl Cookies in Brooklyn, she was the complete opposite of the woman I have seen around town, wound tight in her silence. What I once mistook for shyness, I now think is simply the unflinching, branded persona of a devoted fashionista.
"Fashion has always been an interest and that really evolved as I got into my early adult years," she said, taking a hearty bite from a cookie and launching into our chat with gusto. "Everyone grows and evolves."
Years after a notorious court battle with SocialiteRank.com, which published a letter purported to be from Ms. Palermo begging for acceptance among other socialites in the city, she is flourishing career-wise. Not even a bad run-in with an overwrought reality television series, MTV's The City, where she worked in the PR department of Diane Von Furstenberg and later at Elle.com, could pierce her armor. The striking 28-year-old with a waifish figure is now ogled by nearly 1.8 million people looking at her Instagram posts every day, unphased by the blogging competition. "We all have our own careers. There's room for everybody," she said with a diplomat's flourish. Self-styled Ms. Palermo has resisted attempts by uber-stylists to strip her naked or style her. She remains a New York fashion independent.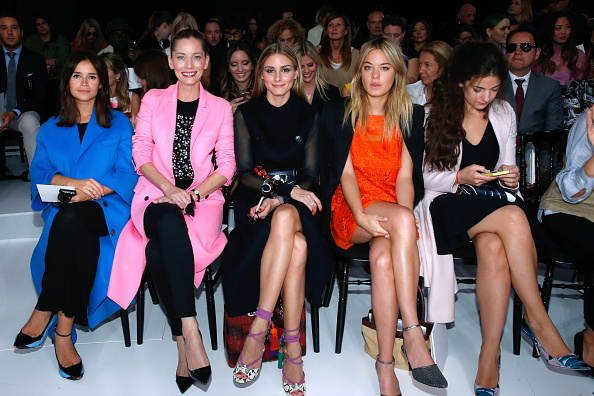 "I was born and raised in New York City, and I lived in Greenwich, [Conn.,] for a little bit," she told me simply enough. She graduated from St. Luke's School in New Caanan, Conn., and went on to attend The American University of Paris and The New School in New York where she had a brief stint studying media. Her father is a real estate developer, while her mother is an interior designer—not the dynastic, fashion-sphere upbringing one might expect. The science behind the Palermo machine is a difficult one to fully understand but that has not stopped her from becoming a favorite with Vogue.
---

"Fragrance is an accessory, and you need it to complete your look."

---
She has scored gigs as a consultant—"giving her two cents" as we agreed to call it—at the recently imploded Piperlime. Despite Ms. Palermo curating a collection for them, the Gap-owned e-retailer could not get a foothold.
However, the Piperlime demise is no more than another career blip for Ms. Palermo, who seems to get stronger with each setback. Her most recent appointment as creative director of British cosmetics brand Ciaté will be her biggest role to date. "Besides working with Rochas in fragrance a few years back, this is a nice, new way to kind of segue into beauty, and it goes hand-in-hand with fashion. Fragrance is an accessory, and you need it to complete your look."
Other projects include a video campaign with skincare giant La Mer, an e-commerce partnership with RewardStyle and a collection of Olivia Palermo x Aquazurra shoes on Net-a-Porter. She also co-designed handbags and home goods for Aspinal and Westward Leaning, respectively, to benefit her charity of choice, ADCAM, which she partnered with after befriending William Kikanae, a Maasai Tribe leader in Kenya. "He's amazing," she said matter-of-factly. "He's been able to build three schools, all No. 1 in their region. He's very about empowering women, and that's why I jumped on board."
The Olivia Empire does not end there. She has a small team of employees spanning New York, London and Hamburg—"We like New York, German efficiency and a British twist!" she quipped. To keep content on OlivaPalermo.com fresh, she travels to the four fashion capitals at least twice per year for the shows. "It's so easy. Let me tell you, I have it down to a science," she said. "When I'm on the road it's just me. I can be in like five different cities in a week, so I'm not over-packing, I'm bringing the basic essentials, and some great accessories, in my opinion, the basics. Rimowa [luggage] I highly recommend, and not just because my husband is the face. We were strong supporters before he was the face!"
---

"New York's not the same city I necessarily grew up in. I love Notting Hill in London, and this (Brooklyn) is as close as you're going to get."

---
Her husband, the equally striking Johannes Huebl, is a street style favorite, and also a man of few words. The soft-spoken German is known for his work as a model and photographer, though he is on his way to building a similar outfit for himself as a brand ambassador and designer. The two met through mutual friends in 2008, and married in June last year in small a ceremony in Bedford, N.Y. Ms. Palermo's Carolina Herrera wedding ensemble alone, which included a pair of formal shorts with a tulle skirt overlay, caused a blogosphere uproar. Along with Mr. Butler, Ms. Palermo's Maltese, Dumbo, Brooklyn, is the couple's borough of choice. "New York's not the same city I necessarily grew up in. I love Notting Hill in London, and this is as close as you're going to get in New York," she said, gesturing toward the window. "I lived in Tribeca, and Johannes lived in Brooklyn Heights. We actually came across Dumbo seven years ago, sort of stumbled upon it walking the dog one day. It was by complete chance, and we fell in love with the area."
For now, home affairs take a back seat to business. "The next chapter is really focusing on e-commerce," she revealed. Expect a range of Olivia Palermo-designed everything in due course. In the meantime, with Fashion Week upon us, or "fashion month" as Ms. Palermo refers to it, business is taking a front seat. "I'm doing Fashion Week, but in moderation. I always do London, but this season I have to be in Dubai, and I've never been to Dubai. Then I'll have to come back to New York and work a bit. Then Milan, and definitely Paris."