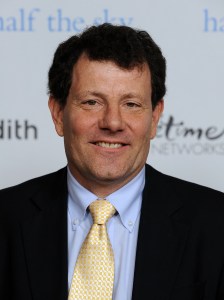 There is no question that the New York Times opinion page is read by all Right-Thinking People, which means that all right, thinking people tend to view it with skepticism. I've long considered the section to be a highbrow precursor to 4chan, a site for Internet trolls to spawn mischief that is then gleefully shared by their audience. From interviews, it seems pretty clear that Paul Krugman ("Let's spend ourselves rich before the aliens get here!") enjoys inducing apoplexy in conservatives. Similarly, Maureen Dowd manages to upset everyone. One week she is brilliantly perceptive and the next she is akin to a modern Madame Blavatsky, her thinking so twisted as to be downright mystical.
But amongst these trolls lurks another type of creature: Nicholas Kristof. I never gave him much thought until I stumbled upon one of his articles late last year. It began: "Some white Americans may be surprised to hear Archbishop Desmond Tutu describe Bryan Stevenson, an African-American lawyer fighting for racial justice, as 'America's young Nelson Mandela.' Huh? Why do we need a Mandela over here? We've made so much progress on race over 50 years! And who is this guy Stevenson, anyway?"
"Huh?" is right. I co-author books for celebrities. If you read an autobiography by someone famous, I'm one of the ones they're "with" on the cover. It is my job to make sure that the text reads true. One of the best compliments I've ever received was a negative Amazon review, where the customer complained that the text sounded just like the celebrity talked. So after reading Mr. Kristof's intro, I had one (non-Mandela) question: Has Nicholas Kristof ever heard anyone speak?
It is amazing to see what Mr. Kristof thinks of his dear readers, so completely incapable of deduction that the term "America's young Nelson Mandela" does not offer them any sort of vague picture of Mr. Stevenson. Who are  these imaginary, impossible people, so out-of-touch with the demos that they are flummoxed by such new, unheard-of declarations of American racial injustice? Huh? they exclaim, Edvard Munch's The Scream made incarnate.
Mr. Kristof makes plain who he perceives his audience to be. The reaction to his column, "When Whites Just Don't Get It, Part 3," ("sometimes bewildered, resentful or unprintable") suggests to him that "many whites in America don't understand the depths of racial inequity lingering in this country." There is more than a tinge of irony in the fact that Mr. Kristof deduces—surely correctly—the overwhelming whiteness of his readership. But to equate hostility with a lack of understanding is pompous, and to equate disagreement with a lack of understanding is presumptuous.
It is true that those who most need to consider racial issues in America are precisely those who are least likely to do so. But are these people seriously the choir to which Mr. Kristof preaches? Or is it the lemming left, that woman at the office who would go to the Met and "accidentally" leave her badge on all day? "Huh? Why yes, I did go to the museum. What, you haven't been to the new exhibit?"
I am reminded of Left Behind, when the Rapture hits. Despite this fairly unambiguous proof that Christianity is true—or, at the very least, that unprecedented supernatural forces have taken half of the Earth's population away in an instant—the protagonist's daughter is still "not ready" to accept God into her heart. The book's authors, Tim LaHaye and Jerry B. Jenkins, do not view nonbelievers as having a different, valid perspective informed by their own lives and experiences. For them, as for Mr. Kristof, someone being skeptical about their personal philosophy is that someone consciously refusing to see the obvious truth for what it is. It is to engage in intellectual dishonesty, which takes the disagreement from the realm of the cerebral into that of the immoral. Indeed, what Mr. Kristof delivers are not opinion pieces but sermons. If Ms. Dowd is a contemporary Blavatsky, Mr. Kristof is a contemporary Norman Vincent Peale.
Huh? Why do we need a Norman Vincent Peale nowadays? We've made so much progress on right-thinking over 50 years!
Peale spent decades presiding over Marble Collegiate Church on Fifth Avenue, roughly a dozen blocks from where Mr. Kristof preaches. For Peale, the answer to life was not conceptually tricky. His The Power of Positive Thinking was The Secret for the Bible set. And Mr. Kristof completely follows in that cookie-cutter vein, knowing the answers because there only is one answer, ever. It's not complicated; the bad people are only making it so.
---

Why do we need a Norman Vincent Peale nowadays? We've made so much progress on right-thinking over 50 years!

---
White people just don't get it, amirite?
So, it is fitting that Mr. Kristof's January 25 column is bylined from Yamhill. The Oregon town was the home of Beverly Cleary (she even titled her memoir A Girl From Yamhill), author of the Ramona Quimby books—perhaps the best and cleanest presentation of 1950s American bourgeois aspirations. But what is charming in titles for children becomes grating when speaking to adults. It's such vapidity that allows Mr. Kristof to opine that Bruce Jenner's gender transition "is probably harder than the training for the Olympic decathlon"—with Mr. Kristof having done neither. He even concludes his piece by urging Wheaties to put Bruce Jenner on their box. Huh? Is there any more archetypal symbol of bygone suburban earnestness?
Sermons by their nature are not logical theses designed to persuade. They are emotion-laden anecdotes that provoke the right feelings but fall apart in the light of reasoning. Such a framework is what allows Mr. Kristof to claim that his childhood chum from Oregon "died of inequality." ("Grrrr.") He can devote an entire column to the novel idea that more empathy is a good thing, while in the same piece acknowledge that it might, in fact, be hardwired. He can even feel comfortable describing the Matthew Shepard tragedy as "the ultimate hate crime." I would argue that such a term would better applied to the Holocaust or apartheid, so perhaps we need a Mandela over here after all.
It's no accident that Mr. Kristof doesn't scowl from his header photo as David Brooks does. Rather, he grins amiably, as if caught in the middle of playing a wholesome family game. It's a near-match to the photo of MySpace Tom, looking over his shoulder, chuckling with non-threatening humility. Yes, both men want to be your friend. But both are also from another time, simultaneously well meaning but nevertheless terribly embarrassing. Huh. 
Michael Malice is the author of Dear Reader: The Unauthorized Autobiography of Kim
Jong Il.