Don't bother with The Loft or The Boy Next Door: The most spine-chilling thriller currently playing isn't on the screen of your local multiplex but on the stage of the Metropolitan Opera.
Now, "horror" isn't a term often associated with opera, at least not in a positive sense. You do hear from time to time a remark along the lines of "Wow, that Figaro sure was a horror," but this was different. The offbeat program that opened last Thursday night, Tchaikovsky's Iolanta and Bartók's Bluebeard's Castle, is a horror story in the classic mold: Disturbing, thought-provoking and curiously satisfying in the final twist of the bizarre tale it tells.
The production of this double bill, by the Polish director Mariusz Trelinski, does at least attempt to craft a cohesive narrative from these disparate pieces. The staging doesn't always work in every detail, but, as critics like to say about summer popcorn films, it's a great thrill ride.
At first glance, it's hard to imagine two operas less alike than these. Iolanta, Tchaikovsky's last opera, is a fairy tale about a princess, blind since birth, whose father has concealed her disability from her. Now a physician has offered to heal Iolanta, but first she must desire to see. Over the meager plot of this piece the composer draped some of his lushest romantic melodies, including a rapturous love duet for Iolanta and her adored Vaudémont and a final chorus in purest sky-blue A-flat major.
The Bartók was composed only two decades later, but his style is in violent contrast to the plush of Tchaikovsky. It's a moody, almost plotless work about the bride Judith, who arrives at the ancestral home of her mysterious husband Bluebeard. He invites her to open six doors of the palace, where she discovers riches tainted with blood. Then she insists on opening the forbidden seventh door, behind which is…
Well, that would be telling. What I can say is that Bartók's music echoes every shudder and shock of Judith's unhappy investigation, in impressionistic and dissonant harmonies for an enormous orchestra.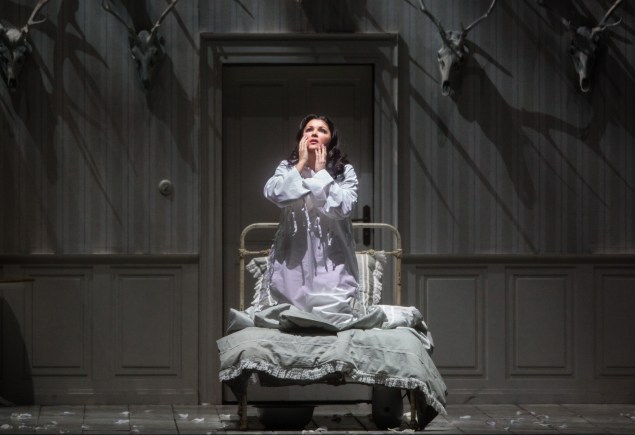 Mr. Trelinski's concept binding these operas is the idea that vision is a two-edged sword: Iolanta is troubled because she sees too little, whereas Judith is doomed by seeing too much. The visuals, devised by a team headed by Boris Kudlicka (sets) and Marc Heinz (lights) create an eerie, off-center world reminiscent of the hit "immersive" play Sleep No More. Instead of a lovely garden, Iolanta occupies a whitewashed one-room cabin in the middle of a gloomy forest, and Bluebeard's "castle" is a vast, decaying industrial space in another part of the same wood.
Admittedly, the stagings don't always make logical sense: How does Iolanta not sense something is wrong when she is constantly tripping over furniture? And who was that naked, bloodstained figure spying on Judith through the bathroom door? But it seems that Mr. Trelinski's primary mission here is to disorient and disturb, and this he accomplishes so brilliantly that his staging could stand alone as a theater piece minus the music.
What made this show great opera, though, was the generally excellent level of the singing, particularly Anna Netrebko's radiant performance as Iolanta. After a slightly murky start, her soprano blazed into a sensual cry, soaring orgasmically to high B and C as the girl discovers love. If she looked a trifle ripe for a sheltered virgin, she turned her voluptuous sensuality into a strong positive in the scenes when Iolanta wakened to love.
Every bit as exciting (and more consistent) was tenor Piotr Beczala as the dashing Vaudémont, spanning a dynamic range from trumpeting fortissimo to a pianissimo wisp in his blissful "romance" aria. If Alexey Markov's singing in the role of Iolanta's fiancé Robert was hardly subtle, his barn-burning aria offered a sterling opportunity to show off a big, healthy baritone.
Curiously, the lower voices, usually a mainstay of Russian opera, were less impressive. Ilya Bannik, subbing for an ill singer as King René, revealed a cultivated bass short on gravitas, and Elchin Azizov sounded solid but unmagical in the exotic vocal lines assigned to the Moorish physician Ibn-Hakia, who has come to heal Iolanta.
The bass drought continued in the second half, with Mikhail Petrenko sounding unfocused in Bluebeard's broad declamatory lines. That's a shame, because he captured the character with petrifying precision: This was a man on the razor's edge of striking out with murderous violence, breathtakingly terrifying even when standing seemingly in repose.
Opposite him was the German soprano Nadja Michael as Judith. She's the sort of artist critics call "controversial," with a huge, unruly voice and a flamboyant, almost grotesque acting style. Her singing on this opening night was frankly a hot mess, violently out of tune and with a wobble like a cold car engine trying to turn over. She threw herself into movement that would daunt most dancers and she has a body banging enough to dare a nude bathing scene. But even her unyieldingly firm bosom wasn't enough to distract from nearly an hour of nonstop caterwauling.
Of the two stagings, the Bluebeard was the more elaborate and, I think the more evocative, with the vaguely menacing rooms of the castle seeming to materialize out of a hypnotically repeated projection of an endless descent down an elevator shaft. Even the sunnier tale of Iolanta also took on sinister resonance, with a prologue depicting a frightened doe in a forest as, in near-total darkness, an intruder violently seized the young princess.
Such a successful and artistic dare at the Met deserves a stronger conductor than Valery Gergiev. Always inconsistent, he has lately settled into mannered glacial tempi that leave singers gasping for breath and audiences dozing. The stasis he imposed on the already sedate opening scene of Iolanta and the long pauses in between phrases in Bluebeard marred the dramatic tension Mr. Trelinski worked so hard to evoke.
Not that the evening was lacking in drama in the non-theatrical sense. The official opening night was canceled late Monday afternoon because of the (as it turned out) underwhelming blizzard that night. Then, during the applause following Iolanta, a protester climbed onto the stage, brandishing a placard denouncing Ms. Netrebko's and Mr. Gergiev's association with President of Russia Vladimir Putin. As the audience booed, the soprano behaved with the grace and confidence given only to the born diva. She smiled and nodded to the intruder, then led her colleagues in a sweeping bow.
The company, and she in particular, deserved every decibel of the ensuing ovation.