I could hardly wait for last night's Millionaire Matchmaker episode, as Jesse Kovacs—renowned doofus of the Bachelor franchise—was coming to Patti to find love. In case you missed the inaugural season of Bachelor in Paradise (if you did, I am SHOCKED), Jesse did earn himself the best reputation. And by that, I mean he maybe had a threesome. And pissed a bunch of women off. And also wore really weird clothes. So what would happen, I wondered, when Patti let him into her Millionaires Club? Would he follow her rules? Would he try to hook up with Patti? Would he turn his recruiting session into an orgy? THERE WERE SO MANY QUESTIONS TO BE ANSWERED.
But before we get to all that, let's meet our first millionaire this week: A.J. Johnson, celebrity hairstylist. I haven't heard of him, but he was apparently the star of a show called Chicagolicious, and he's also done Iman, Tyra and Oprah's hair, so A.J. Johnson is legit, you guys.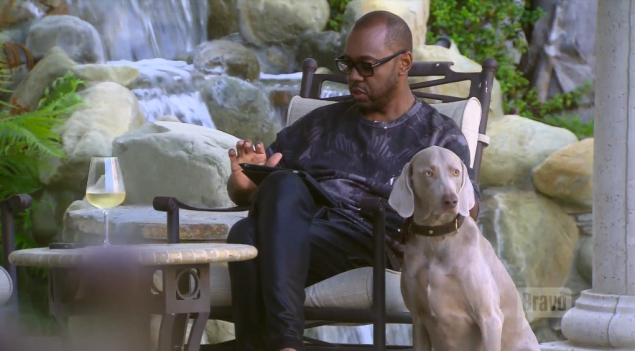 What's not so legit is A.J.'s freakish attention to detail and obsession with control. According to Candace, who's somehow been friends with this psycho for 14 years, A.J. will kick a woman out of bed if her pedicure isn't perfect. He won't date women who are lazy, who have bad hair extensions, who aren't between 5'7″ and 5'9″ or who use pads instead of tampons. (No, I am not making this up.)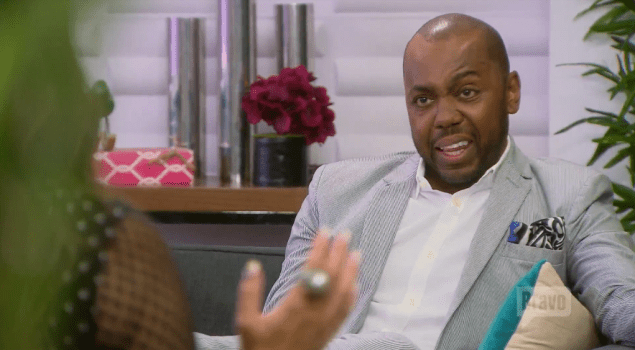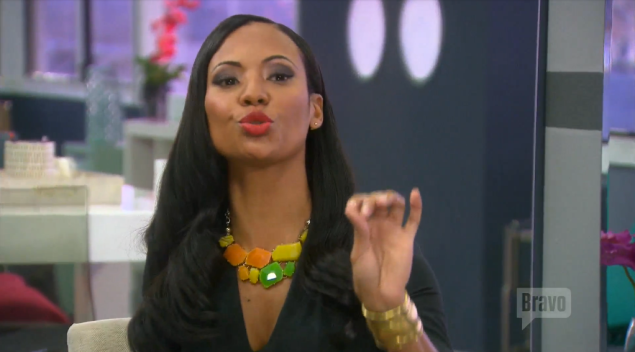 At their preliminary meeting—after establishing A.J.'s not, in fact, gay—Patti concludes that he's a "cuffer"—i.e., someone who "cuffs" women and forces them to follow his rules, to such an extent that the women lose their own sense of identity. Line up, ladies!
Next up is my boy, Jesse. Patti must be a Bachelor in Paradise fan, because she shows up to their lunch date already knowing he's a dick. She even has a nickname prepared for him: Canine Kovacs, because he's "a little bit of a dog."
Jesse insists he's ready to have more drunken threesomes find love—that he's just a "fun-loving prankster" looking for a clever, witty girl who can make fun of herself and make fun of him. Oh, and who's also "smokin' hot."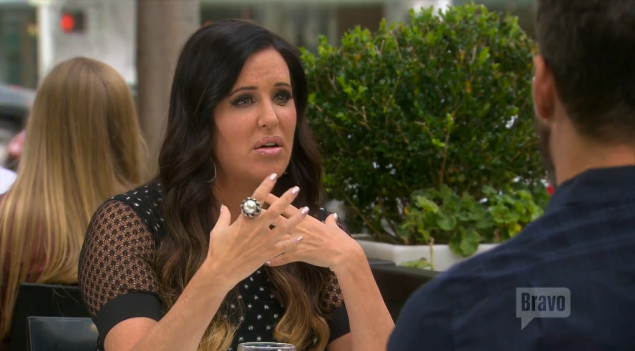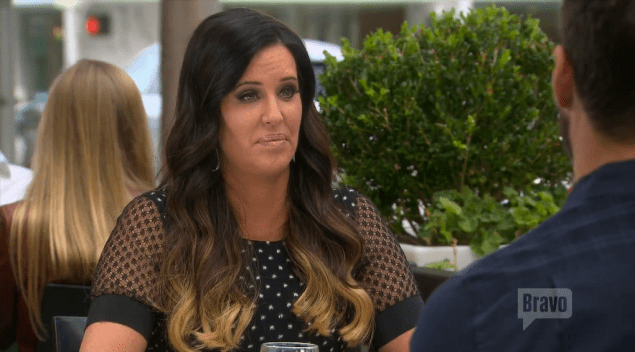 "We need to get serious here," Patti says, "because your reputation is on the line." Ummm, IDK Patti, but I think that ship might have sailed. (See "smokin' hot" quote above.)
Since both A.J. and Jesse have trouble getting deep with women, Patti wants to have a mixer where the guys won't be able to see the women—they'll only be able to ask them questions and listen to their responses. "I don't think they ever listen to women," Patti says. Men are just the best, amiright?
But before we can watch A.J. and Jesse listen to women for the first time in their lives, A.J. has to meet with another one of Patti's bizarre roster of "experts": Jonathan Antin, a hairdresser who apparently also used to be an asshole, but has since reformed himself and found love. Wow—that's an incredibly specific thing to be an expert in. Anyway, A.J. meets with Jonathan, who spews out robotic phrases like "You can't be controlling with a partner in a relationship" and "You've got to let people be who they are." Cool, thanks, Jonathan! Good job Googling "relationship advice" five minutes before this meeting.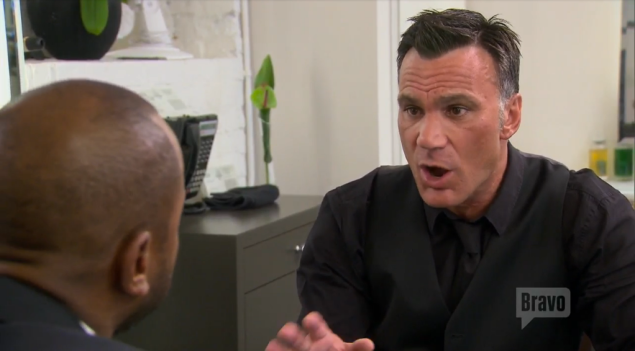 Finally, it's time for the men to meet their potential matches. For A.J., Patti has selected Taliah, a phlebotomist; Aime, a salon owner and Melissa, who makes a line of clothes for petite women. For Jesse, Patti's chosen Kylie, a ballerina; Natalie, who has an organic cocktail company and Kate, a model with the MOST IRRITATING VOICE I'VE EVER HEARD.
Can we just pause to talk about Kate's voice? It's not so much the voice as it is the accent: a bizarre amalgamation of a bunch of different European-sounding accents, all of them clearly feigned by a model who wants to sound more exotic than the Valley Girl she really is. When Patti asks about the accent, Kate claims it's because she's been "traveling a lot" and she picks up accents wherever she goes. UM, THAT IS NOT A F***ING REAL THING. It's just not. I'm Canadian and I've been living in the U.S. for like six years and I still sound like a lumberjack, so take that, Kate. Kate reminds me of those kids who studied abroad in college, and came back pretending they'd toooootally forgotten that apartments weren't called "flats."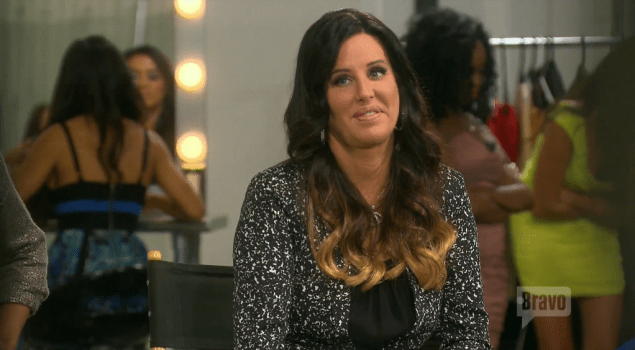 Anyway, moving on. After a positively grueling round of questions ("What would be in your laundry basket?" "Do you like porn?"), A.J. chooses Melissa—mainly because she answers everything perfectly, as if A.J. had told her what to say. Jesse, who apparently doesn't have ears, chooses Kate, because he likes what she said about wanting to be friends first and then start a relationship.
Time for the master dates. Jesse takes Kate go-karting, and because he's a total dingus, he doesn't let her win. Come on, Jesse—Patti has literally made dating as easy as possible for you. Don't f*** this up. Thankfully, Kate doesn't seem to mind too much, because when Jesse invites her to a post-go-karting dinner date, she smiles and says, "let's do eeehttt."
A.J., meanwhile, takes Melissa to a winery. First up, they're going to use their feet to stomp grapes. "I don't weigh that much so I'm wondering how hard I can make these grapes go," Melissa says. Um, chill out, Melissa, that is not a real problem.
After go-karting, Jesse takes Kate to dinner at a super intimate-looking restaurant. Kate, a model, declares she's "starving" for the second time so far on this date, and I'm starting to become less concerned about her voice and more concerned about when was the last time she consumed solid food. Anyway, they talk about each other's family lives, and seem to have good, genuine conversation.
"I've never been on a first date that was so much faahn, literally," Kate says, her lip gloss glittering in the ambient candlelight. She and Jesse kiss, and they both actually seem really into it, and I don't even feel any second-hand embarrassment, which is rare.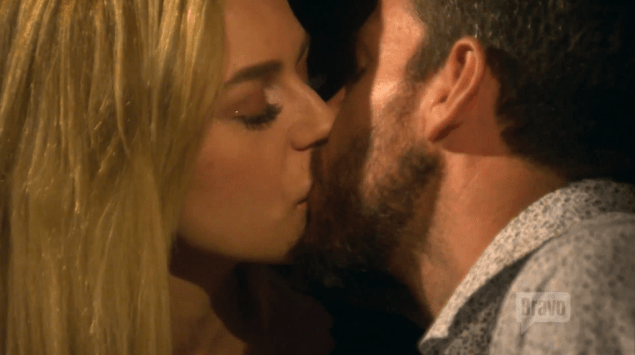 Speaking of not feeling any second-hand embarrassment, I can't say the same for A.J. and Melissa's dinner date. Never have I heard two people talk so explicitly about their plans to become a power couple, and let me tell you, I have had dinner with Kim and Kanye and Beyonce and Jay-Z MANY a time.
At the end of the date, Melissa agrees to "seal" their relationship "with a kiss," which is almost as un-romantic as the actual kiss A.J. gives her.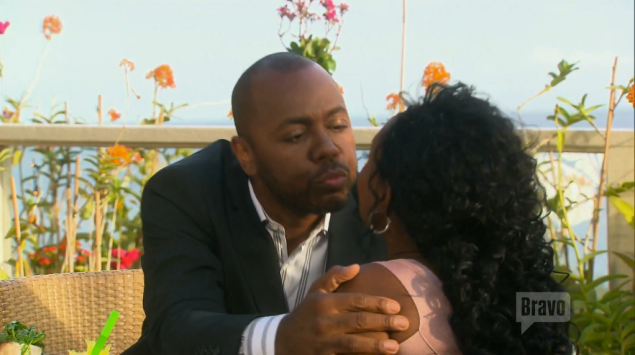 At his follow-up meeting with Patti, Jesse says he's opened up, learned a lot, and that his relationship with Kate is going great so far. They're seeing each other again that night! Good job, Jesse. Patti declares that Canine Kovacs is out of the pound.
Things don't fare as well for A.J., who enjoyed his first date with Melissa, but—as Patti learns from a phone call with Melissa—cancelled on their next date via text. Um, RUDE. Despite Patti forcing him to call Melissa up, apologize, and ask her to go on another date, we later learn that A.J. and Melissa still haven't seen each other again, and that A.J.'s controlling issues are still preventing him from finding love. Womp womp.