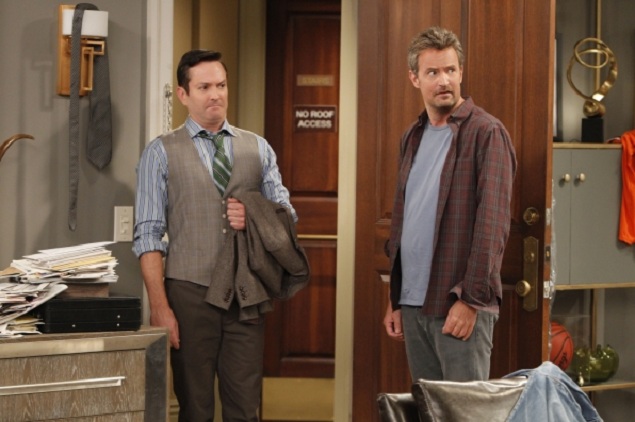 I wanted to like the pilot for CBS' new show The Odd Couple, really I did. I wanted to really, really like it.
But, let's face it, there's something fundamentally wobbly with making a TV show that has already been a Broadway play, then a movie, and then a TV show, one that's still considered a classic. What more can be done with this material?
In all honesty, I feel a little bad about not liking this pilot. This incarnation has a great cast – Matthew Perry (Friends) as Oscar Madison (the messy one), Thomas Lennon (Sean Saves the World) as Felix Unger (the obsessively neat one) with Yvette Nicole Brown (Community), Lindsay Sloane (Horrible Bosses) and Wendell Pierce (The Michael J. Fox Show) jumping in as ensemble players.   It seems to me that both Perry and Lennon really deserve a hit about now. Lennon was terribly miscast as a mean boss in NBC's uneven Sean Saves the World but clearly has comedic chops as evidenced by his work on Reno 911! Perry, obviously extremely successful in his ten years on Friends, was also very funny in his last two comedy shows, Go On and Mr. Sunshine, both cut short by their networks for some unknown reason.
The show has a great pedigree in its production team as well. It's from Timberman/Beverly Productions who have Elementary, Justified and Masters of Sex, among many other shows, on their credit roll. Executive Producer and showrunner Bob Daily, has worked on hits like Desperate Housewives and Frasier and the show even boasts the legendary Garry Marshall as creator and an Executive Consultant. For those not aware, Marshall actually developed and ran the original version, the 1970 series, adapting it from the 1968 movie which was culled from the Neil Simon play which debuted in 1965. There was even another adaption of the material when Simon created called The Female Odd Couple with Florence (Unger) and Olive (Madison.) Simon dragged the property out once again in 2002, attempting to update the material via another Broadway version called it Oscar and Felix: A New Look at the Odd Couple.
After looking at all of that you might think – this is the thing that just won't go away….and you would be right. Why does it keep coming back? The bottom line is it keeps reappearing because done right, it can be very funny. Will that be the case here?
The basic premise – two divorced dudes living together – made sense when the play was created back in the 60s remembering that at that time divorce wasn't as common as it is today. It didn't seem unrealistic that two men in this similar situation would share a place together. Now, it just seems a little weird, especially if these two adult men are in their forties in the prime of their careers. In this pilot, it's unclear what Felix does for a living but given that he's dressed impeccably it doesn't look like his cash flow is suffering at the moment. Oscar is a sports radio jock and clearly makes a good salary as he has a 'video wall' in his spacious apartment, complete with numerous TVs and a sports ticker.
Another question that comes to mind is why would Oscar, who seems to be a hound on the hunt following his divorce, want a roommate? In fact, he seems relieved that he's no longer married and proceeds to hit on two different neighbors in the pilot. So why would he want to live with someone who might meddle in his budding relationships?
It seems plausible that Oscar might take Felix in for a bit while Felix looks for a place of his own, but for these two to cohabitate on a permanent basis, does not seem in the least believable. In the real world, they might be neighbors, but then the whole basic premise of the show really falls apart, right?
Along that same line of thinking, why use the title and the characters names here at all? Why not build a whole new show entitled, Strange Pals or Weird Friends (hey, that might work since it's Matthew Perry, right?!) or something like that? Oh yeah, someone clearly thinks that name recognition will draw a crowd, like 'Hey I liked that series in the 70s so I'll check this one out.' I have news for you; people who watched this in the 70s are old now and not a group that'll jump on Twitter and Facebook to rave about the show. (But then again this is CBS and we all know that their demo is a 'bit' older than other networks.)
Another thing that is interesting here is the fact that in this first episode of the show Felix's persnickety behavior is addressed right out – that is to say that the 'gay' thing is addressed immediately, which is a little refreshing and a little weird as well. It's refreshing because being gay wasn't a part of the conversation neither in the 1968 film nor in the '70s series. Marshall has famously said that there was much discussion about it behind the scenes but that the network brass at the time put the kibosh on mentioning anything at all gay-related. But, by that same token, it seems a bit stereotypical to assume that Felix is gay because of the way he dresses, his attention to cleanliness and his ability to cook extravagant dishes. It's a bit reminiscent of Frasier and how often characters on that show who didn't know Frasier or Niles assumed they were gay because of their fondness for opera and fine sherry. So right off the bat, it's Oscar who flat out declares about Felix, ""He seems incredibly gay, but he's not." So that element is pushed off the canvas right away.
In a pilot there's a lot that has to be set-up and that process is often awkward, as it is here, but there are some funny parts to this one, mostly courtesy of Lennon's Felix. It's a bit hard to watch Perry as the seeming hard Oscar, but one can only hope that in subsequent episodes we'll get to see why he cares about his friend Felix and how he expresses that affection.
As I said, I really, really wanted to like this pilot and the truth is, I didn't. But, that's not to say that I won't give the series a bit of a chance. Lots of shows that turn out to be really good have sucky pilots. I'm really hoping that's what happens here. Perry and Lennon have certainly paid their comedy dues and as such the members of this 'Odd Couple' definitely merit the opportunity to make this version of the material memorable.
The Odd Couple premieres Thursday, February 19 at 8:30/7:30c on CBS.