Assemblywoman Maria Rodriguez-Gregg (R-8) is by most measures and many accounts a strange breed of Republican. A Burlington County native of Puerto Rican descent, she's the first Republican Hispanic woman to be elected to New Jersey's legislature. She's from South Jersey, a place where the political clout of Democratic power broker George Norcross III makes life for Republicans — any Republican — tough. And in her downtime, when she's not working the political circuits of Trenton or her home district, she's working the track with the Penn Jersey Roller Derby League — a place where "the hits are real, there's nothing set up, and people are blown away," she says.
But suggest to the Assemblywoman herself — her teammates call her Honey Bee — that she's some sort of political anomaly and you might end up a smudge on that track, not unlike her targets in the heat of play. The 33-year-old Rodriguez-Gregg is adamant in her belief that's she no different than most other typical Republicans in the state, someone who grew up believing in economic freedom and fiscal policies that benefit hard-working, middle class residents. In her own mind, she's "far from unique in this state, and in this country" — which is a quote lifted directly out of a scathing speech the freshman assemblywoman delivered in front of a stiff audience at Assemblyman Jon Bramnick's (R-21) Republican gathering in Atlantic City last night.
"Let ours be the party that appeals not to our gender or our ethnicity, but to our common principles of opportunity,"  Rodriguez-Gregg, in one of the more notable speeches of the five hour-long event on Monday night, told the audience. "That's how we appeal to all residents, and that's how we win."
Like the rest of the Assembly this year, Rodriguez-Gregg is also hoping to win in November, when she'll find herself on the top of the ticket in the 8th legislative district vying for a second term in the legislature's lower house. Nursing the "most jacked-up shredded knee" on the other end of the phone (a result of her roller derby endeavors, the actually injury being a combination fully torn ACL, torn meniscus, and highgrade PCL tear–though it didn't keep her, at least up until surgery last week from "still skating, still walking around the statehouse in heels"), PolitickerNJ caught up with Rodriguez-Gregg the day after her big debut in Atlantic City, asking her about the event, her re-election campaign, and a host of other questions relating to NJ politics.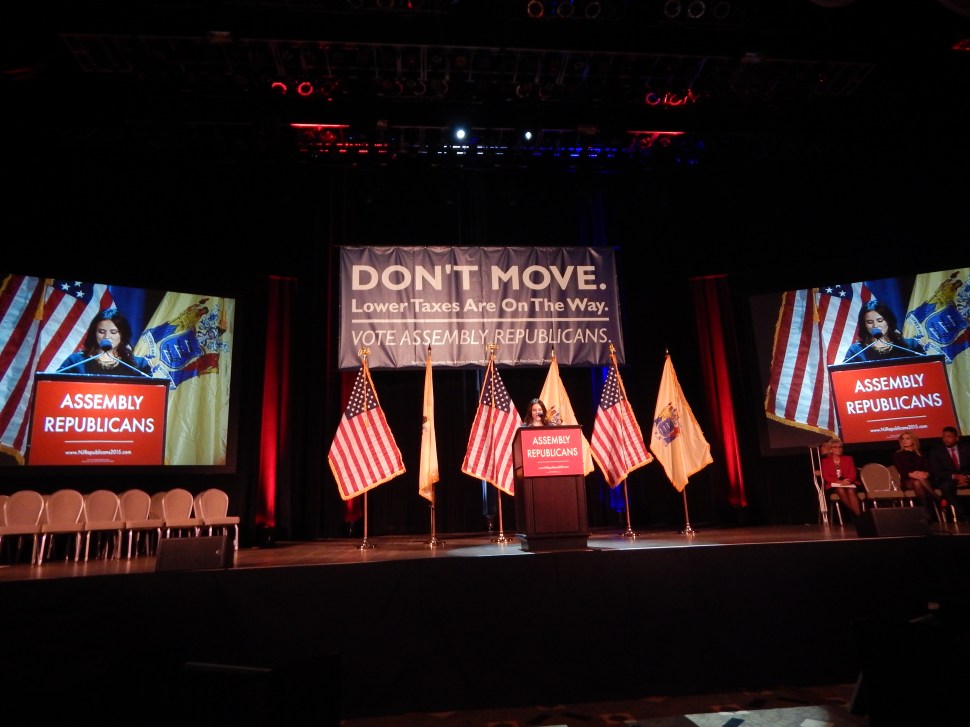 PNJ: So last night seemed almost like a coming-out for you, your first big speaking role at a major Republican event. And people seemed to have reacted positively to your message. Can you rehash that speech a bit?
RODRIGUEZ-GREGG: Sure, what I was trying to say is that I think sometimes where the party makes a mistake — and not just the Republican Party, but parties in general — is when they talk about what I would say what they perceive to be 'minority issues.' And the reality is, in the state of New Jersey, regardless of your ethnicity, we're all encountering similar issues. In terms of taxes, affordability, parenthood for both women and men, education — a lot of these issues are universal for us. You know, I have family up in North Jersey, and what they care about are not what people perceive to be Latino issues. What they care about are the same issues everyone else cares about. It's a similar conversation they're having at the kitchen table. And I think what we have to do is stick to the issues.
And that's what speaks to me. I consider myself not outside the norm — there are more people like me in America than are unlike me. I have student loans, bills to pay, family to take care of. And I think there aren't enough leaders in our party that are representative of the real population. The idea that you need to have a certain background, that you need to come from a specific family or have a specific education in order to be qualified and run for office and be effective — that's the thing I hear that bothers me a lot. With me, even though I'm not traditional in a way, being a Latina, I am qualified. Too often people assume that I'm not qualified because of my background or the way I look.
Right, but you are an interesting should we say phenomenon, though, as far as Republicans in the state go. You're from South Jersey, and you're also a young Latina of Puerto Rican descent who got into the game pretty early. You don't fit the traditional Republican mold, in that way, let's say. Did that factor into your decision to get into politics?
I had some people you know say you should think about it. But I really in the end asserted myself and asked to be screened and put myself out there. I was just really interested in what was going on in the state, and obviously I want to stay in New Jersey for a while. I also think that the dynamics of Burlington County made it easier. We have two women who are senators, we have a woman who is a sheriff, we have a few women who sit on the freeholder board. I remember Assemblyman Jose Sosa, the state's first Republican Latino assemblyman, presenting my mother with an award. So for me, there's always been so many faces.
There wasn't always a cookie cutter Republican in Burlington County, so although I made be unusual statewide, because Burlington County had this diverse group of politicians, it was easy to see myself getting into it.
Where were you before you made the jump?
I would say I have a pretty diverse background. I was in the dental field for many years and during that time I started to volunteer in the community and I started to get involved politically. I think I just wanted to know what was going on in my town and things going on statewide and that's how I became involved with the Burlington County Republican organization — specifically with the Burlington County Young Republicans organization. And I did a lot of work there, eventually becoming chair of the Young Republicans organization, and then secretary of the county organization. It was really just grassroots involvement in campaigns and helping with organizations and volunteers.
I guess from there it really spurred more of an interest in policy and what was going on in the state. I think the more you're educated on the issues, and why where we are — economically, socially — the more interested you become in being part of the solution.
It almost sounds like your minority status hardly plays a factor in your political life at all. But people talk all the time about how important the minority vote is, about how political parties –particularly Republicans — need to make a stronger effort at appealing to Hispanics, African-Americans, etc. What do you think about that?
I think for me, when I talk about these issues, it's not that I don't want that mentioned whatsoever. I do think it's important that we have more diverse representation, and not just with ethnicity or sex but also with background. It is important because that's what got me to run in Burlington County — it's what I always saw, and it made me comfortable asserting myself and running. And I didn't think of it at the time, I'd see all these faces, but I've since come to realize that's what made me comfortable. And I've gone around to events throughout the state, and I've had people come up to me — some are Latino or Latina, sometimes other ethnicities, young women, or just people from different backgrounds — and say that they've always thought of themselves as Republicans, but didn't feel comfortable joining the party, or that they weren't sure the party understood them.
There was one person when I did Ready to Run, she had said that she'd never seen a Latina Republican, but that she had always aligned herself more with the Republican Party. And she said seeing me made her excited to join the Republican Party, and realized there are a diverse range of people belonging to the party. So seeing those different faces and backgrounds, and sharing those messages, it does matter. It does matter in growing the party. Obviously, I don't want to see us get into a situation where in order to be more inclusive we restrict ourselves to minority issues — we need to talk about the big issues — but when people see those different faces carrying that message and it resonates with them, it does matter.
Do you feel like you have a role to play specifically in the NJGOP in carrying that torch?
In a way I've been leading that charge quietly. I've been doing that by just being involved and recruiting, I've been trying to get younger people from different backgrounds into the party. That's something that happens, whether I'm in public office or not.
Yeah. But then you have people like Congressman Chris Smith, of the 4th congressional district, who is taking criticism this week for comments that seem to embody much of the anti-gay sentiment coming so often from right — he said at a recent House hearing that he doesn't "construe homosexual rights as human rights." How do you react to that type of rhetoric? Doesn't it detract somewhat from the sort of "big-tent" party you seem to be talking about?
I don't want to specifically react or speak to what he has to say, but I know for me, being involved in roller derby, there's a very large LGBTQ community there that I've become very close to. Having people who are your teammates that are gay and lesbian — I look past that. For me, I want them to have the same rights that I have, they're my friends, they're my teammates, some of them are like my sisters and brothers.
So I think it's hard for me to speak about a community like that because I don't view it as a separate community — they're everyday people. Yeah, they may love a man or a woman or whatever, but they're my friends and I want them to have the same rights as I do. And I don't think everyone has had that opportunity to have people in their lives that they're close to that are LGBTQ, and maybe for them not having that experience makes it easier for them to not look at them as another person. It's easier to desensitize themselves to others.
We'll get to roller derby. But one of the big takeaways from last night was that Republicans seem pretty serious about challenging the Democratic majority in Trenton in November. How successful do you think you'll be? Is there a specific strategy Republicans should use to accomplish that mission?
I really think it's just talking about the issues that everyone cares about. It sounds so simple, but it's true. I have friends who aren't very political at all now using social media to start asking questions, sharing information, and it's really issues universal to everybody. It's fiscal issues, it's tax issues, people want to be able to afford to live here, people want to work. I know a lot of people who are trying to go back to school. So those are issues of concern. And I think if the party concerns itself mainly with those issues, they'll be able to appeal to more people.
I'm an optimist, and I think we have the potential and opportunity to always advance, and be effective, especially if you're smart in the districts you target and you're effective in your message and you have the right candidates. There's always the potential for great success. I think it's important that we have someone taking the lead and I'm very appreciative that our Minority Leader Jon Bramnick is making those strides. I think that we need to get our message everywhere, and I think he's doing that effectively.
Interesting. What about Christie? He seemed to play a smaller role than we usually see him playing at last night's event — both physically, because he was in England, but also in spirit. Not too many people seemed to pay attention to his absence, though he did beam onto the screens with a video message to say he was committed to helping out in November. Do you believe him? Or has the party moved beyond Chris Christie? Also, what role have his national ambition played in all this?
Well clearly he has national ambitions, that's obvious to everyone, and he's doing what he feels he needs to do in order to pursue that and be competitive nationally in a presidential primary. However, he's still governor, and I don't think that he's completely absent within the party. I think he still has some great opportunities in the state, and I think considering some of the past issues that he's encountered, it would be very smart, not just for him but for the Republicans and for the state as a whole, maybe to accomplish some more things, some more reforms. There's more to be done here that he can do. I'd love to see him maybe take on more economic reforms before completing his term as governor. And I think that's something that would help maybe propel him a little more but also help us as well.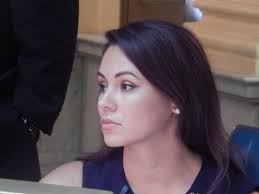 As far as his leadership, the thing is Republicans statewide are still organizing, are still getting excited, are still working and getting together to try and accomplish a majority. And I think we can do that with or without his leadership. Would it be better to have his leadership, his involvement there? Sure. But we know what we need to do to initiate some change and we're going to do it. I also admire our Minority Leader Assemblyman Jon Bramnick in taking on that role, and it's not just him, there are others that statewide are stepping up to that plate and filling that leadership role. So we do have leadership in what we're trying to accomplish statewide.
He seems pretty serious about a presidential run at this point, though a lot of people say it doesn't look good. Does Christie have a shot at the nomination?
I don't always buy into it when people say he's done or has no chance — people are fickle and public opinion can change in a day. One minute he was on top, the next day he was on the bottom, and that can change instantly. I mean, if you look at Hillary Clinton, if you look at past candidates, there have been so many dark horses, there have been so many surprises. It changes. So there's still time and an opportunity for him. But what's really going to help him and propel him is doing something great here — he needs that positive affect. He needs to be able to point to something recent and say, look, I did this too. And there's so much still in New Jersey that can be done.
You're up for re-election in LD8 in November as well. Are you ready for a challenge?
I may, I may not. I'm prepared if I do face a challenge, I welcome it. That's the nature of this game, sometimes you are going to be challenged, sometimes you're not. I'm competitive with myself, and I've been working consistently hard in my district getting out, attending events with people, knocking on doors. It's been a consistent thing, nonstop. If someone wants to challenge me I welcome it, I'd love to have a discussion about the issues. I think I've made the best decisions any person in my position could make in terms of voting, and where to focus with legislative initiatives that would better this district and the state. So I think in the short time I have been here, I've been representing well.
Speaking of competitive — you also play on a roller derby team called the "Dishonor Roll." What's that about? Are you as competitive in your political life as you are in your athletic life?
Yes. I think so. I'm not that competitive right now because of my injury, but I play in the Penn Jersey Roller Derby League. I've been with them for over five years now, before they got a bank track, and they have a flat track and bank track seed league. They're also co-ed, so we have men and women's teams, and I'm part of the travel team. We are very competitive, we are part of this set called RDCL, Roller Derby Coalition of Leagues, and it's a competitive rule set, the teams involved are extremely competitive, high-level skaters and athletes. Maybe five years ago movies like Whip It were coming out and it was kind of looked at as a fun hobby, gals in fishnets, very cheeky, but the sport has evolved so much to be very competitive. There's so many men and women looked upon as true athletes who have been featured on ESPN, and I've had the opportunity to skate against some of them and to train with them, and it's been an amazing experience.
This one person in particular that I've had the opportunity to be around, her derby name is V Diva, and she was captain of Team USA flat track, and she started this thing called the PA Allstars, and it's really people like her, she's an amazing athlete, who have really taken this sport to another level. So I've been trying to up my game competitively, I've had the opportunity to travel, and I'm hoping that I'm healed so I can get back on the track this summer. It keeps me normal, it keeps me centered. It's like my therapy.
What are your long term political plans? What role in the party do you see yourself playing five, 10 years down the road?
Politically, I'm taking it day by day. Obviously I'm up for a second term and I'm going to run for this seat again, but there are specific legislative initiatives that I'm very interested in that I want to work toward pushing through. So politically, I'm really just concerned with what I'm doing now. If I was to think about it later, I want to say I had accomplished some things, some policy initiatives, that leaves this state in a better place.
[youtube https://www.youtube.com/watch?v=iOpE9rEjn2E]