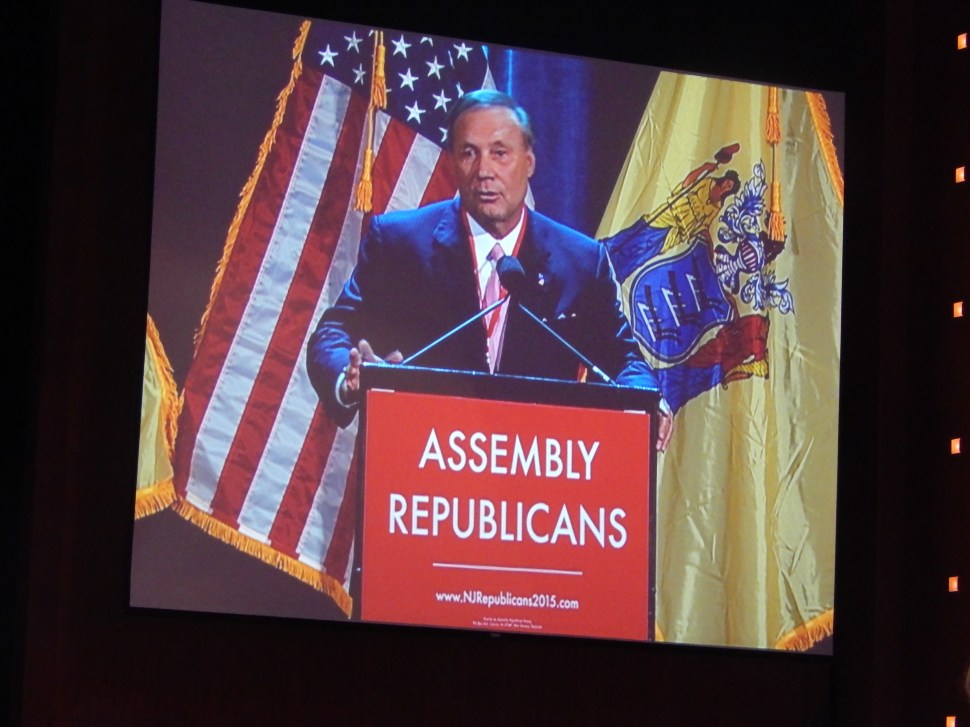 ATLANTIC CITY – At this GOP convention in the Borgata, Republicans threw body blow after body at their absent counterparts with the good natured zeal for party that never threatened to become a genuine, Braveheart-sized war cry.
Heading toward a 2015 general election, the legislative map makes it too difficult for Republicans to gain control of the legislature.
They're down 48-32 to Democrats and only a handful of districts – barring an October meltdown by an incumbent Democrat – appear competitive; LD1, 2, and 38 among them.
"Redistricting doesn't help," admitted Senator Sam Thompson (R-12), who nonetheless threw out a pitch "for good assembly candidates."
But while party members reveled in getting in their digs – "I spent a year on the Bridgegate Witch hunt Committee," railed Assemblywoman Amy Handlin (R-13) – an abiding stoicism marked this airport hanger ballroom.
Sam Raia was still chairman of the party.
"I have no idea how I'm going to get back tonight," said Raia, who's had the title of Republican Party Chairman for four years.
"He speaks," cracked an observer.
In his brief time at the microphone, a gravelly Raia – who supplanted the fiery Assemblyman Jay Webber (R-26) in the state chairman's job because of his fundraising, not party-building – prowess – praised women Republicans.
It did not reach the level of an apology to those 2013 female candidates recruited to run on a ticket with Gov. Chris Christie to blunt Democratic challenger state Senator Barbara Buono – left to dangle in South Jersey while the governor partly fastened his campaign to Democrats there and in Essex and Hudson counties.
"It's the women," said Raia. "You balance your family, you balance your job. Let's all give a round of applause for the women Republicans in the room."
"We have to reach out to women," affirmed Hudson County GOP Chairman Jose Arango.
Mild intra-party rivalries surfaced.
Monmouth County Republican Chairman Shaun Golden heaped praise on event organizer Assembly Minority Leader Jon Bramnick (R-21), then carefully burnished the pride of his home county. "Home to our Lieutenant Governor, Kim Guadagno," Golden said.
Both Bramnick and Guadagno are poised to run for governor in 2017 with the departure of Christie.
Assemblyman Declan O'Scanlon (R-13) crucified red light cameras in New Jersey and received a warm-hearted laugh from the crowd when he propped up and turned on a light on the stage and cracked that we now know red lights in New Jersey "don't mean a God damned thing."
"I want to thank Assemblyman O'Scanlon – for being Irish," Cape May County Republican Chairman Mike Donohue said later from the stage. "Don't mess with the Irish."
In his address to the crowd, bifurcated by the press table between crammed tables in the rear and half empty chairs directly in front of the stage, Bergen County Republican Chairman Bob Yudin answered criticism by failed former Bergen County Executive Kathe Donovan of Sheriff Mike Saudino.
A Republican at odds with Donovan over county policing, Saudino endorsed winning Democrat James Tedesco last year, attempted to walk it back, then went dark.
"Republican unity," Yudin identified as that condition which most painfully evades his organization in Bergen. "Those who [don't recognize that] it's more important to beat the Democratic Party than burn your own house down. …The blame game."
Scattered hand claps sounded.