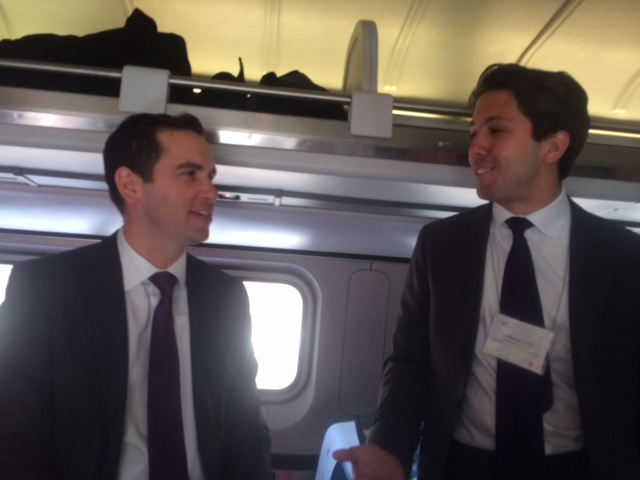 ON THE CHAMBER TRAIN – Hundreds of New Jersey's top political players emerged from the arctic cold in New Jersey on Thursday into the streamlined warm cocoon of the 78th Annual New Jersey Chamber of Commerce Walk to Washington train ride, where, warmed by bar cars and sealed in by the train's steel, close-contact politics heated up.
Two prominent potential Democratic gubernatorial candidates in 2017 had different takes on what their goals were during the traditional schmooze-fest.
"I think the governor's race narrative is tired," said Jersey City Mayor Steve Fulop. "I think that there are political narratives around the state, such as what happens with the Transportation Trust Fund and pension payments, that are more local and are more meaningful. It's great to see other people from all around the state, but this whole thing is a little strange. Why they don't do this in a convention center is beyond me."
As for former U.S. Ambassador Phil Murphy, the trip to Washington, D.C. is an opportunity to promote an important policy idea.
"Fix the middle class and the economy. That's job one," Murphy said. "There has been no comprehensive agenda directed at the middle class in this state for years. As the middle class goes, so goes the whole state."
The whole state's political class seems to be descending on Washington, D.C. where Wednesday night's events will include a speech by New Jersey Governor Chris Christie. Although Christie possibly stands on the brink of a bid for the 2016 Republican presidential nomination, state Assembly Minority Leader Jon Bramnick (R-21) noted where he feels the GOP's focus should lie down in the District of Columbia.
"Our message is that the Democrats have been in control of the state Legislature for 13 years, and if the citizens of New Jersey know that, there is no way they are sending them back as the majority party," said Bramnick, looking toward the November elections, when the entire state Assembly is up for grabs. "Politics change constantly. What the governor says in one speech is not necessarily the future. What the future will be is a look at the past."
Other politicos on the train looked to the 2016 elections not with just Christie is mind, but pondering the whole national Congressional chessboard.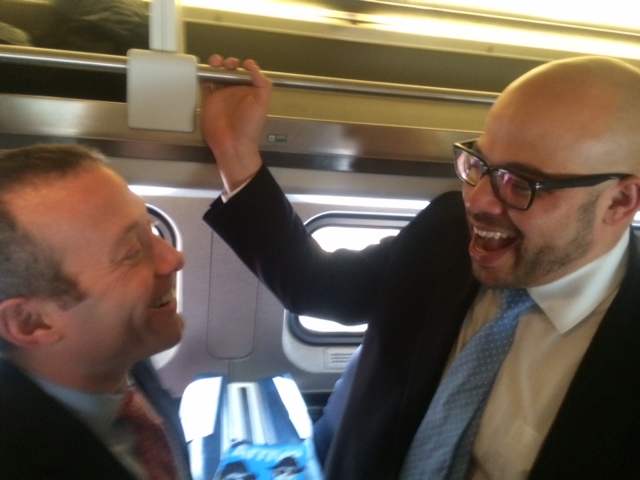 "I think anybody who runs for Congress should be thinking less about partisanship and about coming together to make progress. This is not a partisan trip. This is a Jersey trip," said Josh Gottheimer, a business executive and former adviser to both Bill and Hillary Clinton who is reportedly considering a run as a Democrat for the Fifth Congressional District congressional seat against U.S. Rep. Scott Garrett in 2016. "Bergen County, where I live, is one of the few real swing districts left in the country. Anybody who runs there should think about what this train is like. You have to go out and meet people, up close and face to face."