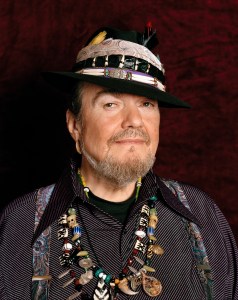 Dr. John's's most recent album, Ske-Dat-De-Dat: The Spirit of Satch, pays tribute to jazz legend Louis Armstrong, and features fairly radical and inspired interpretations of songs associated with "Pops"  or "Satchmo" as he was known, including a version of "I've Got The World On a String" with Bonnie Raitt sharing vocals."
John, along with his band, The Nite Trippers, and a special horn section, the Ske-Dat-De-Dat Horns, will be playing The Town Hall this Friday, February 27th, starting up the second leg of his world tour for the album.
He spoke to The Observer this week from his home in New Orleans and was hoping the weather would warm up before he got into town, but he's likely to heat things up when he takes the stage and puts his own stamp on classic Armstrong songs like "When You're Smiling," "Mack the Knife, " and "What a Wonderful World" which will feature trumpeter Nicholas Payton as it does on the album.
He's the most famous guy that ever came out of my neighborhood," Dr. John said of that master of swinging style. Both grew up in the New Orleans' gritty Third Ward, replete with prostitution, drugs, violence and, notably, music. Both began their musical careers early.
The Rock and Roll Hall of Fame inductee and six-time Grammy-winner, Dr. John, born as Mac Rebbenack, first heard both Oliver and Armstrong's music in his father's record shop and started in the biz early himself, producing record albums at 16. He played guitar until his left ring finger got shot off after a concert in Jackson, Mississippi. Now he plays piano and drums and never met a musical style he didn't like, ranging from New Orleans jazz and blues, boogie-woogie, Zydeco and funk.
Satchmo or "Pops" as Armstrong was known, became the band leader for the New Orleans Home for Colored Waifs at the tender age of thirteen. He was was taught to play the cornet by none other than Crescent City jazz great "King" Oliver.
He went on to be one of the first truly international African American artists of his era—not just that guy cutting up with Barbra Streisand in "Hello, Dolly"—beloved and familiar to audiences around the world as much for his gravely voice and scat singing as for his virtuosity on the trumpet and cornet. Armstrong died in 1971 having lived with his wife since 1943 in the same little house in Corona, Queens, which is now a museum.
Dr. John was kind of a hellcat, being born into what seems to us Northerners like a real honky tonk, Streetcar Named Desire bourbon and blues kind of world in the Third Ward.
John struggled with addiction, but this past December celebrated his 25th year of sobriety. "Yeah. It's a blessing. This year I had a great celebration and that was a good thing. Everybody came."
For his part, Armstrong never went never any hard drugs, but was a lifelong devotee of marijuana and was arrested for possession in 1930 outside The Cotton Club in Culver City, California.
Satchmo's neighborhood growing up was part of the Storyville legal prostitution district where his mother was eventually forced to make a living. He would go and listen at Pete Lala's to King Oliver. Learned to play trumpet by ear at Dago Tony's Tonk in NOLA.
"Every time my father passed by, he said 'that's were Louis Armstrong was born. That was always very special. Rough neighborhood. They called it "The Battlefield." They called it a lot of names. It wasn't the best of neighborhoods, but it was where he was born."
"Dad's record shop? I desitively heard him," John said, using one of his jazzed-up vocabulary words. Destinvely Bonaroo is the name of one of his albums and mistakenly goes for Creole, which it ain't. Another of his special terms is "mighty-cool-de-fio."
"I remember hearing my first Afro-Cuban music, my first traditional jazz, Bee Bop, my first Rhythm and Blues that they called "Race Music" back then. Everything was by different names."
Speaking of which, Armstrong is credited with shifting the development of jazz towards solos by individual musicians, and popularized the term Swing, once defined as the rhythmic approach to improvisation.
"I never thought about the word 'Swing,'" said John. "It represented a music that was way back in the game. You know when he said it, I knew what he meant. I knew he was trying to differentiate between the kinds of music of the time."
Armstrong wrote  book called Swing That Music in 1936, in which he talked about the evolution of jazz and his experiences establishing Swing. John met Armstrong several times in the office of agent Joe Glazer. "We were booked by the same guy, Joe, and he looked after Louis and he looked after me. He was a good guy. Back then Louis and Dizzy Gillespie were booked by Joe Glazer. They were two opposite ends of the specterometer that were both near and dear to me. We got along great because he knew I was from New Orleans."
Dr. John reports how he came by the idea to do an album of Satchmo covers. "Well, I didn't start thinking about it, it came to me in a dream. 'Do my music your way," he said." Louis Armstrong wrote him a blank check? "That was like wow, I've never been ordered to do something from up above before."
John had done a series of a few Armstrong tribute concerts, "Props to Pops," at New York's Brooklyn Academy of Music in March 2012 and at the Hollywood Bowl in July 2013.
Does he consider Armstrong a musical spiritual mentor? "It was something very good and spiritual to me. It was not directly spiritual, it was hip spiritual."